US president Barack Obama has sent his best wishes to former first lady Barbara Bush, who remains hospitalised following a respiratory problem, a spokesman for George Bush confirmed yesterday.
"Michelle and I send our best wishes to Mrs. Bush for a speedy recovery," he said in a written statement.
Former US First Lady Hospitalised With Respiratory Problems
"Barbara is blessed to have both a loving, supportive family by her side and a vibrant spirit that we hope will have her feeling better soon.
"I know I speak for Americans everywhere when I say that our thoughts and prayers are with Barbara and her family on this New Year's Day."
Former President Bill Clinton also tweeted his support, writing: "I'll be rooting for Barbara Bush's full recovery while she's rooting for Baylor today. All the best to her and to @GeorgeHWBush."
Bush, 88, was admitted to Houston Methodist Hospital on Monday. However, her medical state wasn't announced until former president George H.W. Bush's office released a statement on Tuesday night.
It read: "She is in great spirits, has already received visits from her husband and family, and is receiving fantastic care."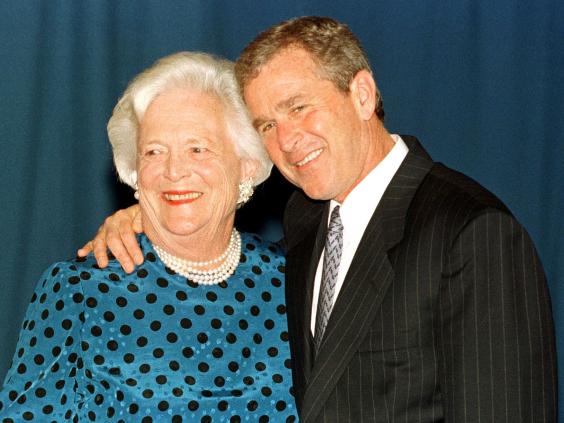 As of yet, there is "nothing new to report" on her condition, spokesperson Jim McGrath confirmed.
Barbara and George, who was the 41st president of the United States, made their last public appearance together just last week, when they honoured a Houston-based philanthropist and businessman with a Points of Light Award: a volunteer service prize founded by George.
Barbara, who became known for her bluntness as America's first lady during the Bush Senior administration, is also the mother of George W. Bush, the 43rd president.
She underwent surgery for a perforated ulcer in 2008 and heart surgery in 2009. In 2010, she was admitted to hospital after suffering a relapse of Graves disease: a condition that she first suffered from in 1989.
More recently, George H.W. Bush was released from Houston Methodist Hospital in January 2013 after he spent nearly two months being treated for bronchitis and other health issues.
Reuse content