Is she pregnant? Isn't she pregnant? Do we really care?
Probably not. But little did Scarlett Johansson know that it would be her bosses at Marvel Studios who would reveal the ultimate spoiler, despite her best efforts to keep the news under wraps.
President of Production, Kevin Feige, first attempted to skirt around the question over whether Johansson ˗ who stars as The Black Widow in The Avengers movie series ˗ was expecting her first child.
"We start shooting in three weeks and I'm stunt training and we're good to go," he told the Huffington Post.
"You know, I think it's something that is hard to talk about, exactly. You know, trying to skirt around your question exactly - and, you know, doing a poor job of it.
"But, you know, like I said, everything is exactly on schedule. Everything is going just fine. The Black Widow always wins and will continue to."
But when asked by Collider whether her pregnancy would affect the progress of Avengers: Age of Ultro, he just came flat out and told them.
"Well my first reaction was I was very happy for her and very excited for her, and my second reaction was we've gotta move some pieces on the chess board around schedule-wise.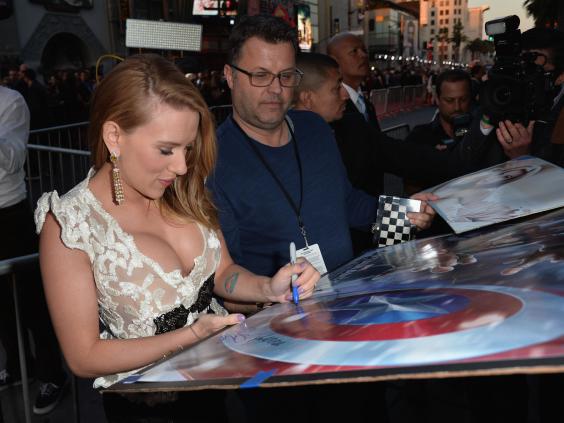 "But we didn't change the script at all, which is sort of the most important thing for us in terms of the storyline. I think the goal is for us to sit here talking about the fact that you would never know that Black Widow was pregnant during the filming of the movie when you see the final version of Avengers 2."
 His accidental revelation meant that tabloid eyes were trained on Johansson's midriff as she debuted the most minuscule hint of a bump at the world premiere of her latest Marvel movie, Captain America: The Winter Soldier, in Hollywood last night.
"And Scarlett Johansson could not have looked more gorgeous as she showed off her bump in an elegant sheer lace ensemble," said The Mail.
"With her burgeoning baby bump, it's good to see she's not going the Kerry Washington route of red carpet maternity dressing by opting for an unflattering frock," quipped Red Carpet Fashion Awards, noting the misplaced nipple tassel-like adornments on her Amarni Privé dress.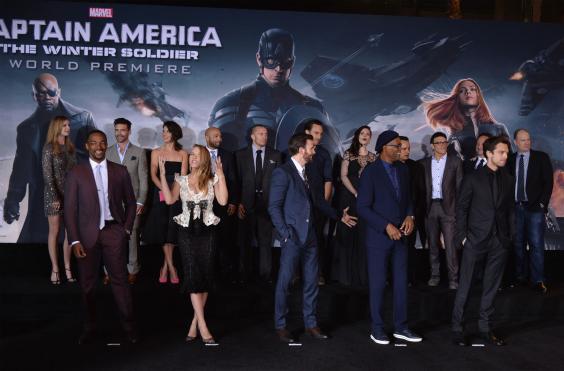 Samuel L Jackson, Robert Redford and Chris Evans (not the ginger one, the Hollywood one) were also there. But no-one noticed because they were too busy speculating over Scarlett.
Captain America: The Winter Soldier arrives in cinemas in the UK on 28 March 2014.
Avengers: Age of Ultron is scheduled for a May 2015 release.