Texas schoolboy Ahmed Mohamed is to visit the UN in New York this week after being invited by more than the delegations of more than 20 countries, his family have said.
As the Muslim 14-year formally withdrew from MacArthur High School in Irving where he was arrested for taking a homemade clock into the classroom, a spokeswoman for the teenager told The Independent the family was trying to finalise details of this trip, which could include an address to officials.
"We had invitations from 15-20 countries from the Middle East and all around the world," said spokeswoman Fatima Tekko. "[Ahmed] is very excited and is looking forward to it."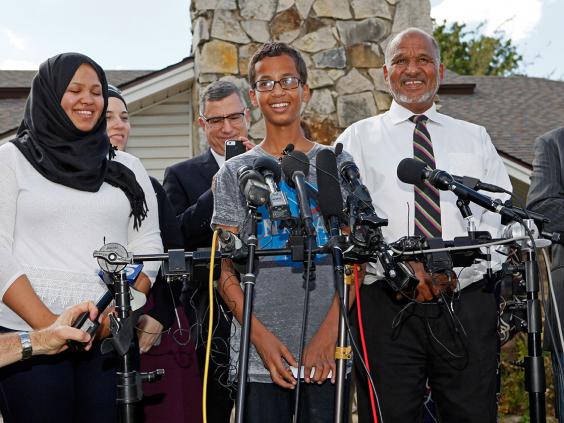 She said: 'He wants to set an example and call for empowering all children his age."
The teenager has found himself at the centre of global interest after he was handcuffed and detained when a teacher at his school in Irving called police and told them she feared it was a bomb.
The arrest of the teenager sparked outcry and the boy's father said he believed he had been a victim of Islamophobia. The school, and the city's mayor stood by the decision of the teacher and the actions of the police.
As news broke of the young boy's arrest grew, President Barack Obama tweeted his support to the youngster and invited him to the White House, while FaceBook CEO Mark Zuckerberg also offered his support.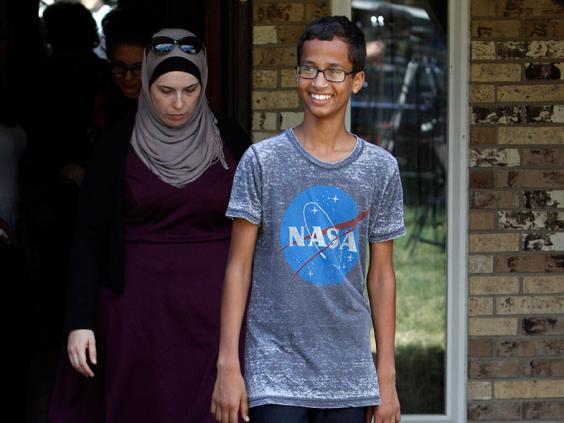 Engineers from Google, NASA and the Massachusetts Institute of Technology invited him to tour their campuses.
Mathias Lindemann, a spokesman in the office of the UN Secretary General, said there had been no invitation from Ban ki-Moon. He said, however, it was possible one of numerous UN agencies of member nations had made invitation to Ahmed.
Ahmed's family said that the teenager and his father would visit Saudi Arabia after the trip to New York.
Reuse content