Nicole Trunfio has responded to the mixed reaction her June 2015 cover shot of Elle Australia has received.
The image shows the supermodel breastfeeding her five-month-old son Zion; a photograph she says that wasn't "planned or contrived" and that she hadn't intended to be controversial.
Support for Trunfio was equally as vocal. Many women have even adopted the #normalisebreastfeeding hashtag she used on social media. Another, #Bressure, has since sprung up in response to a campaign by YouTube community Channel Mum.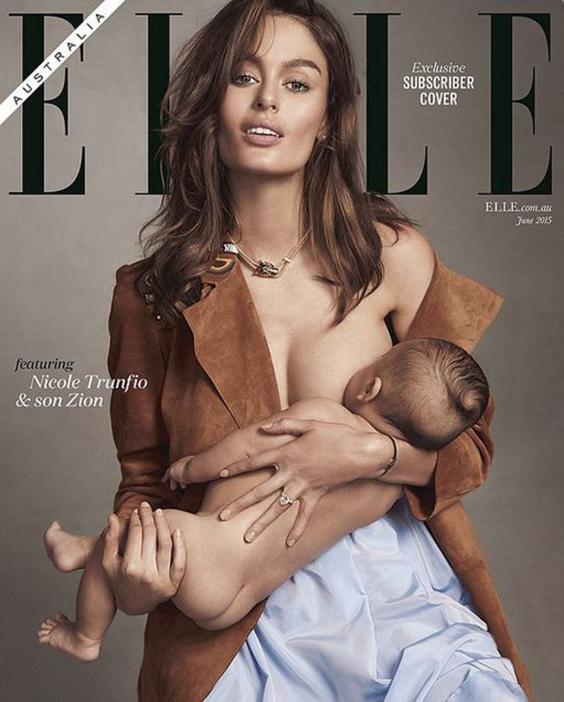 "I didn't think it was going to be such a big deal," Trunfio told Good Morning America.
"There's nothing worse than, as a mother, doing something that's so necessary like feeding your child and feeling like somebody could have an opinion about it or somebody's looking at you the wrong way.
"I think it should be something that isn't a [subscriber's cover], it's a huge part of being a woman and motherhood."
On just how naturally the shot came about, she added: "He was with me on set all day and there were periods I'd take off to feed him and I had on this beautiful outfit and the stylist was like, 'Wow, that looks amazing, let's move you on set to have this picture taken.' Not that it was going to become a part of the shoot."
The Most Controversial Fashion Adverts
The Most Controversial Fashion Adverts
1/9 YSL, 2000

The infamous Yves Saint Laurent Opium perfume advert featuring a naked Sophie Dahl was removed from billboards as it was deemed "sexually suggestive and unsuitable to be seen by children", although was allowed to run in certain fashion magazines. It is the eighth most complained about advert, receiving 948 complaints.

2/9 Agent Provocateur, 2001

The lingerie ad saw Kylie Minogue writhe on a rodeo bull and was only permitted to be shown in cinemas. The campaign was banned from all UK television channels, except BBC1.

3/9 Wonderbra, 1994

Eva Herzigova's Wonderbra campaign was thought to have caused car accidents, such was its provocative appeal.

4/9 Dolce & Gabbana, 2007

The label's 2007 advert was banned in Spain after it was thought to "glorify rape". Designer Stefano Gabbana stated that the image was intended to show "an erotic dream, a sexual game".

5/9 Miu Miu, 2011

Miu Miu's campaign starring Hailee Steinfeld, sitting crying on a train track, was banned in Britain, after it was decided that the image depicted a child in an unsafe location.

6/9 Marc Jacobs, 2009

Dakota Fanning was 17 when Juergen Teller shot her for Marc Jacobs. The picture was thought to "sexualise children" and was banned.

7/9 Tom Ford, 2007

A not-so-subtle message from Tom Ford, photographed by Terry Richardson. The campaign was banned in several countries.

8/9 Sisley

Shot by the controversial photography Terry Richardson, this advert made a play on the word 'fashion junkie'.

9/9 Calvin Klein, 1995

Calvin Klein are known for a string of controversial campaigns (including a picture of 17-year-old Kate Moss straddling Mark Wahlberg), but this 1995 image shot by Steven Meisel provoked negative response from child welfare authorities and the consequently brand withdrew it.
Sharing the image on Facebook earlier this week, Trunfio wrote: "The last thing I want to do is be controversial, so please take this for what it is, let us #normalizebreastfeeding there is nothing worse than a mother that is judged for feeding her hungry child in public."
Reuse content