Nigerian pop singer Adokiye has caused a social media storm by offering her virginity to Islamic militants Boko Haram in exchange for the return of hundreds of kidknapped schoolgirls.
A total of 276 girls were taken from the largely Christian north-eastern town of Chibok by the rebels, led by Abubakar Shekau, in April.
The majority of the schoolchildren remain missing, despite international pressure for their safe return – including the celebrity-endorsed #BringBackOurGirls social media campaign backed by Michelle Obama and David Cameron, among others.
However, the 23-year-old musician and actress from the country's Imo State, who is also a UN Ambassador of Peace, took the protest to the next extreme.
"It is just unfair. They are too young. I wish I could offer myself in exchange," she told Nigerian publicationVanguard.
In pictures: Nigeria kidnapped schoolgirls
In pictures: Nigeria kidnapped schoolgirls
1/19 Nigeria

A total of 276 girls were abducted from the northeastern town of Chibok, in Borno state, which has a sizeable Christian community. Some 223 are still missing

2/19 Nigeria

One of the kidnapped girls looks into a camera

3/19 Nigeria

One of the missing girls talking to the camera

4/19 Nigeria

The missing Nigerian schoolgirls, wearing the full-length hijab and praying in an undisclosed rural location. Boko Haram alleging they had converted them to Islam

5/19 Nigeria

Girls wearing the full-length hijab holding a flag reading "There is no god, but Allah" and "Mohammed is Allah's prophet"

6/19 Nigeria

A man claiming to be the leader of Nigerian Islamist extremist group Boko Haram Abubakar Shekau

7/19 Nigeria

Abubakar Shekau speaks on the video

8/19 Nigeria

Girls, wearing the full-length hijab and praying are filmed by an unidentified man (R) in an undisclosed rural location

9/19 Nigeria

People carry signs as they attend a protest demanding the release of abducted secondary school girls in the remote village of Chibok in Lagos

10/19 UK

A protester demonstrates against the kidnapping of school girls in Nigeria, outside the Nigerian Embassy in London

11/19 UK

Chief International Correspondent Christiane Amanpour and Prime Minister David Cameron appearing on the BBC1 current affairs programme

12/19 USA

People participate in a "Bring Back Our Girls" campaign demonstration and candlelight vigil in Los Angeles

13/19 USA

Girls holding heart shaped banners in a "Bring Back Our Girls" campaign demonstration and candlelight vigil in Los Angeles

14/19 South Africa

South Africans protest in solidarity against the abduction of hundreds of schoolgirls in Nigeria by the Muslim extremist group Boko Haram and what protesters said was the failure of the Nigerian government and international community to rescue them, during a march to the Nigerian Consulate in Johannesburg

15/19 USA

Karilyn Coates (10) joins others in a candlelight vigil for the more than 300 girls abducted by Boko Haram in Nigeria, at All Souls Unitarian Church in Colorado Springs

16/19 Nigeria

Mothers of the missing Chibok school girls abducted by Boko Haram Islamists gather to receive informations from officials. Nigeria's president said that Boko Haram's mass abduction of more than 200 schoolgirls would mark a turning point in the battle against the Islamists, as world powers joined the search to rescue the hostages

17/19 Nigeria

Former Nigerian Education Minister and Vice-President of the World Bank's Africa division (3rd L) Obiageli Ezekwesilieze speaks as she leads a march of Nigeria women and mothers of the kidnapped girls of Chibok, calling for their freedom in Abuja

18/19 Bring Back Our Girls

Kelly Hoppen tweeted: 'Please make sure you do this, we must stand together and not forget them'

19/19 Bring Back Our Girls

E.L. Rock Star tweeted: 'Join The Movement'
"They are between 12 and 15 year old girls for Christ sake. I am older and more experienced. Even if 10 to 12 men have to take me every night, I don't care. Just release these girls and let them go back to their parents."
Voiceless Kids are Out There gettin into different troubles we dont even knw about and all we do daily is Hold White Paper #BringBackOurGirls

Adokiye (@adokiye) June 25, 2014
Her comments received a mixed reaction via social media. Some fans praised her offer as "brave" and branded her a "hero":
@Artuphays_1933: If it is genuine, we must appreciate, @adokiye#Respect

Adokiye (@adokiye) June 26, 2014
@charitykhoza: "I share the same sentiments with Adokiye Kyrian, Boko Haram must release those girls I for one I can take their place"

Adokiye (@adokiye) June 25, 2014
@fadeyiolayinka: @adokiye this is an impressive and endearing innovation which can positively impact the lives of kids out there #ThumbsUp

Adokiye (@adokiye) June 24, 2014
Others, however, interpreted her bold statement as an opportunistic publicity stunt: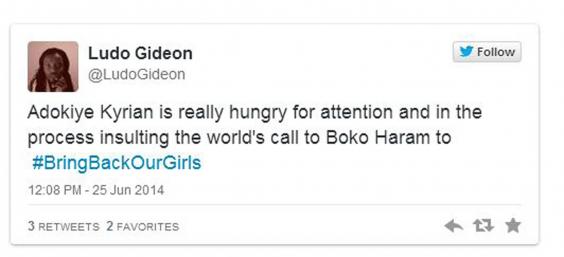 Adokiye's apparent sacrifice comes after news that over 60 girls and women and 31 boys are suspected to have been abducted by Boko Haram from villages in northeast Nigeria.
The recent abductions took place during a series of raids in Borno over the past week, with dozens of people killed from the attacks. The survivors from various villages are now taking refuge in Adamawa, with others still fleeing on foot. 
Meanwhile, at least 21 people have died in an explosion in a shopping area in Abuja, the capital of Nigeria. Police said 17 more were wounded  when the blast ripped through Emab Plaza on Wednesday [25 June]. Again, Boko Haram are suspected of orchestrating the bloody attack.
Reuse content