A hashtag is being used to highlight the restrictions facing many women who live in Iran, after a female footballer's story made international headlines.
Niloufar Ardalan captains Iran's women's national football team, but she will not be able to lead her teammates in a tournament next week.
Her name appeared in newspapers across the world after it was reported she would be unable to join her teammates travelling to Malaysia because her husband, Mahdi Toutounchi, would not sign papers allowing her to leave.
Mr Toutounchi is a sports journalist who reportedly refused to allow her to travel because he wanted her to be present for their young son's first day at school on 23 September.
This date clashed with the Asian Football Confederation Futsal Championship, which takes place between 21 September and 26 September.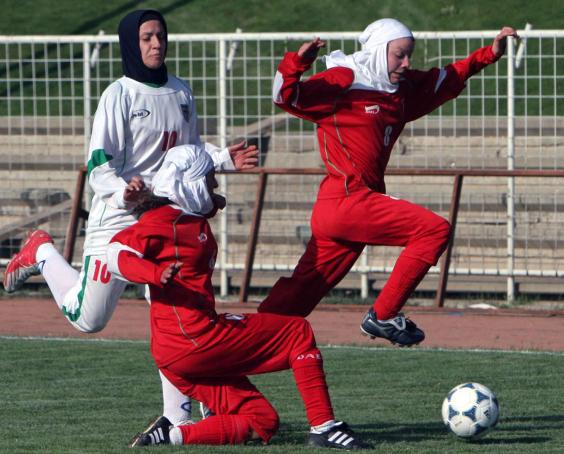 Married women in Iran are required to have their husband's signatures in order to renew their passports, unless they specifically agree to lose this power in marriage contracts.
Iran's discriminatory laws mean this happens to women every day and Ardalan's case was reported internationally after she spoke to the Nasim Online news agency. 
Women are responding to Ardalan's story by sharing the hashtag #WeAreAllNiloufarArdalan to show solidarity with those restricted by these laws.
#WeAreAllNiloufarArdalan a famous Iranian football player who was barred from leaving Iran because her husband did not permit her.

; Thainara Rogério (@thainararogerio) September 16, 2015
Her life. Her passport. Her choice. #weareallniloufarardalan pic.twitter.com/aqW4ZkwvYz

; Cath Robilliard (@CathRobilliard) September 16, 2015
September 17, 2015
Get up, stand up, stand up for your rights ! Respect and support to Niloufar Ardalan #weareallniloufarardalan

; MFiasca (@MFiasca) September 15, 2015
#WeAreAllNiloufarArdalan I am not Iranian but the voice of those brave women of Iran who are fighting for their... http://t.co/HDW9lT5a5h

— Stealthy Freedoms (@masihpooyan) September 16, 2015
Iranian journalist and campaigner Masih Alinejad is now urging political leaders to follow on from the publicity Ardalan's case has received by looking at the oppression facing all women in the ultra Conservative country.
Ms Alinejad, who runs the My Stealthy Freedom Facebook page, stressed that Ardalan's situation represents a wider problem faced by many women in Iran who do not enjoy support for their rights because they do not have Ardalan's fame. 
She told The Independent that a woman not being allowed to leave the country without her husband's permission is a human rights issue that needs to be urgently addressed. 
"The truth is that it is happening to all women for decades but because this time a well known women exposed it and complained about it many women joined her," said Ms Alinejad.
"It is horrific that all of the women in Iran are suffering but because they are not as known as Nilofar the world and the media keep silent.
"It is beyond sad when a man must decide what a woman does; it is a human rights violation. What gives one human being the right to have this power over another? It belongs in the dark ages."
Reuse content