On 7 April 2014, Peaches Geldof was found by her husband Thomas Cohen slumped 'on the edge of her bed' at her £1million home in Kent. One leg swung down to the floor, the other, 'tucked underneath her'.
She had been looking after her 11-month-old son, Phaedra, while he stayed away at his parents' house with Astala, their 23-month-old son. After she failed to answer his phonecalls, he became concerned, and returned to the house with his mother.
Within moments, he knew she was dead.
The socialite, who it was believed had left her wild partying youth behind her to reinvent herself as a doting mother, was found to have levels of heroin in her bloodstream that was 'likely' to have led to her sudden passing, an inquest heard yesterday (1 May).
With this new information, the scene now serves as a chilling reminder of the death of her own mother, the model and TV presenter Paula Yates, who was found dead in the bedroom of her Notting Hill home after an accidental heroin overdose. Just like Peaches, Paula, also a doting mother, had been looking after her youngest daughter Tiger Lily at the time. She was just four years old.
Peaches Geldof - a life in pictures
Peaches Geldof - a life in pictures
1/31 Peaches Geldof

File photo of Peaches Geldof dated 31/05/12

PA

2/31 Peaches Geldof

Peaches Geldof with her musician father Bob in 2009

Rex Features

3/31 Peaches Geldof

Pixie Geldof at the World Premiere of 'The Hunger Games : Catching Fire', at the Odeon Leicester Square, London

PA

4/31 Peaches Geldof

Peaches Geldof on the catwalk on a file photo dated 24/10/12

PA

5/31 Peaches Geldof

Peaches Geldof is seen at The Great Gatsby VIP Screening in London in May 2013

AP

6/31 Peaches Geldof

Front row: J W Anderson fans Alexa Chung and Pixie Geldof

Getty

7/31 Peaches Geldof

Peaches Geldof hugs sister Pixie Geldof

Getty

8/31 Peaches Geldof

Peaches with her husband Thomas Cohen in 2012

Getty Images

9/31 Peaches Geldof

Peaches Geldof and Thomas Cohen at the World Premiere of Harry Potter and The Deathly Hallows - Part 2 at Trafalgar Square in July 2011

Getty

10/31 Peaches Geldof

Peaches Geldof in April 2011 in London

Getty

11/31 Peaches Geldof

Peaches Geldof at the UK film premiere for 'Inception' at the Odeon Leicester Square in July 2010

Getty

12/31 Peaches Geldof

Peaches Geldof during New York Spring/Summer 2012 fashion week in September 2011

Getty

13/31 Peaches Geldof

Peaches Geldof at the European premiere of 'One Day' at Vue Westfield on in August 2011

Getty

14/31 Peaches Geldof

Peaches Geldof attends the F&F aw14 Fashion show at Somerset House earlier this month

Getty Images

15/31 Peaches Geldof

An Instagram image from Peaches Geldof showing herself with her mother Paula Yates that was posted on Sunday

Getty Images

16/31 Peaches Geldof

Peaches Geldof, her husband Thomas Cohen and their son Astala meet the Zoo's aardvarks during a visit to ZSL London Zoo in 2013

Getty Images

17/31 Peaches Geldof

Peaches Geldof and her sister Pixie last in 2013

Rex Features

18/31 Peaches Geldof

Peaches Geldof and Thomas Cohen attend the World Premiere of Harry Potter and The Deathly Hallows - Part 2 at Trafalgar Square in 2011

Getty Images

19/31 Peaches Geldof

Sir Bob Geldof and Peaches Geldof in the front row for Luella show, as part of London Fashion Week a/w in 2009

Getty Images

20/31 Peaches Geldof

Vivienne Westwood and Peaches Geldof arrive at the reading of Westwood's manifesto as part of 'Design Icons' at The design Museum in 2008

Getty Images

21/31 Peaches Geldof

Peaches and Pixie (second right) listen to 'The Rakes' on the first day of the Glastonbury festival in 2009

Getty Images

22/31 Peaches Geldof

Peaches Geldof being interviewed at London Fashion Week in 2008

David Sandison/The Independent

23/31 Peaches Geldof

Peaches Geldof attends the premiere for 'Factory Girl' in 2007

Getty Images

24/31 Peaches Geldof

Peaches Geldof, Pixie Geldof, Tiger Lily Geldof and Sir Bob Geldof in 2006 in Dublin

Getty Images

25/31 Peaches Geldof

Fifi Trixibell Geldof; Tiger Lilly Geldof; Peaches Geldof; Pixie Geldof; Bob Geldof attend the global premiere for the Live 8 DVD in 2005

Getty Images

26/31 Peaches Geldof

Bob Geldof and daughters Peaches and Pixie in 2003

Getty Images

27/31 Peaches Geldof

Peaches (right) and Pixie Geldof showing off their Harry Potter and the Order of the Phoenix books outside Waterstone's in London's Piccadilly in 2003

PA

28/31 Peaches Geldof

Peaches with her sister Heavenly Hirani Tiger Lily and her late mother Paula Yates in 1997

Rex Features

29/31 Peaches Geldof

Bob Geldof arrives back at his home in Chelsea, with daughters Peaches (middle) and Pixie (right) in 1996

PA

30/31 Peaches Geldof

Paula Yates and ex-husband Bob Geldof with their three daughters Fifi Trixie-Belle (right), Peaches (left) and Pixie, during a visit to EuroDisney in 1992

PA

31/31 Peaches Geldof

Rock star Bob Geldof, his wife, TV presenter Paula Yates, and their five-year-old daughter Fifi Trixiebelle and newborn Peaches, at St Mary's Hospital in Paddington, London in 1989

PA
Paula, too, had struggled to come to terms with a death: the loss of her lover Michael Hutchence, who was found dead in a Sydney hotel room after taking his own life in 1997. From that point on, her life spiralled out of control as she was plunged into a deep depression from which she would never return.
"My mother, who was amazing, who wrote books on parenting, who gave us this idyllic childhood in Kent turned into this heartbroken shell of a woman who was just medicating to get through the day," Peaches later recalled.
She, herself aged just 11 when Paula died, inherited that same, unshakable sense of sadness.
"I remember the day my mother died, and it's still hard to talk about it," she told Elle magazine in 2011. "I just blocked it out. I went to school the next day because my father's mentality was 'keep calm and carry on'.
"So we all went to school and tried to act as if nothing had happened. But it had happened. I didn't grieve. I didn't cry at her funeral. I couldn't express anything because I was just numb to it all. I didn't start grieving for my mother properly until I was maybe 16."
Unlike her mother, Peaches, the daughter of one of the most famous men of the Eighties, Sir Bob Geldof (who is now engaged to his partner of 18 years, Jeanne Marine), became the source of tabloid fascination as soon as she was born.
That scrutiny would only intensify following Paula's death, and she courted it increasingly as she grew up in the glare of the media spotlight. Geldof was one of the first of a new wave of personalities to live her young life through the social media age, her every thought and moment documented through a seemingly endless stream of Twitter posts and Instagram pictures. Her last, an old family picture of herself and her mother (as seen in the main image above), posted a day before her body was found, captioned 'Me and my mum'.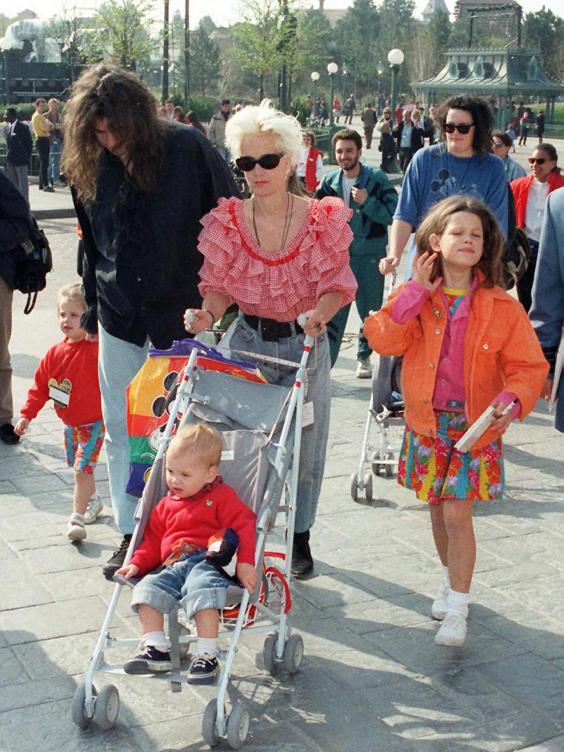 She became immersed into a world of fast living and hard parties as soon as she entered her teens. At 19, her connection with drugs became public knowledge, when it emerged that she had been questioned – but not charged – by police after she was filmed exchanging £190 with a drug dealer in an East London flat in 2008.
After splitting up with boyfriend Faris Badwin of band The Horrors that summer, she met musician Max Drummey, and married him in a Las Vegas ceremony 10 days later.
She suffered her first drug overdose, ceasing to breathe for several minutes, the same year.
By 2009, the couple had separated. Drummey later claimed he'd wed the socialite as a publicity stunt to raise the profile of his band, Chester French.
"It was totally a publicity stunt. One hundred per cent," he told the Evening Standard at the time. "I have her [Peaches] on retainer. Not as my PR, as my friend. On my personal payroll. She's my friend for money. She also orchestrates publicity stunts for me."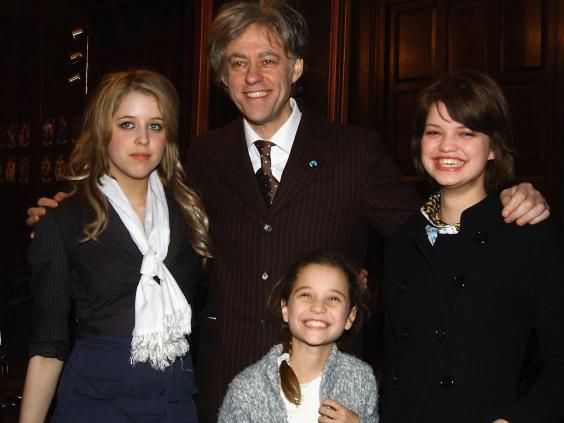 In 2010, Peaches was forced to deny claims that she had enjoyed heroin binges with an American lover, Ben Mills, during a trip to Los Angeles.
Tragedy was to strike her a second time when, in 2011, her 18-year-old friend, aspiring musician Freddy McConnel, died of a heroin overdose. Her connections with the drug were again highlighted during his inquest.
"Peaches is coming over later and I am going to inject for the first time," an entry in his diary, written a few months before his death, read. "Perhaps I will die. I hope I don't."
Freddy's father, Andy McConnel, later told the press that Peaches had called him to confess that she had given Freddy money for drugs, but had only abused heroin once herself.
The tabloids became fascinated with her changing appearance, too, as she grew from a curvaceous youngster to a waif in her early 20s. Articles speculated over the possibility that she was suffering from an eating disorder - a rumour she routinely denied. Others cited her history of drug abuse, pointing out possible marks on her arms as evidence of her continuing battle to beat addiction.
But in an interview in 2012, after meeting Thomas Cohen (musician in the London-based band S.C.U.M), she appeared to have turned her life around.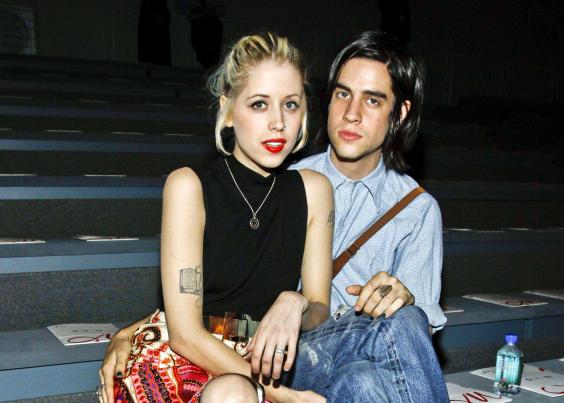 "I did experiment with drugs, I did get drunk and go to parties, but I was never that wild," she said at the time. "I could have been, but all the time I remembered what happened to my mum."
She married Cohen, "a straight, family man", in September that year, holding the ceremony at the same Kent church as her mother's funeral was held – and the same her own would later take place in.
She became a mother to two sons, Astala in April 2012, and to Phaedra by caesarean on 24 April 2013, on what would have been her mother's 54th birthday.
"It's like Mum was very determined that one of her grandsons would be born on her birthday," she told Hello! at the time. "There's this kind of crazy synchronicity to it."
In her final interview, originally for Aga Living Magazine but published in the The Sunday Times posthumously, she spoke of motherhood as a "healing process".
"I'm not sure I've yet fully made peace with my childhood, but with my mum I have come to terms with everything. She had a really difficult time," she said.
"I was rootless and having the kids really anchored me in place and changed my life for the better. It meant I had to take care of someone properly, which I wasn't doing for myself.
"Before, I was just not at peace with myself about it because I was just traumatised.
"That's why I was living a chaotic lifestyle. But now I have the kids I can heal the situation. It's so good in every single way, really."
In hindsight, and in light of reports in The Sun today that suggest that, unbeknown to her husband, she had been privately attending a rehabilitation centre in Kent in the weeks before her death, it seems as though Peaches was far from a place of peace.
Unable to get over the death of her mother, and trapped in a cycle of abuse, it was only a matter of time before the saddest parallel between Peaches and Paula could finally be drawn.
One can only hope that her two sons, Astala and Phaedra, are not haunted by the same demons as they grow and come to terms with their own tragedy.
Reuse content