PewDiePie is the highest-paid YouTuber for the second year in a row, according to Forbes. 
Felix Kjellberg made a name for himself playing video games on camera under the name PewDiePie. Kjellberg has 50 million subscribers and has earned $15 million (£11.8 million) over the past year, almost double the figure earned by Roman Atwood, who came second on the list. 
Bur Kjellberg's YouTube future is currently up in the air after the Swedish star became embroiled in a row with the very video sharing platform which made him a star. Over the weekend, he suggested he would be deleting his channel when he hits 50 million subscribers, yet on Monday claimed YouTube had listened to his concerns.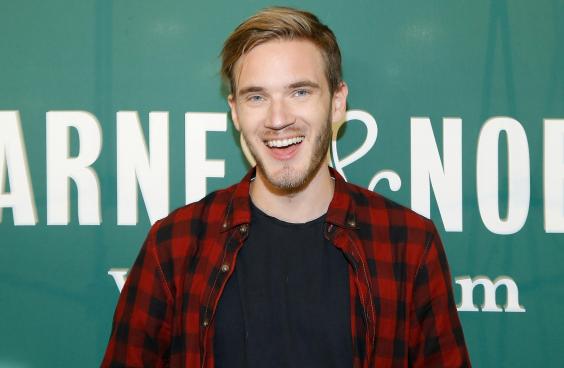 Atwood earned $8million in the 12 months ending in June, 2016. Forbes estimates his income has grown by 70 per cent since last year partly thanks to an increase in viewers, a book deal and an online store. 
The highest-paid female YouTuber on the list is Lilly Singh – a Canadian comedian with over 10 million subscribers – who earned $7.5million last year, some of her revenue owing to the creation of her own products including a lipstick with Smashbox cosmetics.
Two other women to make the list include baking aficionado Rosanna Pansino, who comes in at fifth place with $6 million and Colleen Ballinger, who performs under the alter ego Miranda Sings. Ballinger was placed tenth on the list after earning $5million last year thanks to her stand-up tour, memoir and new Netflix series.
One of the most well-known YouTubers on the list is Tyler Oakley who, since finding fame on YouTube, has also become a television presenter and prominent LGBT activist. He recently signed a deal with Ellen DeGeneres' production company which will see him collaborate on digital projects. Last year he earned $6 million after taking part in a world tour and releasing a book of personal essays.
All in all, the list also reveals YouTubers are getting richer. The combined earnings of all ten vloggers are up 23 per cent on last year. 
Forbes calculate YouTuber's earnings (pre-tax and management fees) by estimates based on data from Nielsen, IMDB and interviews with agents, managers, lawyers, insiders and YouTubers themselves.