You may not know Dan Swimer's name, but you will have laughed at his jokes. The unassuming 41-year old from Cheadle is behind some of the most popular television comedies of the past decade, his name lurking in the credits for everything from Bad Education to Catherine Tate's Nan. He's written speeches for Sacha Baron Cohen, sketches for Jack Whitehall, scripts for James Corden and any number of jokes for panel shows from 8 Out of 10 Cats to Have I Got News for You. He is best known, though, for his work with Simon Amstell, a collaboration that began on Popworld, carried on through the very best years of Never Mind the Buzzcocks and culminated in two series of the family sitcom Grandma's House.
With a CV like that, it's surprising to learn that Swimer never had any intention of going into comedy. Indeed, the idea of being in the spotlight still terrifies him. "I get nervous pressing 'Reply All' on an email," he says. "I'm not on Facebook or anything like that. I'm not really that comfortable being that person." Self-effacing to the point of sometimes not finishing his own sentences, he is not even, he says, the funniest person in his own home, which he shares with his partner and their two young children. "The general consensus is that my youngest son is the funny one in the family," he deadpans. "He says rude words."
Swimer's career began when, having studied French and Linguistics at Leeds, he fell into an internship at MTV. "I literally decided there and then, this is it. I'd never considered anything as glamorous", he says. "In a sense I'm still there, still holding on to living in London and not going back home to work in John Lewis." He started out as a runner and quickly worked his way up on MTV Select. "I was the person talking into Donna Air's ears. It was the best thing ever." Was it a good show? "It never went well. Not once. But we always had a lot of fun."
Crucially, it would provide the grounding for his partnership with Amstell. They met when Swimer was working as producer and Amstell as presenter on Channel 4's Popworld. Together they transformed the show from a safe stop on the promo trail for pop stars into something far more spiky and unsettling for the guests and far more entertaining for audiences. In its prime, Amstell asked Britney Spears if she'd ever licked a battery, interviewed Natalie Imbruglia with a paper bag over his head, and gave the homophobic reggae star Beenie Man a banana with his phone number on, then asked him for a hug.
"It was clear to me what Simon was trying to do. From my experience in that world I had felt some of the same frustrations and found the same things funny. I felt I was in a position to help him say what he wanted to say." So Swimer got more involved in writing the show and when Amstell was offered the hosting gig on Never Mind the Buzzcocks, he went too.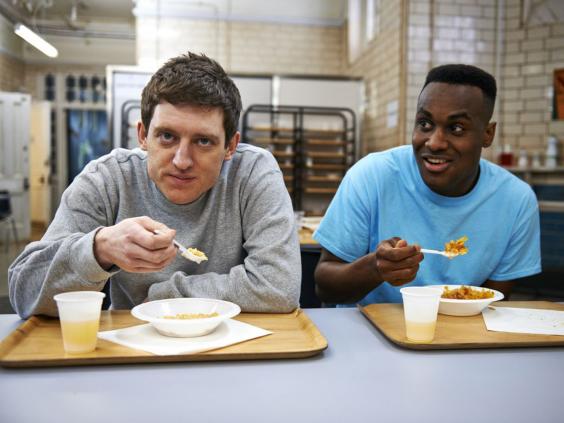 As with Popworld, they transformed Buzzcocks from just another BBC quiz into something more compelling – a show where guests might be driven to storm out (Preston of The Ordinary Boys, famously) or hurl glasses of water (Kelly Rowland) by Amstell's needling. Did they ever worry they were being too mean? "We never really saw it as mean at the time. In its most pompous sense, we sort of thought we were on a quest for the truth. In basic terms, we were just being cheeky. We only ever wanted to say what people were thinking."
Buzzcocks has not been the same since they left. Typically modest, Swimer ascribes its dip in form to changing times. "You see so little pop music on TV now. It's not like you're being force-fed it anymore. When you see people being rude to pop stars now, you feel like, give them a break. Most pop stars you see on TV are in a competition: they're already under pressure and could be forgotten by next week."
Leaving pop culture behind, the pair moved on to co-write Grandma's House, a brilliantly offbeat sitcom about a self-loathing, out-of-work television presenter called Simon and his over-bearing family. Neither had written a sitcom before: what was the main lesson he learned? "Never write anything that you're not prepared to watch 20 times… Unless you think it's going to entertain you at least five times, there's just no point in writing it down." Nakedly, painfully, autobiographical (for Amstell), the writing room must have been quite tense. "Those writing days were like therapy. We completely deconstructed him", agrees Swimer. "When we got to the end Simon said, 'Right, I'm healed now'. I loved it but there was a lot of stress involved."
Still, Swimer is used to bending to the whims of others by now. He is comedy's current collaborator of choice, having written with Baron Cohen, Whitehall, Corden and Tate, to name only a few, and worked as script editor and storyliner on sitcoms as diverse as Jessica Hynes' Suffragette comedy Up the Women and BBC3 pirate radio spoof People Just Do Nothing, sketch shows Psychobitches and Cardinal Burns. He has no interest in writing alone. "No, it's not for me. That would only end badly," he says. "I need to see the reaction. Comedy is meant to be quite visceral. I'll know instantly: if I can see the reaction on their face and they're laughing, then that's the right tack. I can't imagine doing it without that interaction."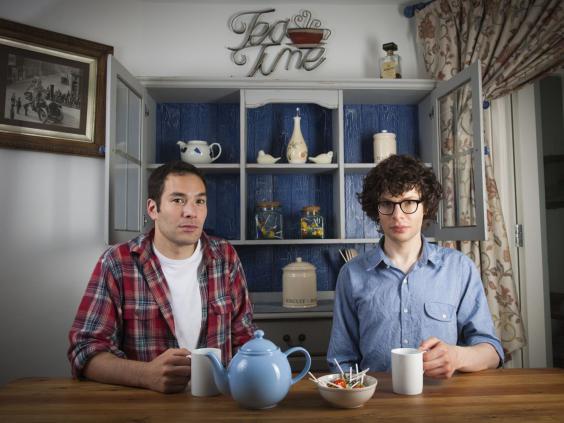 That said, he is desperate not to be seen to be "bigging up" his behind-the-scenes role and denies that he ghost-writes jokes for big-name stars. "Some comedians unashamedly have that… The ones I work with are all of a good standard; it's much more collaborative. Jack Whitehall is so brilliant, so hard-working and so prolific, it's more like him trying stuff out on me. And with Simon, he's always got an interesting, valid, brilliant point he wants to make and sometimes it doesn't come out… It's finding a way of doing that."
Most recently, he has been a script editor on Baron Cohen's upcoming film, Grimsby, having worked with him on The Dictator. Has he never been tempted by the limelight? "No. I'm absolutely in awe of these people. Anyone can be funny in the right moment, when it's working for them, in a room. I sort of think anyone can do that. To then go out the next night and do the same material when you don't mean it, is weird. Imagine if your first joke doesn't land and being the guy up there who has to win the audience back. That is frightening."
He has now written his second sitcom, this time with Adam Kay, a doctor-turned-comedian he met when they worked on Mongrels and Up the Women together. "We both shared a joy of unreasonable people," says Swimer. The result is Crims, a BBC3 comedy which is set in a young offenders' institution and stars stand-up Elis James as Luke, a strait-laced lad who finds himself locked up with his girlfriend's idiotic best friend, Jason (Kadiff Kirwan) after a bungled burglary. It's a fresh take on the classic prison sitcom with the zippy short scenes of Bad Education, the surreal flavour of Green Wing and a supporting cast of criminals and prison officers including comedian Cariad Lloyd and Ricky Champ (Him & Her). It was fun to write, says Swimer, though not entirely angst-free. "I think if I wrote something and loved it straight away, there would be something deeply wrong with it. Unless you've hated it at some point, it's not going to be good… I have to go through quite a lot otherwise I don't trust it."
He took the sitcoms Community and Arrested Development as a model – "shows where all the characters have some comedy to offer", he says. "But you have to try and be funny on your own, don't you? I'm always conscious not to be ripping anything off. Frequently I'll say, 'Is this a bit that? Is it too this?' It doesn't really interest me to say, 'It's the new X or the new Y.'"
On the day we meet, he has been working with Amstell at the BBC – on "a thing. We don't really know what it is yet…" and is writing new material with Whitehall. Tate's spin-off series for the foul-mouthed Nan is still in the pipeline, too. Plenty of reasons to cheerful, then. Or not. "The problem with comedy is that you're putting yourself out there. And it's even more humiliating than it is with drama because if your drama hasn't affected a reviewer or the viewers in a certain way, there are a million places to hide. With comedy, it's funny or it's not funny", he shudders a little. "And when it's not funny, you're just the guy at the party who said a stupid thing and now everyone's looking at you."
'Crims' starts tonight at 10pm on BBC3
Reuse content