To his tabloid critics, Danny Cohen, the BBC's director of television, is the ultimate "PC leftie" – an elitist intellectual whose determination to drive Jeremy Clarkson out of the BBC is a mere staging post in his ambitious journey to becoming the youngest ever Director-General.
But now Cohen must contend with a big challenge to his thus far seamless rise up the broadcasting ladder – the contention that as a standard-bearer for liberal values within the BBC he exudes contempt for the brash, more populist entertainment style of entertainment embodied by the Top Gear frontman, sacked this week after an assault on a producer.
Cohen, 41, who earns £327,000 and is responsible for all the BBC's television output, and Clarkson were perhaps never likely to see eye to eye. The executive lives in the showbusiness enclave of Primrose Hill, north London, with his wife, the economist Noreena Hertz. He believes in the BBC's improving mission to bring culture to the world. Meanwhile, Clarkson, the unreconstructed petrolhead, despises political correctness and treats all authority with the disdain of the naughty schoolboy.
Their relationship was tense. When Clarkson was heard to mutter the word "nigger" in leaked Top Gear footage, it was a damaging incident Cohen deemed "entirely unacceptable". His desire to suspend an unrepentant Clarkson on that occasion was overruled by Tony Hall, the Director-General.
Clarkson felt Cohen failed to support him and co-presenters Richard Hammond and James May when they were attacked in Argentina last year in a row about the Falklands. He told friends the trio had been "thrown to the wolves". Before he threw his punch, Clarkson said there were "six layers of management" between him and Cohen because his BBC boss hated talking to him directly.
Cohen wanted to know if any member of the Top Gear production team had heard racist language and felt intimidated at the idea of reporting it. Yet even he could not have imagined that Clarkson would call to report the "fracas" with a producer which cost his job. On this occasion, the Director-General was forced to take a decision which appeared inevitable to Cohen months ago, when he declared that "no one is bigger than the team".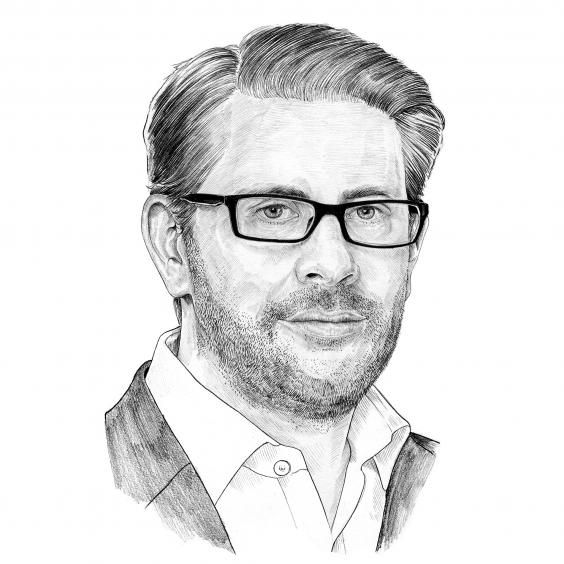 Even before the Clarkson impasse, Cohen had demonstrated his Daily Mail-baiting credentials. He ruled that BBC panel shows must no longer feature all-male line-ups, to the annoyance of some participants, and he has pushed for wider diversity both in front of and behind the camera. But is Cohen really the cerebral "right-thinking" person he is painted to be?
The first person in his family to go to university – "My family is neither artistic nor wealthy," he said – Cohen read English at Oxford after attending the all-boys independent City of London school. A television addict from his schooldays, he moved into a commissioning role at Channel 4 after a brief interlude working as a roadie for the rock band The Alarm. He was swiftly promoted to be head of E4, where his commissions included Skins and the teen comedy, The Inbetweeners, which has since become a hit film franchise. A contemporary says: "Right from his junior days at Channel 4 he was intellectually omnivorous. He was interested in every aspect of the media and culture. He was obviously very clever and headed for the top."
After being headhunted in 2007 for BBC3, where he axed shows with provocative titles such as Fuck Off I'm a Hairy Woman but claimed Snog Marry Avoid among his successes, Cohen was elevated to BBC1 controller in 2011, at just 36, an appointment which prompted an anonymous blog, The Secret Diary of a TV controller aged 33 ¾. "It was hurtful. Clearly his rise inspired some jealousy," the contemporary said.
Cohen had by now formed a power couple with Hertz. The actress Rachel Weisz was a bridesmaid at their 2012 wedding, and the guest list included Charles Saatchi and Nigella Lawson. Hertz has reinforced Cohen's liberal credentials. A friend said: "They are a very devoted couple. Danny is incredibly proud of Noreena. Danny regards her as his intellectual hard drive."
The couple are friends with will.i.am, a coach on The Voice – Cohen committed £22m of licence fee cash to the BBC1 talent show and has overseen its transformation into a Saturday night fixture winning huge ratings. Cohen enjoys Twitter exchanges with Nigella over cake recipes, and Hertz sent a "great spending time with you" tweet to soul singer John Legend after he performed at Comic Relief this month.
His faith is important to Cohen, who told a conference in Jerusalem that, following a rise in anti-Semitic attacks, "I've never felt so uncomfortable being a Jew in the UK as I've felt in the past 12 months". When The Times called Cohen a "fixture of the north London metropolitan elite" this week, the comedian David Baddiel tweeted: "Surprised Times sub-clause doesn't add: 'and y'know: a rootless cosmopolitan of East European stock'."
Jeremy Clarkson's Top 25 Most Obnoxious Lines
Jeremy Clarkson's Top 25 Most Obnoxious Lines
1/24 "Short people. When you've finished using a car, put the f**king seat back, so humans can use it afterwards," he posted on Twitter. Offensively.

2/24 "Honestly, the burka doesn't work. I was in a cab in Piccadilly the other day when a woman in a full burka crossing the road in front of me tripped over the pavement, went head over heels and up it came, red G-string and stockings."

3/24 Driving a Jaguar round a toilet in India: "This is perfect for India because everyone who comes here gets the trots."

Getty

4/24 "The only person who looked good in a 4-seated convertible was Adolf Hitler."

5/24 As a Thai man walked over a bridge he had built during a Top Gear challenge: "That is a proud moment - but there's a slope on it."

Jeremy Clarkson is involved in further controversy over a second set of number plates found in the vehicle he was driving in Argentina

6/24 On the Renault Clio V6 handling bends: "In typical French fashion it just gives up! A bit like the French did with the Germans."

7/24 "I'm thinking. If you had gone to the trouble of making a chemical bomb, why would you detonate it on a coach from Preston?"

8/24 On public sector workers in 2011: "I'd have them all shot. I would take them outside and execute them in front of their families."

9/24 "I don't understand bus lanes. Why do poor people have to get to places quicker than I do?"

10/24 "The only reason the Arabs and Jews have managed to keep their nasty little war going for 50 years is because it never bloody rains there. If the post-war powers had put Israel in Manchester, there'd have been no bloodshed."

11/24 "If all the creatures on earth were the same size, it's said a lobster would have the smallest brain. But then someone invented Wayne Rooney."

12/24 On the invention of the segway: "They're made in America, of course, so fat Yanks can go to the fridge without expending any energy."

13/24 "Supercars are supposed to run over Arthur Scargill and then run over him again for good measure. They are designed to melt ice caps, kill the poor, poison the water table, destroy the ozone layer, decimate indigenous wildlife, recapture the Falkland Islands and turn the entire third world into a huge uninhabitable desert, all that before they nicked all the oil in the world."

14/24 "I'm sorry, but having an Aston Martin DB9 on the drive and not driving it is a bit like having Keira Knightley in your bed and sleeping on the couch. If you've got even half a scrotum it's not going to happen."

15/24 On a caravaning holiday: "You aren't allowed to have a party, you aren't allowed to have music, you aren't allowed to play ball games, you aren't allowed to have a camp fire, you have to park within two feet of a post, you have to keep quiet, you have to be in bed by eleven. This is not a holiday, it's a concentration camp!"

16/24 "Britain's nuclear submarines have been deemed unsafe… probably because they don't have wheel-chair access."

17/24 "If we are being honest HIV is a pathetic virus, it can only live in the air for 6 seconds and it does what ebola does to you in 10 days in 10 years."

18/24 On the Lotus Elise: "This car is more fun than the entire french air force crashing into a firework factory."

19/24 On actress Sarah Jessica Parker: "People think 'oh she must be pretty'. She isn't – she looks like a boiled horse."

20/24 On the BMW Z3: "And if you are clinically insane, by which I mean you wake up in the morning and think you are an onion, here's your car."

21/24 On the Ferrari 430 Scuderia: "It's like God having really unusual sex… it should come with toilet roll."

22/24 "The problem is that television executives have got it into their heads that if one presenter on a show is a blonde-haired, blue-eyed heterosexual boy, the other must be a black Muslim lesbian."

23/24 "If you're thinking of coming to America, this is what it's like: you've got your Comfort Inn, you've got your Best Western, and you've got your Red Lobster where you eat. Everybody's very fat, everybody's very stupid and everybody's very rude - it's not a holiday programme, it's the truth."

24/24 On the N-word row: "I've been told by the BBC that if I make one more offensive remark, anywhere, at any time, I will be sacked."

A screengrab from Jeremy Clarkson's video apology

PA
As director of television, Cohen is cited with several successes, including the dramas Happy Valley and The Missing, although his greatest praise is often reserved for the EastEnders team for getting the soap back on form.
Crucially for his ambitions to secure the Director-General post, he escaped criticism in spite of approving a Jim'll Fix It special paying tribute to Jimmy Savile. The Pollard report into the affair found that Cohen had not read emails that had been copied to him warning of Savile's "dark side" and which indicated that some within the BBC were already aware of the unspeakable side of the entertainer's character.
What his critics interpret as a bias against the "blokeish" delights of Top Gear is most often expressed as an intolerance of any behaviour which might bring the BBC into disrepute. Cohen's laser focus is on the retention of the licence fee when the BBC's charter is renewed at the end of 2016, without giving politicians cause to chip away at the BBC's funding. He chose a BBC Christmas drinks party to lash out at BBC stars who "undermine" the corporation and infuriate their colleagues by criticising it in public. His comments were seen as a slap- down for Jennifer Saunders who described the BBC as an "executive-run place for idiots".
Cohen called on those with influence to "support [the BBC], make the case for it, speak up for it, celebrate its achievements". Defending the BBC's unique contribution to Britain's cultural life, he declared: "The BBC is a great British company, not a government department. Perhaps this is time for a little less of the critical friend and a bit more of the friend."
The Clarkson furore stemmed from a long-standing BBC failure to manage a talent responsible for creating a £150m brand over 12 years. Cohen could not make the presenter accept the wider damage that his frequent gaffes and racial slurs had caused the BBC. His ultimate departure was entirely self-inflicted. A colleague said: "It wasn't Danny who sacked Jeremy Clarkson. He basically sacked himself."
As the dust settles on Clarkson's departure, bolshie BBC talents now know Cohen is not a man to be defied, while junior staff hail him as their champion against bullies.
The door is open for a reformed Clarkson to return, Alan Yentob, the BBC's creative director, has hinted. But by then, Clarkson may find Cohen is in the Director-General's seat.
A life in brief
Born: 1974.
Family: Married to economist Noreena Hertz.
Education: Independent City of London School; graduated with a double first in English literature from Lady Margaret Hall, Oxford.
Career: Joined Channel 4 as a commissioning editor in 1995, rising to become head of E4 in 2006. Head of  BBC3 2007-2010, then named controller of BBC1. Appointed director of BBC television in 2013.
Reuse content