Danny Webber smiles at the memory of the only time he and his best friend, the late Jimmy Davis, played together in the Manchester United first team. They had been a prolific goalscoring partnership at junior levels and for the first time Sir Alex Ferguson had given Davis his chance at the highest level, against Arsenal at Highbury, in a League Cup tie in November 2001.
United were well under-strength. In fact, Paul Scholes did not even turn up, the one occasion, he later admitted, that he defied Ferguson. By contrast, Arsène Wenger picked Sylvain Wiltord, Ray Parlour, Edu and Kanu among others and won the game 4-0. Webber and Davis were both 19 years old and thrilled to be playing.
"Jimmy forgot his boots!" Webber recalls. "His debut and he forgot his boots! He wore my boots. I had a couple of pairs. An hour before the game he was saying, 'Webbs, seriously, where are my boots?' I was saying, 'Jim, I haven't got your boots. Go and check the coach.'
"I panicked more than him. He said, 'What am I going to do?' I said, 'I don't know, Jim.' I had these fresh [Adidas] Predators and I said, 'You're going to have to wear them.' He had the widest feet in the world. He had to soak the boots because the Preds are quite narrow."
Friday is the 10th anniversary of Davis's death. He died, aged 21, when his car crashed into a lorry on the M40 in Oxfordshire. He had been on loan at Watford at the time and was travelling south in the early hours to watch the first game of their season, for which he was injured. The inquest into his death was told he was over the legal limit for alcohol.
For Webber, now 31, and coming to the end of his career, the memories of his best friend and strike partner are, he says, "all good, all positive". The entire United squad attended Davis's funeral and in May 2004 they collected the FA Cup in shirts bearing his name. Webber has no doubts that Davis would have had a good career. Ten years on, Webber is now at Accrington Stanley, and it has not always been easy carrying around the weight of his friend's death.
Webber was also playing for Watford at the time of Davis's death, having turned down a deal at United following a loan period at Vicarage Road the previous season. A Manchester boy, he had immediately struck up a friendship with Davis, from Redditch, when they began playing together, aged 13, in United's youth teams.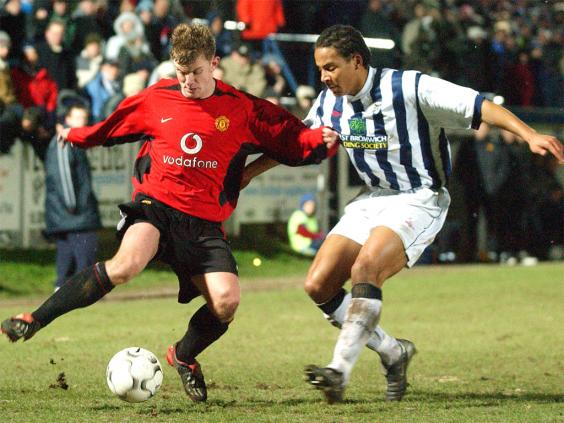 He remembers the excitement of being a YTS boy at United at the end of the 1990s when Ferguson had built a team from young players in the days before big-money contracts for 17-year-olds. Davis lived in digs in Salford round the corner from The Cliff, United's old training ground. Webber took two buses in every morning.
"In the morning we would sit and watch Becks and Scholes come in," he says. "The atmosphere was buzzing. There was so much to learn because you were so close to good people playing great football. Jim cleaned Teddy Sheringham's boots and at Christmas he gave him his tip while Jim was still in the shower. His money got soaked!"
Both played for England at junior level and both were offered professional deals by United.
"There's no doubt in my mind that Jim would have had a very good career," Webber says. "He still had three years left on his contract at United. You don't know where that would have gone. He had the endeavour and the ability and the character to deal with it. He had all the attributes to be a top player."
Webber was with Davis in the hours before he died. They had dinner together at the hotel in Watford where Davis was staying. Davis was unable to play in the game the following day and, after they parted, drove back to his native Redditch. After a night out he made the decision to drive back to Watford in the early hours, which was when the accident took place.
Webber was called early in the morning by Watford's then general manager Terry Byrne, who later managed David Beckham's career. Byrne told Webber on the phone he had to come in to sign registration papers but when he turned up and saw two police cars in the car park he knew something was badly wrong.
"I looked at the manager Ray Lewington's face and Terry's face holding back a lot of emotion," he says. "They told me I hadn't done anything wrong. Then the policeman said that Jim's car had been in an accident.
"I started ringing him then, ringing and ringing and ringing him, hoping that he would pick the phone up. You don't wish it on anyone else but you think, 'Has anyone stolen his car?' I was in tears. It was horrible. The realisation that you know but you are still hoping somebody is going to answer the phone. The club announced it at about 12 o'clock and the game was called off.
"When Terry told the lads in the dressing room, I didn't realise how much Jimmy had connected with people. Because even though they had only known someone for such a short space of time, I'd say at least 80 per cent were in tears, all of them were devastated. It was a horrible, horrible time."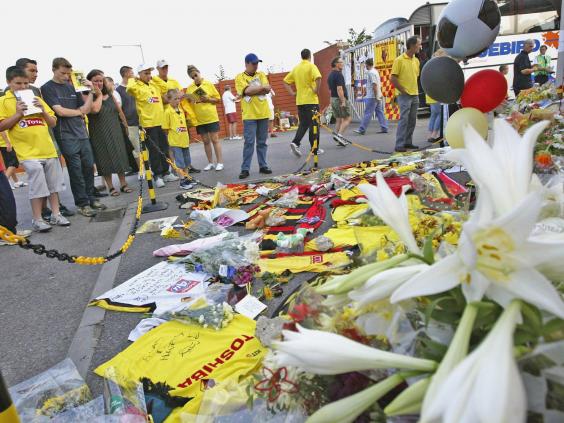 Webber played the rest of the season with a vest adorned with "Davis 11" under his shirt but by his own admission it felt "like someone had put a rucksack on my back".
"I would be up against a defender thinking, 'Jesus, I should be beating this guy in my sleep.' I just wasn't doing it. Every time I scored a goal I could rip off my shirt and it was the biggest release of pressure ever.
"It got to the point that whenever I did an interview someone would always ask me about Jimmy. I just remember after a few months of it I was sharp with someone.
"I said, 'I don't want any more questions about it. I don't want to keep telling you what I told you last week.' Up to then I had tried to put on a brave face."
That Davis was over the legal limit does not fit with what his friend knew of him. "Still to this day, I don't know where that came from," Webber says.
"I don't run with it. I just know I don't look at that. It's not a factor in my head. It is what it is. If that's what people want to focus on that is up to them. But anybody who knew Jimmy would just laugh at it. He wasn't a risk-taker or a drinker. He was clean-living."
Their former United youth team-mate Marek Szmid is back at the club now as the welfare officer and a major part of his job is educating the club's academy players on life skills.
Webber still has Davis's shirt on his wall, as well as that vest he once wore in memory of his friend and a letter from Davis's mother, Jenny. "I think about him every day," he says, "and it's all positive, nothing but good memories."
Reuse content