It takes approximately 90 seconds to register that Frances de la Tour is a shocking flirt. As she perches beside me on the sofa in the first-floor bar of the Ivy Club in Soho, her eyes lock on to mine, her expressive mouth widens into a cheerfully on-for-it grin and, as I babble through a chaotic question about her recent adventures, she cuts straight across it and says, fingering the sleeve of my suit: "This is a nice piece of schmatter – is it linen or cotton?"
This year, in which she turns 71, she celebrates 50 years of stage acting at the highest level – at the Royal Shakespeare Company, the National Theatre and in London's West End. She has played classic roles from Chekhov, Webster, Shaw, Albee and Eugene O'Neill as well as the Bard, while descending, from time to time, to the less rarefied level of television comedy. Her major strength is to radiate a slightly weary, seen-it-all romanticism, expressing a perfect balance of disappointment and optimism via that uniquely rich contralto voice. She's equally at home playing tragedy or comedy – you could say that she had a head start, given that she possesses both the most melancholy eyes and the most dazzling smile in British theatre.
In the public consciousness, she is stuck fast in the 1970s with her role in Rising Damp as Miss Ruth Jones, the poodle-haired and breathless object of Leonard Rossiter's urgent desire and seedy gallantry. Their double-act entered the collective cultural memory and stayed there, a fact that does not please De la Tour.
"It's the tombstone thing, isn't it?" she says. "I just know that, when I die, the papers will say, 'Rising Damp Woman Kicks the Bucket'."
To be fair, I say, the 1980 movie version won you Best Actress at the Evening Standard Film Awards. "Oh yes," she says, with a bitter laugh. "I remember. The Standard people got in touch and said, 'You're up for Best Actress in the Film Awards.' I said, 'But I haven't made a film this year.' They said, 'It's for Rising Damp.' I said, 'Oh, that.' It made me laugh so much."
Thirty-five years later, she's playing a different quality of sex object in another TV sitcom, Vicious. The show stars two veteran stage knights, Sir Ian McKellen and Sir Derek Jacobi as Freddie and Stuart, a long-term gay couple and sparring partners in a battle of theatrical bitchiness that amuses or horrifies everyone drawn into its orbit. De la Tour plays Violet Crosby, the neighbour who pops in every day (as they do in sitcom-land) to exchange brittle banter with the senior queens and utter cougarish remarks of sleek seductiveness at Ash (Iwan Rheon), the handsome (and straight) 22-year-old boy upstairs.
Remarkably, the show was the joint creation of Mark Ravenhill, the controversial playwright behind Shopping and Fucking and Mother Clap's Molly House, and Gary Janetti, the American TV writer and producer behind Family Guy and Will & Grace. Where fans of both writers might anticipate super-explicit or super-brittle dialogue, Vicious is rather sweetly old-fashioned in its gay bitchery and non-PC idiom. McKellen and Jacobi swish about with a camp extravagance that Kenneth Williams might have found a bit extreme, and relish the exchanges. When Violet is told that there's a strange man (namely Ash) in the gay pair's lavatory, she cries: "You let a complete stranger use your loo? What if he comes out of there and rapes me?" McKellen's mouth twitches in a moue of scorn. "Let's cross that bridge when we come to it," he murmurs.
"I was absolutely delighted to be asked to do Vicious," says De la Tour, "and the people of my generation who were in the studio audience were ever so chuffed to see me." She put her hand modestly on her breast. "I got an entrance round!" Was Gary Janetti a natural to write a sitcom about elderly British gays? "I don't know how he did it," she says, "because it's very English and he is sooo American. But he knows about comedy and the timing of a line, even though he's not an actor."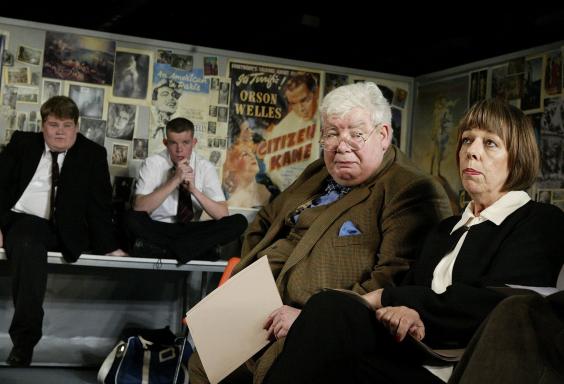 British critics were divided about the merits of Vicious. The Daily Mail dubbed McKellen and Jacobi "the Steptoe and Son of the gay and thespian community," but the Daily Telegraph called the show "the least funny new comedy in recent years" – and the art critic Brian Sewell described it as "a spiteful parody that could not have been nastier had it been devised and written by a malevolent and recriminatory heterosexual." Astonishingly, though, it went down very well in America.
"The critics here said it was too camp, like Are You Being Served?" De la Tour says. "But over there it broke new ground, because it was about the relationship between two older gay men. It's funny, but it's about a serious gay relationship, and that hadn't been done before. It went out on public TV there, and now there's sponsorship money going into it. That's how much they like it."
The character of Violet is intriguing. She clearly loves the warring partners, but is no fag-hag. She tells them she's disgusted by their physical relationship, and is sharply critical about their toxic tiffs. But she can't keep away. Even when dating unsuitable men whom she's met online, she keeps Freddie and Stuart informed of every twist. "I don't know why Violet and Stuart and Freddie love each other," says De la Tour. "They're awful to her; they'll say, 'You can't have any food' or 'It's about time you left' – but they always welcome her. They provide the sanctuary in her life and the show is all about that."
Violet became more shocking as the first series progressed. In one episode, five million viewers watched De la Tour, now 70, dressed in a leather gimp suit and handcuffed to a bed by an unscrupulous Argentinian lover. In the last episode, when the boy Ash commiserates with Violet and assures her that there's definitely a Big Love out there for her in the world somewhere, Violet slams him against a wall and thanks him with a full-on snog. "Ed [Bye, the director] told me they wanted to show that Violet would go for it," says De la Tour simply. "So I went for it."
In the second series, we'll discover that Violet has married a mystery man, > and that she has a sister (played by Celia Imrie). The episodes will move beyond the cosy interior of Freddie and Stuart's flat, using outside locations in East London. "It was exhausting," says De la Tour, theatrically. "It was so easy in the first series, it was all, 'Darling, come in, sit down, have some tea, leave.' In the second, we had to learn ballroom dancing..."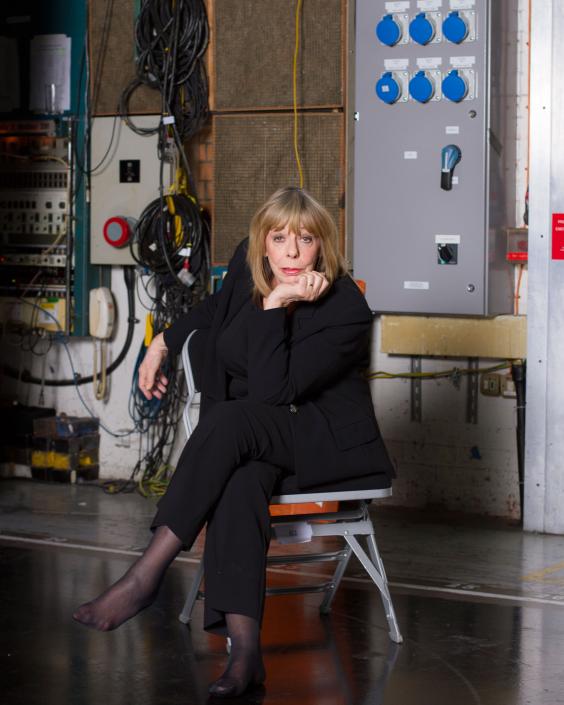 She was born in 1944 in Bovingdon, Hertfordshire. Her father, Charles, a film-maker and scriptwriter, was immensely proud of his family's French connections and, like Tess Durbeyfield's dad in Tess of the D'Urbevilles, liked to accentuate the Gallic strain. Which is why Frances found herself at school at London's Lycée Francais when she was five. She didn't share her father's Francophilia.
"My father was romantic about the name De la Tour; he thought it was aristocratic. He said, 'You ought to be able to speak French, to live up to your name.' But I didn't want to be at the Lycée. It was pretty frightening. You walked in and everything was in French. Sit down in French, have lunch in French, learn English in French. In geography, I knew all about the Massif Central, but nothing about Marble Arch. But really it could have been any school – I was miserable because I just wanted to be with my mum.
"I learned that, like most families, ours was completely mixed. My mother's mother was Irish, Cathleen O'Neill from County Cork. She couldn't read, and she married a wild Greek Macedonian. She was very down-to-earth. She'd say, I don't know why you're at the Lycée, it's only because your father wanted you to go there. I think she loved my dad, but they separated when I was 12. She remarried and I went to a bad private school in Cookham, a little village in Berkshire, where Stanley Spencer the artist came knocking at the door of the house because he liked to know who the neighbours were."
Her way in to acting was through poetry recitals. De la Tour paints a cruelly unvarnished picture of her young self. "In those days they had elocution classes run by eccentric women who loved acting and the theatre. One was Rita Melene, whom I'm forever thankful to, because she clapped eyes on this shy, gawky, unable to speak, am-I-English-am-I-French, funny little thing with specs and bands on the teeth, and she must have thought, 'Take away the glasses and maybe there's something nice inside.' She entered me for these poetry competitions, judged by people like [the actress] Gwen Ffrangcon-Davies. I loved doing poetry. I felt safe because it didn't take too long; you could stand on that stage and dare to speak, and be off a minute later."
What was her voice like before the elocution lessons? "Like Miss Jones's," she says sardonically. "Much higher than it is now." Her characteristic slow drawl, she says, "was all about fear of speaking French or English. You'd approach it gingerly." Did her mother encourage her? "She tried to help me, but she was probably too dominant. She was very beautiful and I was in awe of her, but it didn't make me want to be like her."
Instead, she "withdrew into boyfriends". She had lots of young squeezes between the ages of 14 and 17, and attributes her success to her grandmother's advice. "She told me, 'You got to smell good, you got to laugh, got to make them laugh, and to listen, even if they are boring. But most of all, you got to smell good.' I was wearing Arpege by Lanvin at 16."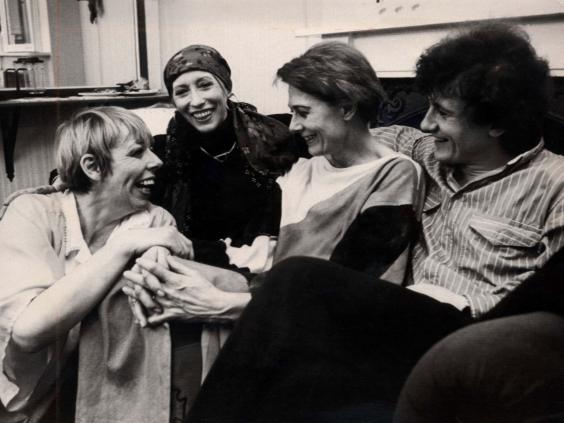 Thus equipped to take on the world, she went to drama school at 17, and joined the RSC in 1965 at 21. She had several small roles in the next five years, then hit the jackpot in 1970, as part of the company who staged Peter Brook's A Midsummer Night's Dream – the production with the white box, the swings, trapezes, stilts, spinning plates and other manifestations of magic. De la Tour was comedy gold as Helena, derangedly in love with Demetrius. "Ben Kingsley played Demetrius," she said fondly. "He was 27, I was 26. In one scene we did together, I had to keep him onstage at all costs. He kept moving offstage – so I just rugby-tackled him. We'd spent 10 weeks rehearsing the play, and were so familiar with the text that whatever we did physically seemed perfectly okay."
She was, she says, extremely nervous. "Why? Because I was thinking, 'I'm doing Shakespeare. I'm playing a huge part with a visionary director. It's in rhyming couplets. I'm 26. I don't know who I am or what's happening…' But Peter was so loving, very sweet and funny and nice to me. He said, 'Whatever insecurities you're feeling right now, then so is Helena.' At one point, I even sang a few notes – although I can't sing – just to free myself. He liked it so much, he kept it in."
The mid-1960s were a heady time to be a young British actor. Frances de la Tour saw Laurence Olivier and Maggie Smith in their finest hour, giving their Othello and Desdemona at the Old Vic. At the same time, the RSC were putting on The Wars of the Roses, a dizzying mash-up of Shakespeare's history plays. At the Aldwych, Peter Daubeny's World Theatre season was in full swing, headed by the Berliner Ensemble.
"It was an astonishing time," she breathes, "to be 19, just about to leave drama school, and going to see every single production we could get to, in the upper circle." Which actresses did she admire? "Oh, Maggie Smith – she was absolutely astonishing in The Beaux' Stratagem, so pretty and she radiated wit in the old sense, meaning intelligence. I saw Vanessa [Redgrave] doing As You Like It and David Warner as Hamlet – and suddenly, it wasn't all about glamorous theatre any more. It was real, with bright lights and no make-up. It was the end of the old school of theatre."
It was also time for a change of acting style. While De la Tour was appearing as Rosalind in As You Like It at the Oxford Playhouse, and Isabella in The White Devil at the Old Vic, she was also appearing in television comedy. She co-starred in the original 1971 cast of The Banana Box, a play by Ian Chappell about a rundown Yorkshire townhouse converted into bedsits by the landlord – one Rupert Rooksby, a grubby, intrusive, miserly, lecherous, right-wing bigot who constantly invades the privacy of his tenants. They include a posh, dreamy spinster and university administrator, and a suave black student who claims to be the son of an African chief. Leonard Rossiter played Rooksby, Don Warrington played the black student and Frances de la Tour the whimsical love object.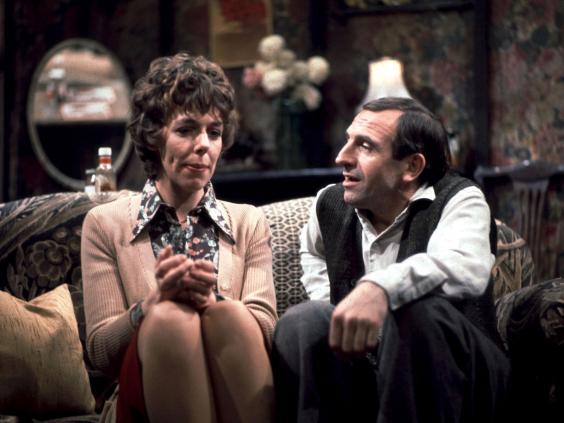 After its West End run, a forgotten producer suggested it might make a good sitcom, and Rising Damp was born. With Richard Beckinsale added to the cast as the medical student Alan, and Rossiter's horrible-but-fascinating character re-named Rigsby, it aired in 1974, ran to four series until 1978, and was the highest-ranking ITV sitcom in BBC's 100 Best Sitcoms poll of 2004.
Did De la Tour feel at the time that a sitcom was a bit beneath an RSC actress? "We were just doing it for the money," she says. "I certainly needed the money and if you're offered a TV sitcom, you say 'Yeah, fine.' It was actually a great era for sitcoms. There were at least four other good ones around at the time. But," she adds with a touch of pride amidst her disapproval of the subject, "about 20 million people watched ours."
So she became a TV star! How did that feel? Her lovely eyes frown. "I made a real point," she says evenly, "of having nothing to do with celebrity. There was a show on television called Celebrity Squares, which I was offered. I said, 'I'm not doing it, I'm not doing anything about celebrity.' I went straight into more plays. I did lots of things on the fringe, not earning anything, to continue doing the work that I was trained for."
We seem to have hit an awkwardly serious point in our jolly discussion. I ask about the first scenes she shared onstage with Rossiter. Had his comic timing struck her as a bit…
"Haven't we exhausted Rising Damp by now?" she asks, in that flat rhetorical way that demands the answer "Yes."
I move on. Is she, I ask, a comic actress who can turn her hand to tragedy, or an essentially tragic actress who can sometimes forget herself enough to do comedy? And which is harder?
She recoils as if I'd asked her to recite the Sanskrit alphabet. "How can you throw that at me?" she says crossly. "What kind of question is that? It's like asking, 'Could you please tell me about the essence of quantum physics? And while you're at it, could you explain gravity?" All I meant (I say) was, is it hard to do both?
She seems mollified. "My answer to that is: if you can do comedy, you can do tragedy. If you can do tragedy, you can't necessarily do comedy."
She has won three Olivier Awards: Best Actress for Duet for One (written by her ex-husband Tom Kempinski, by whom she has two grown-up children) in 1980; Best Actress in O'Neill's A Moon for the Misbegotten in 1983; Best Supporting Actress for When She Danced in 1992. But the stage role for which she's been most celebrated is Mrs Lintott, the wry, caustic, funny, close-to-retirement schoolmistress in The History Boys, Alan Bennett's comic-poignant play about a class of teenagers being prepared for Oxbridge by teachers with contrasting attitudes to education.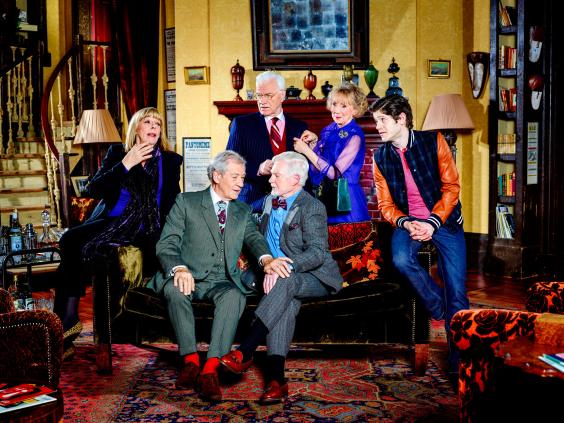 "Ten years ago, I was in Sydney doing The Dance of Death with Ian McKellen," she recalls. "There were lots of posters for Alan's series of monologues, Talking Heads, with Maggie Smith and Maggie Tyzack. I remember feeling miffed and thinking, 'Why have I never been in an Alan Bennett play?' Well, I went back to the hotel and there was a script from Nick Hytner, who'd recently taken over at the National. It was The History Boys. Before even reading it properly, I'd said yes. And I learned later that Alan had written in the margin of the first script, 'Frances de la Tour to play Mrs Lintott?' They knew before I knew that it was right for me. Sometimes it takes another person to know what you should play."
Had she invented a back-story for Mrs Lintott? "She's honest, I think. She has this line: 'I went to Durham University and I loved it. I had my first pizza there. Other things too, of course, but it's the pizza that stands out.' That says everything about her."
The History Boys was an unexpected smash hit on Broadway. It defied logic that Manhattan playgoers could be beguiled by a drama about British teaching methods that looked kindly upon casual paedophilia and featured a scene conducted entirely in French. De la Tour won a Tony Award for her portrayal of Mrs Lintott. "I absolutely adored it in America," she says, eyes glittering. "Because they didn't know who I was, they thought they'd discovered me. I was like an adopted child. Because New Yorkers are New Yorkers, they'd pick me up in the street and embrace me. Not just the gay community – there were straight guys as well, people so smitten with the show, the characters, and Richard [Griffiths] playing Hector. Paul Newman saw it four times."
She went on chat shows, and found herself fighting off frock designers who wanted her to wear their creations to the Tonys. "I had to have a dress made for me, and I wore black diamonds – something I'd never do for the Oliviers. Of course, you had to make sure to send the diamonds back afterwards…"
Whereupon she rises to her feet and swans off for a flirtatious cigarette up on the roof terrace with her friend Marc Sinden, son of the late Donald. She's too cool and clever to be a diva, but she's an authentic star. And she's moved several aeons beyond the days of Miss Ruth Jones, her seedy Northern bedsit and the wooing strategies of Mr Rupert Rigsby.
The new series of 'Vicious' starts Monday 1 June at 9pm on ITV1
Reuse content