John Torode, Australian former restaurateur and on-going television presenter, is running late for our interview at the offices of UKTV on Hammersmith roundabout in west London; he's been out to get himself some lunch, a sandwich and a pot of esoteric-looking salad, which he then puts to one side.
"I don't like to eat in front of people," he states, which is odd given the fact that Torode makes a living from eating in front of people. On BBC1's MasterChef, he and co-host Gregg Wallace shovel endless forkfuls of aspirational cuisine down their gullets in front of over four million viewers like myself, intently following their mastication for signs of approval. Wallace is easier to read; Torode keeps it deadpan.
On the subject of MasterChef, the question most asked when I told people I was going to be interviewing Torode was, "Isn't the food cold by the time the judges eat it?" "Room temperature," he corrects, while I work out if that isn't the same as being cold. "By the time we taste everything, we know what it's like... you can tell." But more about MasterChef – or MC10 as he calls it (the tenth series, already filmed, begins in late March) – later, because I'm actually here to discuss his first big solo project, a new series for Good Food Channel, John Torode's Australia.
This sends the 48-year-old on a journey of re-discovery of a country he left well over two decades ago and, to a certain extent, a journey around his Aussie identity. For, as he puts it: "I was shit at being an Australian". I kind of know what he means, but I ask him to explain anyway. "You guys all know Aussies for wearing shorts and thongs and calling themselves Bruce," he says. "And I didn't really play football or drink beer. I cooked, which was pretty un-Australian. And I didn't really like Australian music... I preferred the New Romantics and punk and stuff like that."
Yes, indeed, and the show has a photo to prove it – kindly flourished at a family barbecue in Sydney by Torode's Auntie Mary – a snapshot of the future cookery star wearing eyeliner. Men with eyeliner probably weren't that common in 1980s Maitland, which is about 100 miles north of Sydney. Bruces were Bruces back then, I imagine, and Sheilas were Sheilas. "It was a small town... countryside," he says. "It's not changed very much to be brutally honest... there's a couple of ring roads they put in. Why, I'm not sure."
Torode's mother died when he was four, and he doesn't remember her ("One of those things," he says). The middle of three brothers, he was raised until the age of 10 by his maternal grandmother, "Nanna", who taught him to cook. "I opted to be tied to her apron strings, I suppose, rather than disappearing outside and playing football," he says, starting early with his 'shit-Aussie' thing. "I'd sit at a kitchen bench and watch her cook, and then eventually she'd let me stir the gravy, and then let me make the cake mix and pastry... I slowly learnt."
Roast chicken is Torode's equivalent of Proust's madeleines, although I'm intrigued by a scene in the opening episode of his new series where he prepares an al fresco lunch for his extended family, and barbecues whole chickens, having first stuffed each of them with a full tin of lager. It seems like a parody of Aussie cuisine, the sort of thing you could imagine a Barry Humphries' character doing. "Beer-can chicken... It looks a bit weird, doesn't it? But it's beautifully moist."
Chicken is in the Torode blood, as it were – his father sold coleslaw for Kentucky Fried Chicken all over Australia, as well as orange juice. Torode himself began his catering career at 16, and by the 1980s was earning good money as executive chef to what was then "the largest catering operation in the whole southern hemisphere", taking in the Sydney football stadium and the Royal Sydney Showgrounds. But then, in 1991, he decided to "get back to basics" and be an impoverished chef again, heading to Italy with his English girlfriend (and, later, wife number one).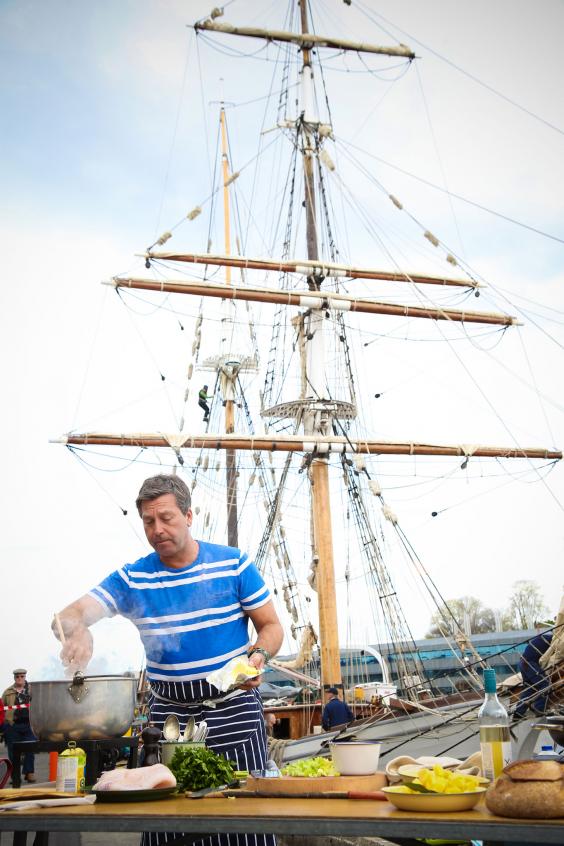 The pair got no further than London, and Torode's timing couldn't have been better: Terence Conran was about to open Quaglino's in Mayfair and transform London dining forever. Not before time, says Torode. "Food in Australia is egalitarian, while over here it was very privileged... it was about class... being presented a plate by some man in a funny penguin outfit who looked down his nose at you, as if you hadn't spent quite enough money. Then the great food revolution happened here in London in the 1990s, with Terence Conran, and I was involved. It changed the face of London and I'm really proud to say that – no one can take that away from me."
I hope nobody takes anything away from him, because he's worked hard for his success. After Quaglino's, he cooked in Conran's other flagship restaurants, including Mezzo and Bluebird. I had my stag-night meal at Mezzo, I tell Torode, and stole an ashtray from Quaglino's. "In the first month we opened up Quaglino's, 4,000 ashtrays went missing," he says. When he finally opened his own restaurant, Smiths' of Smithfield, he made sure the ashtrays were made of tin. "Still, I think we lost a thousand in a month." I stole one of those too, I admit, beginning to feel like a kleptomaniac.
Just last month there was a report on the BBC website headlined, 'The decline of the Australian in London', about the backpacking Aussie on their traditional rites-of-passage working stay in Britain becoming an endangered species, thanks to a strong home economy and a tightening of British visa rules. Australian-themed pubs in London have been closing, including the Walkabout in Shepherd's Bush, which I walked into once – I think to use the gents – only to turn around and walk straight back out.
"Because I was a shit Aussie, I didn't fit into the Walkabout either," Torode sympathises. "I was never a backpacker... I never did that, 'G'day mate, I'm an Aussie here in London'. I much preferred the world of London." He also seems to prefer English girls – he married and divorced two Poms, and is currently dating another, the actor Lisa Faulkner, who won Celebrity MasterChef in 2010. But then, his is a profession with a high marital attrition rate – the long hours, and so on. "I think that's just an excuse," he says. "Marriage is a very difficult thing and sometimes everyone can be a bit stubborn; it is what it is. I can't change it. It's the next chapter... onwards and upwards, I say."
He has four children, two sons having acquired dual nationality, while the oldest, 18-year-old Marcel, is also showing culinary inclinations. "Yeah, but my children will do whatever they want to do," says Torode. "All of them will be able to cook by the time they are adults... I grew up in a world with my father where you learnt to iron, you learnt to cook, you learnt how to clean the toilet... I want my children to be the same... I want them to be anywhere in the world and be able to cope."
Apart from those moments when Torode dazzles a sweetly awestruck Gregg Wallace on MasterChef with his culinary prowess, he no longer cooks for a living. He doesn't, he says, miss "chef's arse". Please explain? Or maybe not. "What happens is that your sweat goes down your back and between your butt cheeks," he says in that brusque monotone he uses to tell MasterChef contestants that they haven't used enough seasoning, or that their sauces have split. "Then, as you dry out, the salt in the sweat dries out, and then you go back into the kitchen again – the rubbing of the salt causes a rash. There's a terrible story about a man and a drawer full of flour, but we'll leave it there..."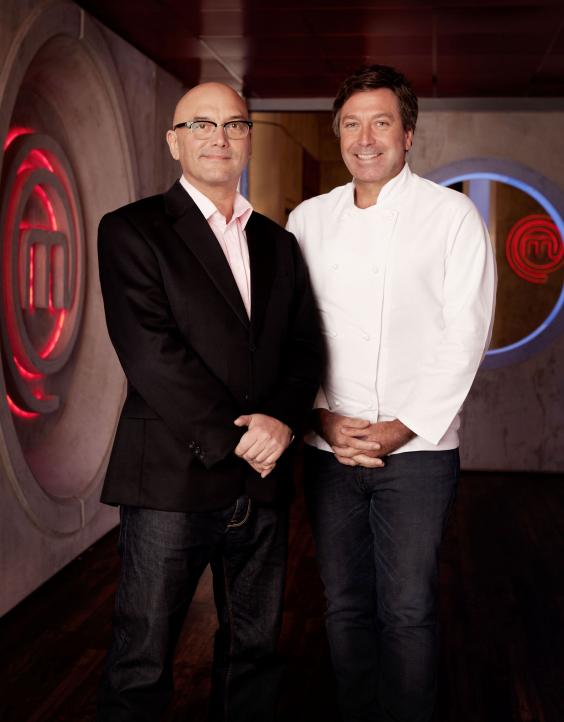 Since 2005, when he beat AA Gill to the job (one of the great what-ifs of TV history, I suppose), Torode has become a household name thanks to MasterChef. The blue-collar Aussie, and Millwall-supporting fruit-and-veg man (Wallace) certainly dragged the show out of its middle-class ghetto, and the pair made for a winning double-act, which some people like to define as a 'bromance'. Off-screen, the relationship is apparently more complicated – with the "OCD" Wallace not an easy man to share a changing room with. "Everything has to be in its place," says Torode. "As far as he's concerned, I'm messy, which is fair enough because that's my mess over there," he adds, pointing to his rucksack and cycle helmet on the floor. He cycled in today from his home in south London.
The partnership is also strong, he says, because they don't socialise together or visit each other's homes. "We give each other space and don't try to morph into each other. I really understand where TV partnerships fall down, because people get jealous... we don't get jealous of each other."
Their odd-couple relationship somehow brings to mind Saga and Martin – the outwardly mismatched cops in the Scandinavian thriller series The Bridge – a likeness which is only enforced when Torode, like Saga, unselfconsciously strips down to his waist to change out of his cycling gear for the photoshoot. No place for prudes, I guess, a professional kitchen.
By the way, any aspiring MasterChef champions reading this should note that the one food that Torode cannot abide is kidney. "I've eaten everything from salted jellyfish to solid duck eggs... dried rat in Thailand, crickets, beetles, snake... but I'm not very good with kidneys," he says. "I find the smell of them ferociously urinal."
According to the most recent census, for the first time in its history, there are now more women than men in Australia – and the average Australian is not a sexist Ocker swigging Foster's on a stoop in the Outback, but a 37-year-old mother of two living in the suburbs. Sydney is also home to hundreds of different cultures, including Greek, Italian and Vietnamese (whose food Torode adores). Will he ever return there to live? "Never say 'never'," he says. "Having gone back to Australia to do this series, what I do appreciate is how that world and those people really moulded me."
And what he is, it seems to me, is laconic, self-reliant and not particularly tactile (in the series, old friends and family appear to grab him rather than vice-versa) with a positive, can-do outlook. He might be just a little less shit at being Australian than he thinks he is.
'John Torode's Australia' begins on Good Food on Monday at 8pm
AUSSIE RULES - DELICACIES FROM DOWN UNDER
VEGEMITE
Australia's answer to Marmite, the concentrated yeast extract was immortalised in Men at Work's 1980 hit single "Down Under". The Vegemite sandwich also hit the headlines last year when ex-Prime Minister Julia Gillard had one thrown at her during a visit to a school in Brisbane.
CHOKO
A climbing relative of the pumpkin family, the 'choko' is so widespread that it became a staple food during the Great Depression, and one reason why the Aussies tend to look down on it. The ease with which it is grown inspired the wonderful Aussie idiom to describe a useless person: 'he couldn't grow a choko vine over a shithouse'. Like the similarly tasteless courgette, the choko is great at absorbing other flavours, says Torode.
LAMINGTONS
Named after Lord Lamington, Governor of Queensland between 1896 and 1901, this popular dessert consists of a square of sponge cake covered in chocolate icing and then desiccated coconut. Ironically, Lord Lamington was said to have hated the things, calling them "those bloody ... woolly biscuits".
BEER-CAN CHICKEN
Before barbecuing, first stuff your whole chicken with an opened can of lager, resting the chuck on the base of the can. It will either be beautiful and moist, or take off and head towards the stratosphere.
Reuse content