In 1984, a New York native called Jordan Belfort got his undergraduate degree and headed to dental college. His mother had always wanted him to become a doctor but he overslept for his medical school entrance exams and told her that dentistry was his true calling.
But when, on his first day at the Baltimore College of Dental Surgery, the dean told his students them that they could expect their training to be rewarded with "a life of reasonable comfort", young Jordan began to have doubts. According to his memoirs, his fears were confirmed when the dean said: "The golden age of dentistry is over. If you're here simply because you're looking to make a lot money, you're in the wrong place."
The warning would mark the end of Belfort's nascent career. Instead, he would charge down a road of white-collar crime that would eventually land him in prison. Along the way, millions of dollars would be swindled from hapless investors and Belfort would consume enough drugs to, as he puts it, "sedate Guatemala".
"I had lots of nicknames: Gordon Gekko, Don Corleone, Kaiser Soze; they even called me the King. But my favourite was the Wolf of Wall Street," he wrote in the best-selling first instalment of his memoirs, named after his favourite moniker.
A second book called Catching the Wolf of Wall Street followed in 2009, and this Christmas, Belfort's life story will appear on the big screen in the United States, with Leonardo DiCaprio playing the lead role. The movie is due be released in the UK early next year.  Directed by Martin Scorsese, the film follows Belfort's story as he morphs from a rookie Wall Street stockbroker without a job after markets crashed in 1987 to a brazen financial swindler whose firm, Stratton Oakmont, trained its young brokers in applying high-pressure tactics to trick unwitting investors into paying inflated prices for worthless stocks that the brokerage would have initially bought for a song. In a pattern that made them millions, Stratton's finest would bank the profits and swagger off, while the investors would end up shouldering losses when reality caught up with the shares and their prices collapsed.
With the cash flooding in, Stratton's employees were expected to live what Belfort, who declined to be interviewed for this article, called "the Life": "driving the fanciest car, eating at the hottest restaurant, giving the biggest tips, wearing the finest clothes, and residing in a mansion in Long Island's fabulous Gold Coast".
In retrospect, he says the business should have been called Sodom and Gomorrah. "After all," he wrote in 2009, "it wasn't every firm that sported hookers in the basement, drug dealers in the parking lot, exotic animals in the boardroom, and midget-tossing competitions on Fridays."
The boss made sure to set an example. The trailer shows Belfort's character at wild parties and hanging out on a yacht – and in one scene, tossing crumpled-up $100-bills into a waste-paper basket. "The year I turned 26 I made $49m, which really pissed me off because it was three shy of a million a week," DiCaprio adds in a voiceover.
After leaving dental school, Belfort became a meat and seafood salesman, working for a distributor before branching out on his own. Business wasn't doing too well, though, and things took a turn for the worse when he ran into an old acquaintance from his neighbourhood who'd gone to work on Wall Street. Described as "an erstwhile loser", he was being paid well enough to charter yachts off the Bahamas and drive a Ferrari. If the loser could succeed, Belfort was convinced he would flourish.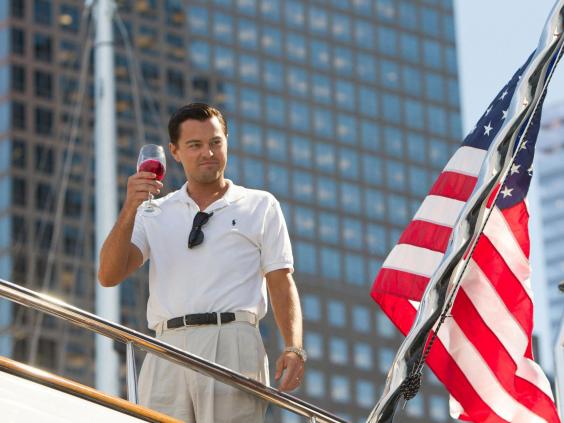 "I was the most talented salesman in the world," he wrote in his second book. "My mistake was that I'd picked the wrong product to sell."
A family friend got Belfort started at the merchant bankers LF Rothschild. But that didn't last either: Belfort had just finished training when, on his first day as a licensed stockbroker, world markets tanked. It was 19 October 1987 – Black Monday – when the Dow crashed by over 500 points. Among the victims was LF Rothschild, which folded.
Technically, that was the end of Belfort's Wall Street career. But his involvement with the seamier side of finance was just beginning: he landed at a Long Island-based penny-stock outfit before setting out on his own. To speed things up, instead of starting a firm from scratch, he struck a deal with a struggling Wall Street brokerage called Stratton Securities to commence operations as its branch in Long Island. Soon, though, Belfort was in control.
A handful of years on, Stratton was occupying a sprawling glass office building in Long Island. Millions were pouring in and the wild life chronicled in the upcoming movie was in full swing. Until the Feds arrived, that is.
In 1999, after a federal investigation, Belfort pleaded guilty to securities fraud and money laundering charges. Facing up to three decades behind bars, he became a government witness, supplying authorities with information about other defendants. He eventually ended up serving 22 months in prison and was ordered to pay victims of his fraud $110m in restitution. He was barred from the industry, and Stratton was shuttered.
Today, as the world prepares to watch his story, Belfort says he's a changed man. In place of stocks and shares and dodgy dealing, he is a motivational speaker and sales trainer.
"Fraud is not something you want to be good at," he told the Associated Press in a recent interview. "I was always taking great efforts to cover my tracks. It was unbelievably exhausting, keeping track of all the lies... I think that's why I lived so recklessly. You're doing things that you know can't go on indefinitely. It fuels that insane lifestyle."
The Wolf of Wall Street: Most outrageous quotes
The Wolf of Wall Street: Most outrageous quotes
1/7

"My Ferrari was white—like Don Johnson's in Miami Vice—not red"

Paramount Pictures

2/7

"I've been a poor man, and I've been a rich man. And I choose rich every f*****g time."

3/7

"I take Quaaludes 10-15 times a day for my back pain. Adderall to stay focused. Xanax to take the edge off, part to mellow me out, cocaine to wake me back up again, and morphine...Well, because it's awesome"

Mary Cybulski/AP

4/7

"My name is Jordan Belfort, the year I turned 26, I made $49 million, which really pissed me off because it was three shy of a million a week" (Leonardo Dicaprio pictured as Belfort in The Wolf of Wall Street)

Paramount Pictures

5/7

""I had lots of nicknames: Gordon Gekko, Don Corleone, Kaiser Soze; they even called me the King. But my favourite was the Wolf of Wall Street"

Paramount Pictures

6/7

"Money doesn't just buy you a better life, better food, better cars, better p***y – it also makes you a better person"(Pictured: Jordan Belfort, the real Wolf of Wall Street)

GETTY IMAGES

7/7

"Act as if! Act as if you're a wealthy man, rich already, and then you'll surely become rich" (Pictured: Jordan Belfort, the real Wolf of Wall Street)

Michael Loccisano