These are strange, head-spinning days for doughty Martin Freeman.
We've met in a private room off the deserted restaurant of a boutique Bristol hotel to discuss the Holocaust. In The Eichmann Show, the 43-year-old Brit plays Milton Fruchtman, the American TV producer who persuaded the Israeli authorities to let cameras film the 1961 trial in Jerusalem of Adolf Eichmann, the high-ranking Nazi who was instrumental in implementing the so-called Final Solution that killed six million European Jews. Night after night the trial was a global media event, and beamed the horrors of the Holocaust into living rooms in 37 countries. True to context, and rightly, this new BBC drama does not stint on the use of newsreel footage from the concentration camps.
So Freeman and I sip tea from decorous china in a decorous hotel and find ourselves discussing the pulse-stopping pragmatism of the Nazis' industrial-scale death bureaucracy. I've seen the finished 90-minute drama; he hasn't. I relay to him the most chilling fact that I learnt from The Eichmann Show's broadcast of original court testimonies from survivors: that the Nazis spread the ashes of murdered Jews on the ground of the camps, so people wouldn't slip.
"Yeah, that rings a bell," he winces. "I went to see a camp when I was very young, called Sachsenhausen, which is not far outside Berlin, and I think there was a similar thing there that just completely rocked me. It was something to do with a running track… Just the banal inhumanity. All that stuff," he says briskly, rapping his knuckles on the table, "that's the really frightening stuff. When it's so easy to do, and so efficient."
The Hobbit: The Battle of the Five Armies film stills
The Hobbit: The Battle of the Five Armies film stills
1/9 The Hobbit: The Battle of the Five Armies

Martin Freeman as hobbit Bilbo Baggins in The Hobbit: The Battle of the Five Armies

Warner Bros

2/9 The Hobbit: The Battle of the Five Armies

Ian McKellan stars as Gandalf and Richard Armitage as Thorin Oakenshield in The Hobbit: The Battle of the Five Armies

Warner Bros

3/9 The Hobbit: The Battle of the Five Armies

The Hobbit: The Battle of the Five Armies looks set to be a dramatic conclusion to Peter Jackson's trilogy

Warner Bros

4/9 The Hobbit: The Battle of the Five Armies

Dragon Smaug wreaks havoc over Lake-Town in The Hobbit: The Battle of the Five Armies

Warner Bros

5/9 The Hobbit: The Battle of the Five Armies

Cate Blanchett as Galadriel in an emotional scene from The Hobbit: The Battle of the Five Armies

Warner Bros

6/9 The Hobbit: The Battle of the Five Armies

The troops prepare for war in The Hobbit: Battle of the Five Armies

Warner Bros

7/9 The Hobbit: The Battle of the Five Armies

Luke Evans as Bard in The Hobbit: Battle of the Five Armies

Warner Bros

8/9 The Hobbit: The Battle of the Five Armies

Tensions rise ahead of the huge finale battle in The Hobbit: The Battle of the Five Armies

Warner Bros

9/9 The Hobbit: The Battle of the Five Armies

'How will this day end?' asks Gandalf as all hope seems lost in The Hobbit: The Battle of the Five Armies

Warner Bros
A history and politics buff, as well as an assiduous watcher of quality drama, especially that featuring his peers and near-peers, Freeman cites a 2001 HBO/BBC film about the Wannsee Conference, the 1942 board meeting at which the Nazis planned the extermination of the Jews. "It's what Conspiracy does extremely well," he says of the drama that starred Kenneth Branagh as Reinhard Heydrich and Stanley Tucci as Eichmann, "because they're all quite attractive people; well, they're not all att-," he says without breath, backtracking hastily, cutting himself short. It's something Freeman does often, as his quick mind races against his quick tongue.
"But Branagh's character is an attractive, intelligent, smart person," he continues of the actor's Emmy-winning portrayal of senior SS officer Heydrich. "And if it wasn't for the context of what he was saying, you'd go, 'Yeah, I want to get behind this guy, he's pretty cool, he wants to get shit done,'" Freeman recounts briskly, clapping his hands. "And it's no one looking evil and it's no one looking dastardly. It's just, ah, admin. It's really, really frightening."
Certainly, while watching The Eichmann Show, Hannah Arendt's phrase about the "banality of evil" – coined by the writer while documenting the trial for The New Yorker to describe Eichmann's bland, implacable demeanour in the dock – feels as chillingly appropriate as ever.
Freeman is friendly, for sure, but also sharp, opinionated, and not afraid to bristle at lazy reductionism of his acting talents. It makes for an actor who's an engaging conversationalist and who is shot through with a shaft of steel – which also belies an oddly (and for him, aggravating) cuddly image. No, he's not an "everyman" actor; yes, he can do considerably more than Tim from The Office. A fact to which his current roster of roles forcefully attests.
Right now, he is armpit-deep in Dr Watson. Today is the end of day number three on the filming of the next instalment of Sherlock, the hit BBC drama attended – engulfed – by an unprecedented fan mania. Which, it transpires, actually bedevils the making of the show. (The leaking, already, of images of the suit worn by Dr Watson in this Christmas 2015 special – three-piece, brown, tweedy – is the least of the cast's worries.)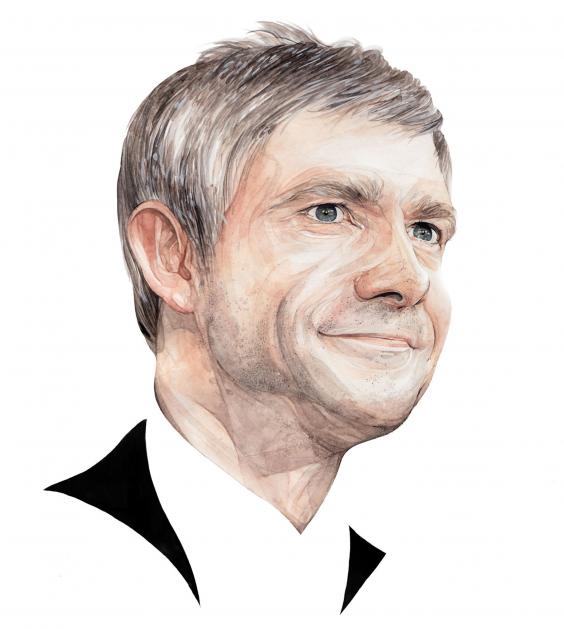 In cinemas, meanwhile, another iteration of Freeman's diverse CV is very much abroad. The last film in Peter Jackson's blockbuster Hobbit trilogy is still packing them in. At time of writing, The Battle of the Five Armies has taken almost £40m at the British box office; both of its predecessors ultimately grossed $1bn worldwide. At least, and at last, the climactic, battle-heavy epic, filmed on the rocky plains of New Zealand, has ended the over-stretched three-part adaptation of JRR Tolkien's slim yarn. And ended it with a bang, not to mention many a clang of dwarf weaponry on orc skull.
So, four years after embarking on a filming schedule that repeatedly sent him to the ends of the Earth (which, for a Brit with a young family, is even farther than Middle-earth), Freeman's stewardship of Bilbo Baggins' outsize feet and shaggy mop are over. A cause for tears? Or for a celebratory tiffin in Freeman's own version of Bag End, the home he shares in Hertfordshire, north of London, with actress partner Amanda Abbington (Mr Selfridge, and Sherlock too) and their children Joe, eight, and Grace, six? Neither, it seems.
"At the end of a job I don't really carry anybody on," insists Freeman of his characters, whether it's Richard III or Fargo's Lester Nygaard; last year he played the former on stage at London's Trafalgar Studios, and the latter on American telly (Fargo winning two Emmys and, last week, a Golden Globe for Best Miniseries).
"I don't miss anybody," he avers. On his recent global press tour promoting The Battle of the Five Armies, "That's the question I was asked 40 times a day: 'Do you miss Bilbo?' 'No, I don't, because I'm not mentally ill.' Well, I am, in many ways!" he laughs. "But I'm not deluded – I don't think he's real, and I don't think I am him," Freeman states with get-a-grip finality.
So, yep, he's glad to have slain his last orc – if for nothing else than that he "always likes finishing jobs, even when I enjoy them". Seriously focused on the job at hand, this perennially sharp-dressed man hates the feeling of "having those little loose ends to tie up".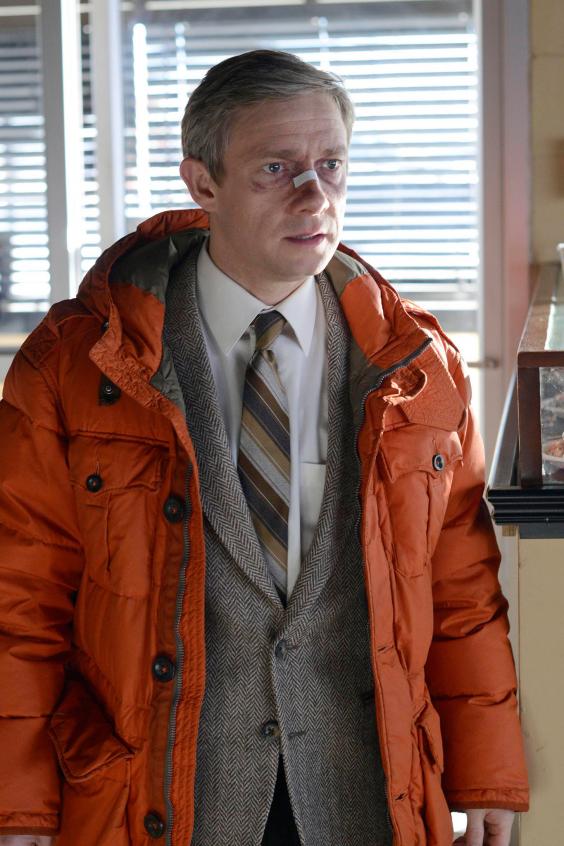 It's why he was more than happy to have had the lead in only the first series of Fargo, despite its critical and ratings success. And why, presumably, he'll be forever grateful to Ricky Gervais and Stephen Merchant for ending The Office with neat, timely aplomb.
Sherlock, though, is OK. Yes, it's a recurring series. But it recurs intermittently. Mainly, it seems, whenever both his and Benedict Cumberbatch's increasingly insane working schedules can be synced. Even then it's "pretty finite" when they're making it: three 90-minute episodes or, in the current case, a one-off.
"By American standards it's nothing!" he exclaims of a role for which he's won a Bafta and an Emmy. "Even by Downton [Abbey] standards it's pretty short! It's not eight months of our year, and it's not every year. It's so intermittent. That's what for me makes it do-able. I don't know about Ben but certainly for me it would soon lose a lot of its appeal if we were schlepping that around for eight months of the year, every year. A bit of the sheen would have gone off it."
When you hear Freeman discuss the filming of Sherlock, you can understand why. On location in London, the set is regularly surrounded by hordes of fans. Does it happen in Bristol too? "It started the other day," he nods. "Not hundreds, but scores, of young women mainly."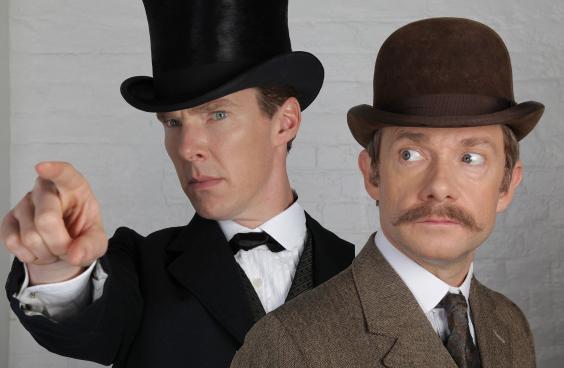 This would be a challenge for any actor. But perhaps doubly so for a "celebrity" who hates everything to do with the term and avoids social media. Not surprisingly, then, he admits the fannish rubberneckers cause problems for him and the equally Facebook-phobic Cumberbatch. "When we're [filming at] our stand-in for Baker Street, it is hard to do your job. And I don't love it," he says heavily. "I don't love it."
Are people shouting out at the actors? "No, they're not. But you know… phew," he exhales, "it's like trying to act at a premiere," he says, meaning the experience of the red-carpet crush. "It really is. I've never…," he smiles thinly, pausing for a reality-checking aside, "I wasn't in The Beatles. But I've never seen anything like it. There's such a heightened sense of excitement, so every time we come out there's applauding – and it's like, 'No, can you n–' Or, if we do anything – 'Cut!' – applause… It's like, 'No, this isn't a gig…'"
And all the while they're trying to maintain a Sherlock/Watson headspace. "Yes, we are," he retorts quickly. "While at the same time there are hundreds of people taking pictures of you and holding up placards." He pauses. "Of course you want to be gracious with it. And I obviously very much appreciate, as do we all, the fact that people love it. But also, yeah, it doesn't make you doing your job any easier."
Still, rigorously thoughtful Martin Freeman would be the first to admonish himself with a "get real". First-world problems and all that. Or, more frou-frou still, A-Lister problems. Which is the league in which this one-time sitcom star now finds himself. Sherlock, The Hobbit, Fargo – all told, it makes for a patch as purple as the winter gloom-defying jumper he is sporting today.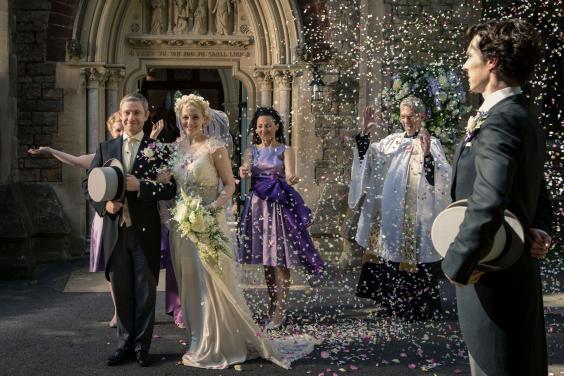 Immediately after completing the five-week shoot on Sherlock, he's off to New Mexico, standing in for Afghanistan, to film The Taliban Shuffle. It's an adaptation of a lightly comedic memoir by an American war correspondent, and also stars Tina Fey.
But right now, even though he's enveloped – engulfed – in Sherlock, and has barely caught his breath after the final Hobbit hoo-ha, he's keen to give time to talking up The Eichmann Show. Forget actors' egos – this is an important piece not because of what it is or who's in it, but because of what it's about. And Freeman knows that no matter what he and his castmates do on screen, they can't compete with the horrific drama on show via archive footage.
Of course, he acknowledges, there have been other holocausts. Stalin killed more, Tutsis and Hutus more recently. But the attempted extermination of Europe's Jews was done in his parents' time, an hour or so's flight away. "By a really exceptionally civilised country. Half of us are partly German! Half our language and culture, generally, in Anglo-Saxon terms, is German. Our royal family is German!" he says, agitated, his blood up. "This is something that's pretty close to us. And a very clear indicator, if it's ever needed, that you don't look for demons and you don't look for baddies. Cos they're there; they're us.
"And that's partly why it's so important to remember. And also," Freeman concludes, "why it's so important to respect those people who were murdered."
'The Eichmann Show' will air on BBC2 at 9pm on Tuesday
Reuse content