With a gravelly chuckle that is equal parts beer and Benson & Hedges, Ray Winstone is considering his epitaph. "Here lies a transvestite schizophrenic."
He's only joking, mainly. There haven't been (m)any cross-dressing moments, but you can perhaps see what he's getting at with the "schizophrenic" bit. Since his first major role in Scum (both the banned 1977 BBC Play for Today, then the 1979 film version), this working-class East Ender has had dozens and dozens of roles on TV, in independent films, in blockbusters.
Ray's roles encompass cops, gangsters and wrong 'uns aplenty, for sure, including turns for Martin Scorsese (The Departed) and Steven Spielberg (the last Indiana Jones film). But it also includes, in the past decade alone, the lead role in the motion-capture rendering of Old English epic Beowulf, a reboot of The Magic Roundabout, a beaver in the first Narnia film and a dwarf in Snow White and the Hunstman. No, not so many romantic leads.
Most recently, Britain's most famous – and most stoutly unreconstructed – cockney actor played an argy-bargy descendant of Cain, giving it ark-threateningly large to Russell Crowe's Noah in Darren Aronofsky's stormy biblical epic. Next, we'll see him looking out for old military pal Sean Penn in action thriller The Gunman.
No matter, the 58-year-old wasn't entirely serious when reflecting on his tombstone legend. A spade's-a-spade grafter like Winstone isn't one for considering his 'legacy', a gentle luvvie retirement, or the more la-di-da elements of his chosen career. When we meet in a Soho hotel in central London, it's the day after the Baftas. I ask if he attended the ceremony, and Winstone splutters an 'as-if' negative.
"I don't mind them if I'm getting something. But I'm fucked if I'm gonna watch other people get it! Sit through all that!" he exclaims. "God, you don't want none of that."
Indeed, he only offered that jokey summation of his career after being prodded to reveal whether Ellie, aged 14 and the youngest of his three daughters, might be considering following the old man, her actress/singer sister Lois, aged 32, and other actress sister Jaime, aged 29, into showbiz.
"Nah," he says with a shake of his head. "No, no, no. She's all right, Ellie. I think actually we've got an intelligent one in the family," he smiles. Not that he's implying his elder girls lack smarts, but Ellie seems to have an affinity for maths and non-artsy subjects. "All my girls are all right. Thank God they don't take after their dad."
Thus, if Ellie suggested she wanted to be an actor, for all the lovely life it's given him, dad would suggest she "go and be a doctor. Give something to the world. Wouldn't it be nice to do something worthwhile? Rather than dressing up and being a schizophrenic transvestite!"
He might have semi-girly hair in The Gunman, but that's as far as goes.
"Yeah, I had that from a job I done before, Moonfleet," Winstone says of his straggly barnet, referring to the TV adaptation of the 19th-century smuggling yarn broadcast at Christmas 2013.
We're sitting round a small table in a hotel room that's been hired for his sole interview to promote his new film. He's popped into town from his home in Roydon, Essex. His driver, an old mate dressed in threads as impeccable as dapper Ray's, sits on a sofa, minding his own business. There are no glasses for the large bottles of water, so Winstone suggests we chug straight from the neck. When room service arrives with lunch, he proffers me his bowl of chips with hearty encouragement and an ursine paw. Straight-up, no-nonsense, down-to-earth Ray. Just like we want him to be.
"But I also wanted a big beard for Stan," he continues of his Gunman character. "He's an old soldier who's been fucked and probably turned to everything he shouldn't have done. But they don't like you with beards, some producers and directors," says this pragmatic veteran, aware that filmmakers prefer their leading men to be largely recognisable. "So I shaved it off a bit."
An ex-military type, Stanley is the one man on whom Penn's titular character can count. The double Oscar winner plays Jim Terrier, a 'contractor' in the Democratic Republic of Congo. That is, the eye-poppingly muscular tough guy is ostensibly there doing one job – protecting an airfield servicing Western mining interests – but really doing another: preparing to execute a hit on a politician jeopardising those interests.
So far, so thriller-like. But The Gunman is a rollicking ride, directed by Pierre Morel, who made the first Taken film with Liam Neeson. Penn – who co-wrote the script and co-produced the film – is forcefully convincing as the Western strong man who belatedly realises that pillaging the world is an imperialist wrong as prevalent today as it was 200 years ago. For a campaigning actor who's been loudly active in efforts to rebuild Haiti after the catastrophic 2010 earthquake, The Gunman is clearly an opportunity to smuggle in a geo-political message to a chase 'em/shoot 'em/kill 'em romp.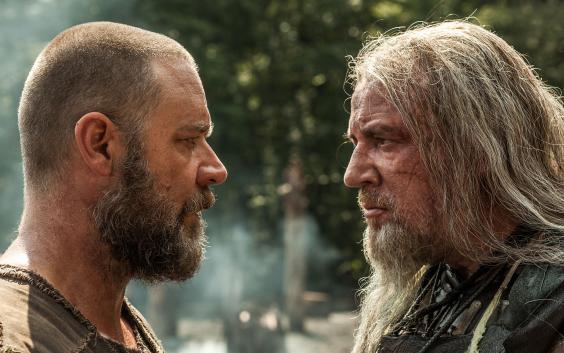 "I think it's got a good message," nods Winstone. "He's very political, isn't he, Sean, and I think he had a lot to do with [writing The Gunman]. And he carries the film so well. There's very few around who can carry a movie like that – especially at our age. And he looks fantastic as well. I mean, he's buff!" he laughs of the 54-year-old. "But boy, he can fucking act.
"But it is politically motivated," he continues. "So Sean ain't just made that kind of thriller where it's just gung-ho, go out there and smash everyone up... It makes you a little bit aware of what's going on in the world."
Well-connected Winstone knew Penn socially before they made The Gunman, and attests to his bookishness. He's the first to admit it contrasts with his own occasional bouts of soapbox politicking.
"It's not like what I say off the top of me head sometimes 'cause I've got the hump with something. He's actually got the knowledge that goes with that. So I think you've got to take your hat off to him."
For all his protestations of simplicity, last year Ray Winstone had cause to take a hard look at himself, too. For one thing, he worked on his autobiography. "It's an easy read," he shrugs of Young Winstone. "It's gotta be. I'm far from being an intellectual." He didn't write it himself – it was ghost-written – but he still dug deep into his relationship with his parents.
"It ends on a bit of a down, when I lost me mum. She was 52 and I was 28. Cancer. She had it for two or three years. Uterus and all that, and [she was] gone. We didn't think she knew, and she didn't know that we kinda knew.
"But I was lucky to sit down with her and have a conversation just before she died. She went into a coma, but then she come out of it, and I spent the day with her. And we just talked about the things that probably we never touched on in her life. I was a very lucky boy in that way. And she really just got everything into its right place, as if to say, 'I'm gonna go now, so this needs to be done, that needs to be done'.
"Having that conversation with your mum that you'd never had in your life – it helped in a lot of ways. But you're never ready for that," he says, his natural, pub-banter demeanour darkening momentarily. "Especially at that age."
Then, a month after the book was published, Winstone lost his dad. Raymond senior, a fruit-and-veg man who later became a cabbie, was 82.
"It's not a bad old age. But the last couple of years for him weren't easy. We put him into... not a home, more of a hospital. We had to get him in a private one in the end. We tried a few [NHS] ones which didn't really have the facilities for him – he needed to be moved, he needed osteopathy treatment for his limbs."
His dad's decline started after he had a fall. He went into one hospital in Essex, "where they done very well with him". But then he was moved to another hospital in the county, "where the doors are locked. And when I finally got in there they hadn't been moving him around, and he got septicaemia. And I seen all these programmes on the telly, politicians saying how the NHS is getting better. No it's fucking not," he growls. "I saw three men on his ward lose legs through not being moved."
Winstone is understandably still upset, but he keeps his cool.
"You can't blame the staff as such. Because the staff haven't got the time. You have to blame the system. 'Cause it ain't working."
In the end, Winstone had to act against his principles and go private. Paying for hospital care, he felt, was the only way to ensure his dad had the treatment he needed.
"And it was too late. The damage had been done. He kinda died three or four times and to their credit they kept him alive. Once they said to me: 'Do you want us to let him go?' I went: 'What? The reason he's like he is is because of what you've fucking done. Do I want you to let him go? No'."
Winstone wanted to file an official complaint. But Raymond refused to sign the papers. It was an "old-fashioned" attitude: you can't have a go at the National Health Service. Winstone admires his dad's principled dogmatism. But equally he felt he needed to ring some alarms to protect other patients who might suffer.
Having been stuck at the sharp end, does he blame the Coalition Government for the parlous state of the NHS?
"Do you know what, kid? I blame 'em all for it. We can say Tories, Labour, Liberal – but you wonder who they're actually serving. They're supposed to represent us. Yet we've got fire stations and schools closing down, not being funded right. We're losing nurses abroad. They're the people we're losing from our way of life, the people that actually serve our society. We're not paying them properly."
In perhaps not-unrelated news, Winstone says he's looking after himself a bit more these days. Yes, he still smokes. But he's slowing down on the drinking. Seeing himself onscreen in The Gunman for the first time the other week seems to have reinforced his resolve.
"I was well overweight on that film. I wasn't too well. What I'd done was, I'd overworked." He wasn't long finished on the gruelling shoot for Noah. "I felt a bit rough. I dunno, maybe I was burning the candle as well..." he concedes. "So I was kinda battered a bit. So I couldn't really actually move about too much. And when I saw The Gunman I thought, 'Yeah, fuck me, the size of you, you really gotta do something about that'. Which I kinda have."
Is drinking the worst thing for his waistband?
"Oh yeah. I just look at a drink... But I've kinda cut down on that. I used to love a booze. But I get bored with it now. I've got other things to do."
On the one hand that means ever-hectic film commitments. Last year, he was away from home, on and off, for eight months. (He insists his wife of 36 years, Elaine, is well used to it.) He travelled the world (Venezuela, Tahiti, Italy) shooting a remake of robber/surfer Nineties classic Point Break; he has the role of the FBI agent played by Gary Busey in the original. And he travelled to Glasgow to shoot The Legend of Barney Thomson, a black comedy that's the directorial debut of another old pal, Robert Carlyle.
And on the other, that schedule also means making, next month, another round of those annoying adverts for that betting company. With typical black-and-white clarity, Winstone is unabashed about what he acknowledges is a money job.
"Listen, they look after me really, really well. I guess to use my name. And I'm happy with that. I don't mind doing betting commercials, 'cause you have a choice: you want to have a bet, you have a bet. If you don't, you don't. Insurance and banks – I don't do them commercials. And I have been asked. 'Cause I feel like it's all a lot of bollocks, you know?"
And beyond that? There's the usual flurry of scripts. Some might be goers. Or none might be. Ray Winstone isn't bothered.
"I do like going to work. It's the way we're bred, I guess. So I do over-work sometimes. But I'm getting older now. I'm like a footballer – rest him for a couple of weeks... So there's a few ideas punting about. And if one happens, it happens. And if not, I'll lay about in the sun somewhere. That'll do me."
Our time is up. Quick-smart, he's on his feet, shaking hands and into his coat, a lovely Camel-like number from an Italian tailor in Long Island, found when he was filming Noah. Downstairs, his car is already waiting. "Right, home," he smiles.
'The Gunman' is out on 20 March
Reuse content