It has been the worst kept secret in the arts world. The London Symphony Orchestra has long been the most likely destination for Britain's most illustrious conductor when his contract with the Berlin Philharmonic runs out. Yet the announcement kept being delayed.
We now know why.
Behind the scenes, Sir Simon Rattle was pressing for a new, multimillion-pound concert hall with state-of-the-art acoustics and digital facilities. He'll get it, and within walking distance of the LSO's current Barbican home. The City of London, George Osborne, and Boris Johnson have all thrown their weight behind the project. They want the frizzy-haired, former wonderboy of classical music back. And, frankly, he can name his price. This is a man who doesn't just sell out virtually every concert he conducts, but manages to make whatever city he is in an agenda-setting centre for his art form.
Unusually among classical musicians, he knows how to be political. When I first met him in the early 1990s, he was, as music director of the City of Birmingham Symphony Orchestra, campaigning for better music education and had just come back from a bruising session with Mrs Thatcher's then education secretary Ken Clarke. "The man is a street fighter," Rattle exclaimed to me in shock. Perhaps he stored the experience away. For Rattle, too, has since learned how to be a fighter.
Though he is a household name, some outside the world of classical music might wonder what puts one conductor head and shoulders above the others. But then, great conducting is perhaps the hardest artistic talent to convey in words. One can, though, certainly see how his interpretations of familiar pieces can be revelatory. When I watched him conduct Beethoven's ninth a few years ago, he took a key passage much more slowly and quietly than is usual, and gave it an unforgettable, haunting quality.
Audiences see someone super-animated at the podium, looking intensely at individual players, suddenly whirling around, the now greying mane threatening to take flight. There is about Rattle an almost tangible charisma.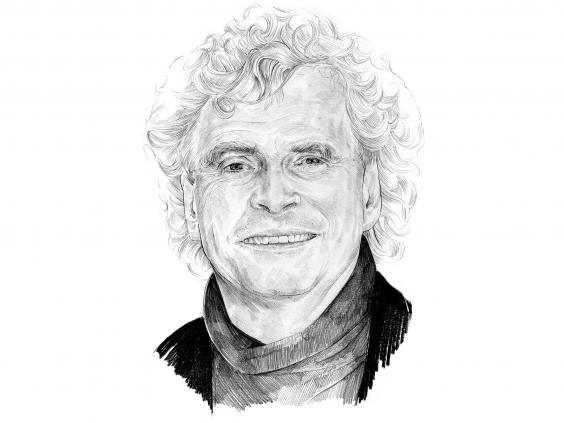 A telling insight comes from violin virtuoso Tasmin Little. She told me yesterday: "Playing with Simon conducting has often left me on a complete high and unable to sleep. There is an immense energy and depth of intensity. Every gesture has the fullest impact.
"Some conductors seem to let the orchestra do the work occasionally, even for a bar or two, but Simon is fully present every second of performance. Every nerve, every fibre of his being is involved. And in rehearsal with him I have learned the most enormous amount. He would get each set of people working together in a way that made me think of music in layers and textures. He could bring out such detail in one bassoon line. He kept bringing out details I had never heard before."
Rattle has already brought that intensity and energy to Birmingham and Berlin, making the former a world-acclaimed cultural hub, overseeing the building of a new concert hall (he has form), before bringing a different repertoire and new sense of purpose to the latter. Having just turned 60, he has decided, thankfully, that it's time to come home, adding in an aside about the Berlin Philharmonic: "Will they still need me when I'm 64?"
The referencing of a Beatles' lyric is no accident. Rattle is a Liverpool boy and a supporter of Liverpool FC. Brought up in the affluent suburb of Sefton Park by his father Denis, a naval commander, and his mother Pauline, a city librarian, the young Rattle was, in his own words, "a weird duck … an uncomfortable, overweight, intense boy with this huge passion".
Even at the age of 11 he was pleading with his father to take him on a school night to hear a Messaien symphony. "I met Messaien and got the autograph. I still think it was one of the most thrilling moments of my life," he remembers. Rattle attended Liverpool College. He was a percussionist in youth orchestras and then studied at the Royal Academy of Music before joining the Bournemouth Symphony Orchestra as an assistant conductor.
Soon he was on his way to Birmingham, where, in the first piece he conducted for his new orchestra, he gave a definitive performance of Mahler's second symphony. Subsequent recordings of Mahler, Sibelius and others cemented his reputation.
He is remembered as little short of a genius in his early days, but as a young man he was also a bit of a hustler. One orchestra manager recalls that he was always trying to book concert dates for his singer wife, the American soprano Elise Ross. They divorced after 15 years of marriage and two sons, and in 1996 Rattle married the screenwriter and novelist Candace Allen, the first African-American female member of the Directors' Guild of America.
In 2002, Rattle was about to turn from British wonderboy to international superstar. He had shown no particular passion for the core German romantic repertoire of Beethoven and Brahms, but his name was being linked with the Berlin Philharmonic, not just the world's most famous orchestra, but one still associated with the late Herbert von Karajan and his love of those same German composers.
The Berlin Phil admired Rattle's championing of new music and his enthusiasm for exploring lesser-known parts of the repertoire. A number of the Berlin players wanted the job to go to Daniel Barenboim, and relations between Rattle and the orchestra were not always going to be harmonious. Rattle won over most of those players, securing them higher wages and taking their work out into the community. He did all this without mastering German, telling one interviewer how his young son regarded it. "Jonas said to me with this devastating honesty the other day, 'Dad, you know what's funny when you speak in German? You know exactly what you're saying, but no one else does!'''
Never seeking to be a member of Britain's trendier cultural fraternity, Rattle had left for Berlin with a memorable parting shot, saying: "That is the problem with Brit Art, with artists like Damien Hirst, Tracey Emin and the others. I believe that much of this English, very biographically oriented art is bullshit."
He did return from time to time to conduct opera. And at Glyndebourne he met and fell in love with the Czech mezzo-soprano Magdalena Kozena. Suddenly, he was tabloid fodder, with his subsequent split from Candace Allen. Rattle and Kozena now have three children and are settled in Berlin. Their home was described by one visiting journalist as "an eccentric architectural fantasy that they have made their own with a cornucopia of Czech carpentry". His family will stay in Berlin when he takes up the baton at the LSO, and he will be spending only a part of each year in London. But there is no doubting that he will be a visible and inspiring presence.
Perhaps there is another reason why Rattle is returning. Sir Nicholas Kenyon, who runs the Barbican, recalls sitting by Rattle's mother at a concert Rattle gave in a rare trip from Berlin to London, shortly before Pauline Rattle's death in 2008. As the audience rose at the end to give Sir Simon a storming ovation, Pauline Rattle whispered to Kenyon: "He should be here."
In coming back to Britain, Simon Rattle could be said to be honouring one of his mother's final wishes.
A life in brief
Born: 19 January 1955, Liverpool.
Family: his father was Denis Rattle, a commander in the Royal Navy, his mother, Pauline, a city librarian. Married three times with five children.
Education: Liverpool College, Royal Academy of Music.
Career: assistant conductor of Bournemouth SO and the Royal Liverpool Philharmonic, chief conductor of the City of Birmingham Orchestra 1980-98, knighted in 1994, principal conductor of the Berlin Philharmonic 1999.
Reuse content