Female hunter Rebecca Francis was bombarded with death threats earlier this week, after Ricky Gervais tweeted an image of her lying smiling next to one of her kills – a bull giraffe.
"What must've happened to you in your life to make you want to kill a beautiful animal & then lie next to it smiling?" he wrote.
In a statement on HuntingLife.com, the mother-of-five has since responded to the comedian, and the backlash she received following his post.
"When I was in Africa five years ago I was of the mindset that I would never shoot a giraffe," she wrote.
"I was approached toward the end of my hunt with a unique circumstance. They showed me this beautiful old bull giraffe that was wandering all alone. He had been kicked out of the herd by a younger and stronger bull. He was past his breeding years and very close to death.
"They asked me if I would preserve this giraffe by providing all the locals with food and other means of survival. He was inevitably going to die soon and he could either be wasted or utilized by the local people.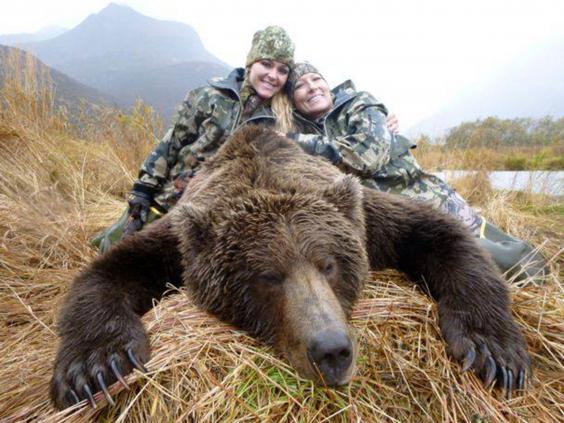 "I chose to honor[sic] his life by providing others with his uses and I do not regret it for one second. Once he was down there were people waiting to take his meat. They also took his tail to make jewelry[sic], his bones to make other things, and did not waste a single part of him.
"I am grateful to be a part of something so good."
"To a hunter every animal they take cleanly and ethically is a trophy and a memory that will last forever," HuntingLife.com, who describes Francis as a "hunter/conservationist", wrote in support of Francis. "We are a prideful human species and we have been documenting our hunts for the last 75,000 years in petroglyphs and not in photographs. Nothing has changed."
But her statement has done little to quieten the criticism she's received online.
"I hope the next picture shows her smiling and standing over the body of a HuntingLife.com executive," one follower commented underneath the post on Facebook.
Kendall Jones' hunting images spark row
Kendall Jones' hunting images spark row
1/8 Kendall Jones

Kendall Jones, a 19-year-old Texas Tech university student, has provoked worldwide fury after posting pictures of herself smiling next to animals she hunted, including a lion, rhinoceros, antelope, leopard, elephant, zebra and hippopotamus.

2/8 Kendall Jones

Ms Jones, who claims she is "doing [her] part in conservation to make a difference"

3/8 Kendall Jones

The petition on AVAAZ.org asks people to sign "for the sake of all animals, especially the animals in the African region...where hunters are going for fun just to kill and animal."

4/8 Kendall Jones

The photographs have provoked a similar response to one posted by US TV presenter Melissa Bachman who provoked controversy by posting a picture of her next to a lion she'd just "stalked and killed" in South Africa.

5/8 Kendall Jones

Kendall Jones' critics have variously described Kendall as "sick" and "depraved" for killing the animals and boasting about it online. However, not everyone is offended. Her Facebook page has over 17,000 "likes" and frequently draws positive comments.

6/8 Kendall Jones

Ms Jones, who made her first kill, a White Rhino on her second trip to Africa when she was 13, has also claimed that not all of the animals featured in the pictures are actually dead. Some have been tranquilized for educational use.

7/8 Kendall Jones

Her Facebook states that she "is looking to host a TV show in January 2015," and repeatedly claims that her actions are best for the preserves and help control population numbers.

8/8 Kendall Jones

"Hunters are the biggest conservationists there are," she told the New York News, adding "we want animal populations to grow and thrive!"
"Personally I don't see how she could stand at the side of the animal with a big smile on her face," another pointed out. "Even if she did do it for a favour, she's posing like she has a trophy!"
It also hasn't dissuaded Gervais from continuing his mission to rid Twitter of hunters and animal cruelty:
"@AndyBee_26: she's so proud of herself! pic.twitter.com/esnGDpnFTn" yeah, she probably killed this one to feed the poor locals too ;)

Ricky Gervais (@rickygervais) April 15, 2015
Heartbreaking. Getting an orphaned baby elephant through the night after his mum was murdered for ivory #KillTheTrade pic.twitter.com/Cxquhj4lMQ

Ricky Gervais (@rickygervais) April 15, 2015
Don't be surprised when people don't care about a cause as much as you do. Don't be deterred either. pic.twitter.com/F6Ok5R38np

Ricky Gervais (@rickygervais) April 15, 2015
Follow @VETPAW Army Veterans who protect African Wildlife from poachers. pic.twitter.com/7gXxNhAjDo

Ricky Gervais (@rickygervais) April 15, 2015
Reuse content