Richard Curtis may be a director, but he's done more for British PR than any slew of politicians and monarchs ever could.
However, he is now worried that his influence on London could have done more harm than good.
The filmmaker, now best known for monumentally successful rom-coms rather than the biting comedy of his youth (Not The Nine O'Clock News, Blackadder), has most recently written the BBC adaptation of reptilian love saga Roald Dahl's Esio Trot. Starring Judi Dench, Dustin Hoffman and James Corden, it tells the curious story of how a tortoise sparks romance between two pensioners living in neighbouring east London flats.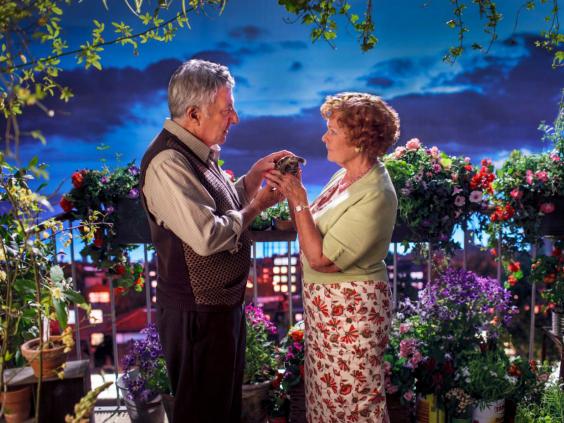 Curtis' work attracts a degree of snobbery, but there's no doubt that he best sums up how so many British people want to be seen. Curtis manages to show Brits as polite but spiky; even-handed but eccentric; whip-smart but kind with it, and much, much sexier than we have any right to be (cf. Hugh Grant playing the Prime Minister in Love, Actually).
He has successfully romanticised the people of this petty, feudalistic island. We, who send bad-tempered tweets to Amazon, make passive-aggressive mutterings on commuter trains and look unfailingly terrible in shorts, are self-deprecating heartthrobs to Curtis.
But you just need to look at the tourists swarming round the blue door that featured in the film Notting Hill to see that not all PR spin is good for the capital. As communities are pushed out of their homes everywhere from Barnet to Brixton to make way for shiny new developments, campaigns have been mounted by high-profile people such as Benedict Cumberbatch and Stephen Fry to save the sleaze of Soho. 
Here, Curtis tells The Independent why he strongly backs the campaign to save west London's Portobello from the hands of developers, and the endemic sexism in film.
Independent: What made you want to adapt Esio Trot?
Richard Curtis: "I love the book and was reading it to my youngest son when I realised that it might be a chance for me to write a film that, in an indirect way, was about my mum and dad - something I've always wanted to do. And to use a lot of Louis Armstrong music, which my Dad adored."
How do you think Roald Dahl has influenced you as a writer?
RC: "As the writer of Esio Trot - totally - he was always on my mind. Otherwise, well, if only. He's like Dickens for kids."
The story is about older people falling in love – do you think there's too much ageism in film and TV? 
RC: "It's actually been a good patch recently in the UK, with Last Tango In Halifax and Best Exotic Marigold Hotel. Maybe things are on the mend."
You've spoken about doing your 'last film' in the past – will you retire from directing soon?
RC: "I think I've directed my last film."
Kristin Scott Thomas (Four Weddings and a Funeral) has said that it's harder for women to get interesting parts as they get older, and they're forced to compete with young women for work – do you think that's true?
RC: "I'm sure there's a lot of truth in that. I remember feeling ashamed when we were trying to cast Julia Roberts' husband in Notting Hill and she pointed out that everyone on our list was at least 20 years older than her. The reverse would never be true."
The BritWedCom boom
The BritWedCom boom
1/6 Confetti

The 2006 film starred Jessica Stevenson, Jimmy Carr, Martin Freeman, Julia Davis and Olivia Colman, and attempted to combine the BritWedCom with the fly-on-the-wall style of The Office

Rex Features

2/6 Confetti

Stephen Mangan and Meredith MacNeil had a tennis-themed wedding in the film

Rex Features

3/6 Four Weddings and a Funeral

Richard Curtis made it look too easy with his sublimely enjoyable film, which made £146,923,932 at the global box office

4/6 I Give it a Year

Last year Dan Mazer, producer of Borat and Brüno, had a go at subverting the BritWedCom but it was largely unmemorable

5/6 Almost Married

So far 2014's offerings include this unromantic offering in which Kyle (Philip McGinley) gets an STD on his stag do before his wedding to Lydia (Emily Atack)

6/6 The Stag

This Hangover knock-off follows prissy young Irish man Fionan (Hugh O'Conor) and his friends on a walking trip through the wilds as part of a "stag" weekend
How do you try to represent older women in your work?
RC: "A lot of older women are defined by their relationships with their families - and I've certainly done a fair amount of that. That's why it was so great doing Esio Trot, where Judi was older, single, and fabulous."
Which of your female characters are you the most proud of?
RC: "It'd be a massive mistake to answer that question. I think Dawn French is the most vengeful of the actresses I've ever worked with - so I'd better say her [character in The Vicar of Dibley]. But I've been hugely lucky - from the beginning with Miranda Richardson in Blackadder to most recently with Judi in Roald Dahl's Esio Trot. I've worked with amazing actresses. Emma Chambers was particularly wonderful in Dibley."
Your love stories tend to be between a man and a woman – would you consider showing more gay relationships?
RC: "The relationship between Simon Callow and John Hannah in Four Weddings was easy and lovely to write. I probably should have tried more often."
London features heavily in a lot of your films, do you feel it's becoming too gentrified and losing its character?
RC: "I strongly support the campaign to try to keep Portobello Road as Portobello Road. I worry that my film [Notting Hill] was part of making that job more difficult."
Your work started out with quite hard-hitting comedy and now you're known for romantic films – how did that end up happening?
RC: "It's not an unusual rhythm with comedy writers - when you start writing, particularly with other people, it's hard doing more emotional things, agreeing what feels right. So you go for just jokes. But as I got older, I wrote more on my own and was free to do more personal things."
Roald Dahl's Esio Trot is out on DVD on 30th March, from Universal Pictures UK.
Reuse content