Russell Brand asked: "Is Australia still basically a prison colony?" in response to Australian politicians' denials of the housing crisis.
Australian PM Tony Abbott and treasurer Joe Hockey each issued controversial statements about housing this week, as campaigners argue there is a shortage of affordable housing in cities such as Sydney.
Rent in some areas has risen at twice the rate of inflation between 2005 and 2010, and public housing units have declined by 32,000 while the population rose sharply.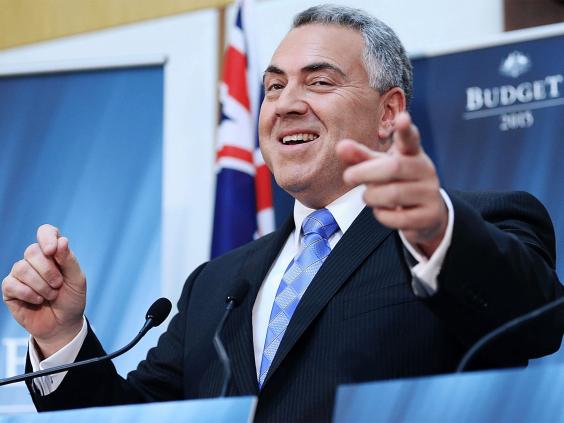 Abbott stood up in parliament and said that, as he's a homeowner in Sydney: "I hope house prices are increasing." He was met with boos from his audience, and Brand described the situation as" absolute chaos" and said that the atmosphere gave the impression Australia was being run from a swimming baths.
Comparing capitalism to a religious ideology more dangerous than ISIS, Brand asked: "What about ideas such as compassion, sharing, helping others? Those are not ideas in which we're interested. Not in our ideology."
Hockey's argument that if housing were too expensive, people wouldn't buy it was derided by the comedian, who said that was basically the equivalent of responding "f**k off". The politician also said that if you had "a good job ... [that] pays well" you could afford a home.
Russell Brand's Most Controversial Quips
Russell Brand's Most Controversial Quips
1/19 On puberty:

"By puberty I learned that nothing worth having could be easily attained and to succeed one must be single minded."

PA

2/19 On changing the world:

"I want to change the world, and do something valuable and beautiful. I want people to remember me before I'm dead, and then more afterwards."

3/19 On being strong:

"Strength does not have to be belligerent and loud."

Getty

4/19 On grammar:

"I couldn't possibly have sex with someone with such a slender grasp on grammar!"

5/19 On manners in England:

"In England we have such good manners that if someone says something impolite, the police will get involved."

6/19 On junkie v vegetarian:

"Even as a junkie I stayed true [to vegetarianism] - 'I shall have heroin, but I shan't have a hamburger.' What a sexy little paradox."

7/19 On the future:

"People don't realize that the future is just now, but later."

Rex Features

8/19 On sex addiction:

"Boggle with sex addicts is up there with go-kart racing with junkies."

Reuters

9/19 On life:

"My life is just a series of embarrassing incidents strung together by telling people about those embarrassing incidents."

Frazer Harrison/Getty Images

10/19 On happiness:

"If you want to be happy stop being so self-obsessed and start considering other people."

Getty Images

11/19 On drug addiction:

"The mentality and behavior of drug addicts and alcoholics is wholly irrational until you understand that they are completely powerless over their addiction and unless they have structured help, they have no hope."

Getty Images

12/19 On sitcoms:

"I do have a regard for the musicality of language that came from BBC sitcoms like Fawlty Towers."

13/19 On life motivation:

"That's what keeps me alive, perversion and star quality."

Getty

14/19 On love:

"When you fall in love you recognise you're not the most important person in the world, and your focus becomes another person."

Getty Images

15/19 On threesomes:

"I like threesomes with two women, not because I'm a cynical sexual predator. Oh no! But because I'm a romantic. I'm looking for "The One." And I'll find her more quickly if I audition two at a time."

16/19 On Conservatives:

"Conservatism appeals to our selfishness and fear, our designer and self-interest."

PA

17/19 On surfing:

"Surfing should be called "foam-choking" or "sea stabbing."

Getty Images

18/19 On Demi Moore:

"I've not made love to her yet, but it's a matter of time."

STEVE MORGAN/AFP/Getty Images

19/19 On success:

"When I was growing up, I thought I'd be a lot happier if I was famous and successful and if I had money."

Getty Images
Brand linked the housing crisis to the increase in the Australian prison population - as the number of people held in private prisons has increased by 95 per cent over the last 15 years.
"One aspect of prison life, or prison economics, is that it's a bloody profitable thing," Brand said, going to to state there was "good bunts" in the business.
Reuse content