Sally Bercow has broken her leg in nine places in her second skiing accident in just five weeks.
The 45-year-old, wife of the Speaker of the House of Commons, was on holiday in the Austrian Alps with their three children when she fell while skiing down a red route, the Daily Mail reported.
Footage of the aftermath of the accident on Tuesday showed her being airlifted from the slopes to a hospital in Lienz, dangling from the helicopter on a stretcher attended by two paramedics.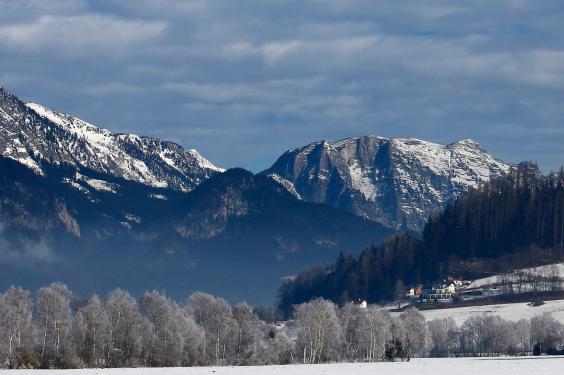 "I don't really know what happened but I had just switched to racing skis and they are a bit faster than I am used to," Mrs Bercow told the Daily Mail.
"I knew immediately it was bad. It felt like my leg was hanging off.
"I was in total agony. As soon as the paramedics arrived I told them to hit me with some morphine. I don't really remember much about it after that."
Mrs Bercow broke two ribs in another fall last month while training for Channel 4 show The Jump.
The Jump 2015 contestants
The Jump 2015 contestants
1/16 Heather Mills (philanthropist)

'When I heard it involved a ski jump I thought absolutely no way - that's insane'

Channel 4

2/16 Phil Tufnell (former England cricketer)

'A little bit of apres ski. Lovely!'

Channel 4

3/16 Ashley Roberts (ex-Pussycat Doll)

'This could be an adventure that opens up my eyes to something I've never done before'

Channel 4

4/16 Chloe Madeley (TV presenter and model)

'This is the best reality show you could possibly be offered'

Channel 4

5/16 Dom Parker (Gogglebox star)

'Too bloody right!' he said, when offered the chance to go on The Jump

Channel 4

6/16 JB Gill (former JLS member)

'Some might say that I'm a bit of a thrill-seeker'

Channel 4

7/16 Lady Victoria Hervey (socialite)

'I would never have signed on for something like this if I couldn't ski'

Channel 4

8/16 Steve O (Jackass star)

First thought was 'Man, is that the greatest career move?'

Channel 4

9/16 Stacey Solomon (singer and TV presenter)

Looking forward to a 'really fun holiday'

Channel 4

10/16 Mike Tindall (former English rugby captain)

Loves the 'element of competition, which I don't get that often anymore'

Channel 4

11/16 Louise Thompson (Made in Chelsea star)

Loves 'the freezing cold and the cool outfits'

Channel 4

12/16 Jodie Kidd (TV personality and fashion model)

'How lucky to be able to go away and spend a month learning these amazing new things'

Channel 4

13/16 Joey Essex (TOWIE star)

'I'll basically be a pro by the end of it'

Channel 4

14/16 Jon-Allan Butterworth (paralympic cyclist)

'I didn't take much persuading'

Channel 4

15/16 Louie Spence (dancer and TV personality)

'I've never ever done anything like this'

Channel 4

16/16 Louise Hazel (heptathlete)

'I thought it would be amazing to see how I fare in unfamiliar territory'

Channel 4
She was forced to pull out of the competition and has since been replaced by model Jodie Kidd.
The former Labour candidate hopes to be out of hospital by Sunday but said it will take weeks to get back on her feet after surgery to insert pins and a metal plate.
Her husband, John Bercow, had not accompanied his family on holiday because of the upcoming general election but had been monitoring her progress by phone, The Times reported.
Reuse content