Gay poverty campaigner Jack Monroe has condemned "homophobic, deadnaming, ignorant" comments made by columnist Sarah Vine about her decision to become a mother in a same sex relationship.
In a feature for the Daily Mail, Vine - who is also the wife of former Education Secretary Michael Gove - labelled Monroe "revolting" for mentioning the tragic loss of Prime Minister David Cameron's son in a stream of political posts to promote the hashtag #CameronMustGo.
Because he uses stories about his dead son as misty-eyed rhetoric to legitimise selling our NHS to his friends: #CameronMustGo

Jack Monroe (@MsJackMonroe) November 23, 2014
In a particularly caustic attack, she also went on to criticise the food blogger's family life, claiming that while Cameron hadn't chosen his unfortunate circumstances, it was Monroe's decisions that led to her poverty.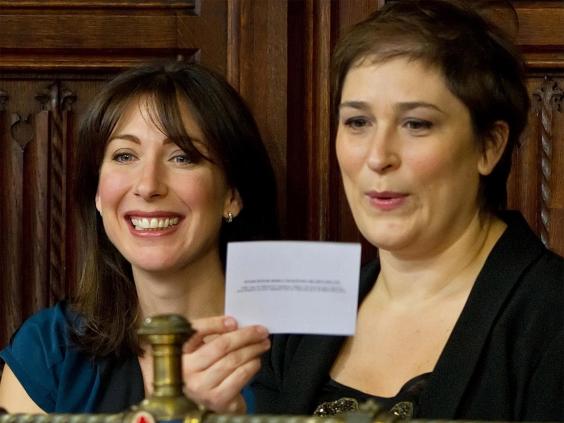 "But there is one factor that differentiates her hardships from Cameron's," she writes. "His was accidental, some terrible twist of fate. Hers was, if not by design, then at the very least by choice.
"To readers wondering how, as a lesbian, she got pregnant in the first place, her son was the result of a relationship with a man, shortly after which she realised she was attracted to women," she continues.
"Born Melissa, in 2012 she changed her name to Jack.
"No one forced her to have a child. Indeed, if she was in anyway uncertain of her sexual orientation, arguably she should have taken greater precautions. But it seems that Ms Monroe isn't one for assuming responsibility for her actions."
Monroe lambasted the remarks on Twitter, posting the following response to Vine:
So @SarahVines attack column in today's DM is homophobic, transphobic, deadnaming, ignorant, and generally ghastly lies. Brilliant.

Jack Monroe (@MsJackMonroe) November 25, 2014
Vine's column comes as Monroe denied that she had been dropped as a blogger for Sainsbury's following her controversial tweet about David Cameron.
"They haven't said anything of the sort to me, no," she told the Huffington Post UK. "I think it would be unusual for them to discuss it with a newspaper first..."
On Monday, Sainsbury's tweeted: "Jack Monroe blogs independently. Sainsbury's is not a political organisation and we certainly don't share her views."
Reuse content