Bob Geldof. Bjork. David Beckham. David Attenborough. David Bowie. All have one thing in common.
Each one has made public declarations of their political leanings in the great debate for and against Scottish independence. Each one of them is a household name, too – instantly recognisable and renowned in their respective fields. But none of them – not one – can cast a vote that counts.
Scottish or not, the opinionated celebrity turn out to the vote has been, per percent of the famous population, monstrously high.
There are those stridently urging the nation to vote 'Yes', break away from Westminster and declare Scotland a free nation. Vivienne Westwood, a woman whose entire career in fashion has been influenced by British heritage went as far as to say she "hates England".
"I like Scotland because somehow I think they are better than we are. They are more democratic," she said.
Renegade Bjork posted a lengthy – and somewhat repetitive  – Facebook message featuring the lyrics to her rather apt 2008 song "Declare Independence".
"Declare independence! Don't let them do that to you! Start your own currency! Make your own stamp! Protect your language!" it read.
Scottish Independence: For and against
Scottish Independence: For and against
1/23 Vivienne Westwood

YES: "I hate England. I like Scotland because somehow I think they are better than we are. They are more democratic."

Getty

2/23 Bob Geldof

NO: "This argument needs to be had among us all, you can't selfishly resolve it amongst yourselves by taking an easy opt-out clause."

Getty

3/23 Leonard Cohen

UNDECIDED: "People are trying to make their lives significant," he said. "[They] are engaged in a struggle for self-respect and significance."

Getty

4/23 James McAvoy

UNDECIDED: "If you vote for continued unification or independence there is no protest vote – that's it. And that could be it for decades, for centuries. There's no going back from it."

Getty

5/23 Bill Clinton

NO: "Unity with maximum self-determination sends a powerful message to a world torn by identity conflicts that it is possible to respect our differences while living and working together. This is the great challenge of our time. The Scots can show us how to meet it."

Getty

6/23 George Galloway

NO: "There will be havoc if you vote Yes in September. Havoc in Edinburgh and throughout the land and you will break the hearts of many others too… I know which side I'm on. I'm with JK Rowling. Just say No."

Getty

7/23 David Beckham

NO: "We want to let you know how very much we value our relationship and friendship. Of course regardless of your decision that will never change, however, my sincere hope is that you will vote to renew our historic bond which has been such a success over the centuries and the envy of the entire world. What unites us is much greater than what divides us. Let's stay together."

Getty

8/23 David Bowie

NO: "Scotland stay with us"

Rex Features

9/23 Eddie Izzard

NO: "You can be Scottish, you can be British and you can be European. We can have that. "I say have the parliament, have the more power, but be with us. Like David Bowie said, 'Stay with us Scotland' and I'm saying the same – don't go."

Getty

10/23 Frankie Boyle

YES: "It's an 'aye' (for Independence) from me, man."

Association of Online Publishers

11/23 Andy Murray

NO: "I started competing for Great Britain when I was 11. A lot of people forget that. I didn't like it when Salmond got the Scottish flag up at Wimbledon"

GETTY IMAGES

12/23 The Proclaimers

YES: 'Scotland has huge national resources, with its people, its wave power – all the possibilities that this country has...we need to take charge of our own affairs'

Gary Calton

13/23 Susan Boyle

NO: "I am a proud, patriotic Scot, passionate about my heritage and my country. But I am not a nationalist."

Rex Features

14/23 Chris Hoy

NO: "It will weaken the British team obviously if Scotland went separately, and it would be harder for the Scottish athletes, initially, to establish themselves in a new training environment, with new coaches, with a different environment altogether."

15/23 Alan Cumming

YES: "The evidence is clear - in the past 15 years we have become stronger economically, socially, culturally and globally. The world is waiting for us and I know Scotland is ready."

Kalpesh Lathigra

16/23 Emma Thompson

NO: "Why insist on building a new border between human beings in an ever-shrinking world where we are still struggling to live alongside each other?"

Carlo Allegri, Reuters

17/23 Billy Bragg

YES: Independence would "create a new settlement that puts people before profit. Those in England who believe that our own society needs to be rebalanced along similar lines should wake up and join the debate"

Getty Images

18/23 Marcus Brigstocke

NO: "If Scotland go their own way (based on fingers crossed, f**k the Tories, William Wallace bollocks it'll be a damn shame. Still wish 'em well"

19/23 Rod Stewart

NO: "I'd hate to see the union broken after all these years. It's always been a spiritual home - but as I don't live there I shouldn't comment on independence. If it's good for the Scots I'm happy."

PA

20/23 Sean Connery

YES: "As a Scot and as someone with a lifelong love for both Scotland and the arts, I believe the opportunity of independence is too good to miss"

Rex Features

21/23 Al Kennedy

NO: "Salmond has the warm potato head of a man who is Scottish and – we hope – no threat"

Rex Features

22/23 Annie Lennox

YES: "There is an opportunity for something innovative and visionary. Scotland could have some kind of new, ethical, visionary stance and it could take on some fresh ideas. That could be amazing, really amazing."

Getty Images

23/23 Morrissey

YES: "They must cut ties with the United King-dumb. I love Scotland, and I love the Scottish spirit and they do not need Westminster in the least."

Getty Images
She's from Iceland, as it happens.
Others backing the 'Yes' campaign include the genuinely Scottish (hurrah!) Frankie Boyle, the also Scottish The Proclaimers, Scottish actor Alan Cumming, very English musician Billy Bragg, the used-to-be Scottish Sean Connery and Scot Annie Lennox. Oh, and Sigur Ros. Who are, like Bjork, from Iceland.
Then there are the undecided. Like actor James McAvoy, who declined to say whether he'd vote for or against independence for "career preservation".
Canadian Leonard Cohen offered similarly little, while Mike Myers declared his Dreamworks character Shrek well and truly "on the fence".
Bill Clinton decided not to weigh in on the debate until the 11th hour, and then he said this.
Then there are those urging Scotland to stick with the Union.
David Beckham made a valiant attempt to rally the nation back onside, although did so by bringing up the particularly painful memory of the England v Scotland Euro qualifier in 2000 (they won the second leg at Wembley, but ultimately were knocked out on aggregate).
Marcus Brigstocke kicked off a social media backlash when he labelled the rhetoric used by Scottish Nationalists as "based on fingers crossed, f**k the Tories, William Wallace b****cks".
JK Rowling went straight for the jugular, too, when she declared hardline nationalists "death eaters".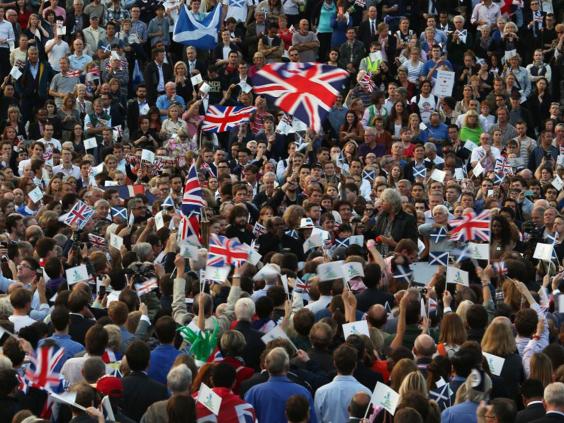 As did Irishman Sir Bob Geldof, who, despite not actually being part of the Union himself, had some strong words for voters as he led a Better Together rally in Trafalgar Square on 16 September.
"This argument needs to be had among us all, you can't selfishly resolve it amongst yourselves by taking an easy opt-out clause," he said.
And then there were the 200 odd other household names who signed this open letter.
Mick Jagger, David Walliams, Sting, Bryan Ferry, David Gilmour, Sir Cliff Richards, Richard Dawkins, Michael Douglas and Stephen Hawking were all among those who put their signatures to the 'vote No' petition. As did slightly more random blasts from the past, like former England rugby captain Will Carling, Team GB decathalete Daley Thompson and TV gardener Alan Titchmarsh.
"What unites us is much greater than what divides us," it read. "Let's stay together."
As a result, based on the above evidence and the crudest of  maths, we can conclude that if the famous were the only people whose opinions and votes truly mattered, the Union would remain intact.
Luckily for Scotland, however, it's not their decision to make.
Reuse content