A potentially crucial witness in the hit-and-run murder case against record label founder Marion "Suge" Knight has told a court that he does not want to testify against the former rap music mogul.
Mr Knight, 49, the co-founder of Death Row Records, is facing murder charges after he allegedly drove over two men after an argument on the set of a commercial for the film Straight Outta Compton.
Prosecutors say Mr Knight became involved in a fight with Cle "Boan" Sloan through the window of his SUV before putting the vehicle into reverse, knocking Mr Sloan and a second man, Terry Carter, to the floor. Police say Mr Knight then drove over both men. Mr Carter died while Sloan suffered a bad injury to his foot.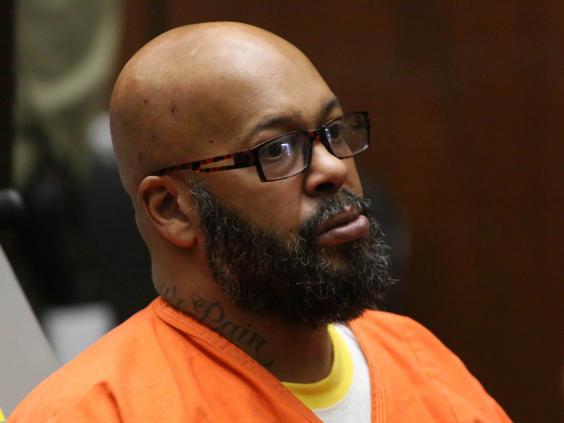 But at a preliminary hearing in Los Angeles on Monday, where Mr Knight faced charges of murder, attempted murder and hit and run, Mr Sloan said he was unwilling to testify against the former music impresario and would not even positively identify him in open court.
Reuters said that at the start of the hearing, Mr Sloan, who described himself as  "non-active gang member", balked at giving testimony that would incriminate the defendant.
"I will not be used to send Suge Knight to prison," he said.
Asked by Deputy District Attorney Cynthia Barnes if he could identify Mr Knight – wearing an orange jail uniform and handcuffs in the courtroom - Mr Sloan replied: "That doesn't look like Mr Knight."
If found guilty of murder, the co-founder of the influential hip-hop label Death Row Records would face a mandatory sentence of 25 years to life in prison under California's three-strikes rule. He is being held on $25m bail.
Prosecutors also have alleged Mr Knight was part of an extortion scheme in which new rappers arriving in Los Angeles and Las Vegas were required to pay him what amounted to a tax.
Mr Knight has pleaded not guilty to the charges. His attorney has said Mr Knight accidentally ran into the two men as he tried to speed away from the scene of what he thought was an ambush attempt.
Reuse content