In a real-life Cinderella story, a former topless model and reality star has become a princess after marrying Sweden's Prince Carl Philip.
Sofia Hellqvist, 30, is known for appearing in the popular reality show, Paradise Hotel in 2005, in which a group of young singletons compete to stay the longest in a luxury resort. She has also been photographed topless with a boa constrictor for men's magazine Slitz.
The couple reportedly met at a restaurant in 2010 and married in a lavish wedding ceremony in Stockholm.
36-year-old Carl Philip is third in line to the Swedish throne and acts as royal representative in the absence of his father and older sister.
After her time on Paradise Hotel, Hellqvist spent time in New York where she studied accounting and worked as a yoga instructor, setting up her own yoga centre in Manhattan.
The tattooed and bellybutton-pierced star has also worked as a volunteer in Ghana and co-founded the organisation Project Playground which helps young people in South Africa through sport and activity programmes.
Johanna Lejon, royal reporter for Swedish newspaper Svensk Damtidning said: "When Carl Philip and Sofia first met I think that many people were critical to her, because of her background and the fact that she had done those bikini-shots and had been part of a reality show."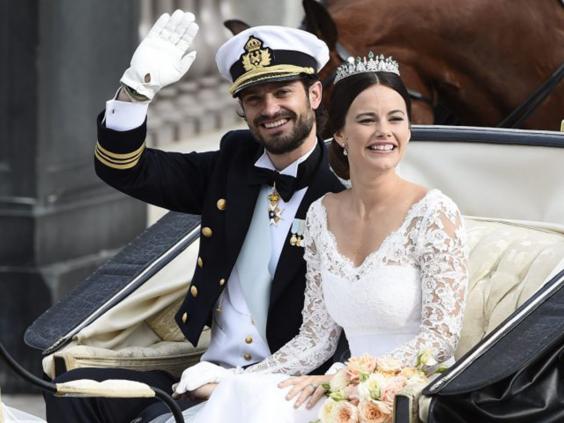 However, Lejon says: "Sofia has shown... that she is not in this relationship for fortune and fame."
Catarina Hurtig, the journalist who initially broke the news of the couple's relationship said that the more scandalous elements of Hellqvist's past has caused a "big problem" in the royal house and the palace have turned its attention on transforming her image. "Her charity work," says Hurtig, "has been great for the royal house to focus on."
Stylists have also reportedly been called on to prepare Hellqvist for her new role, replacing her fake tan with more demure outfits.
Despite opinion polls showing that the Swedish Royal family's popularity has slumped in recent years as many as half a million people are expected to take to the streets of Stockholm to greet the newly-weds. 
Carl Philip is not the first member of Swedish royalty to marry a commoner. His elder sister and next in line to the throne, Crown Princess Victoria married her personal trainer, Daniel Wesling, in Stockholm in 2010 and Prince Bertil of Sweden married Welsh model Lilian Davies whom he met in 1943 but due to objections from the prince's father did not marry until thirty years later. 
Reuse content