Breasts, a natural part of female development, can still cause a remarkable amount of controversy. 
This is evidenced by the #Freethenipple movement, which continues to gain traction because its primary goal has still not been realised. Society's sexualisation of women's breasts and, as a result, the rush to censor them is an issue that caught international attention when even new mothers found their breastfeeding pictures being removed from Instagram or their accounts suspended. Pictures of breastfeeding are now permitted but, in 2016, female nipples on the site are still forbidden. The same rules do not apply to bare-chested men on the network. 
It isn't just Instagram that still has a ban on breasts in public. There are a number of places in the US where women who expose their breasts in public are technically committing a crime. According to Go Topless, having breasts on display is still an illegal act for women in Utah, Tennessee and Indiana. This issue was recently brought to the forefront of debate when a bill that would allow towns in New Hampshire to regulate attire was defeated on Wednesday, months after an attempt to ban women from showing their nipples in public was quashed in March.
UK LAW
It is not illegal to be naked in public in England and Wales - unless the person is proven to have gotten naked in order to upset or shock others 
In 2014, Scout Willis documented her walk around New York City while bare-chested on Twitter in protest at Instagram's censorship policy. But she was far from the first woman to exercise her legal right to walk with her breasts uncovered in public - Chelsea Covington has spent the last three years fighting to normalise women being bare-chested by appearing bare-chested in public, whether that be on the beach, in parks or while out walking. 
Covington is challenging the criminalisation of women choosing not to wear shirts and bras in places where men are allowed to walk bare-chested as part of a wider fight for gender equality. 
The 27-year-old, who prefers the gender-neutral term bare-chested to topless, lives in Maryland and documents her experiences on her blog, Breasts Are Healthy. She spends time bare-chested in places where it is legal for her to do so, such as Washington DC, Pennsylvania, New York and New Hampshire. 
The topfreedom movement is in itself a visual form of peaceful protest that works without slogans, signs or marches. Covington told the Independent: "Walking bare-chested is still a powerful act for a woman, especially when done quietly, confidently and peacefully."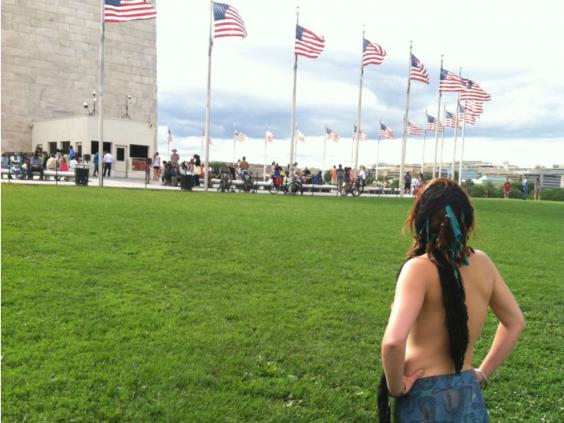 Pictures on her blog show her standing with police officers and Covington says she now has an almost supportive relationship with some forces, who she will alert in advance when she is about to spend time bare-chested in a new area. Most, she says, thank her for the advance warning. 
Covington says her hopes are for fears of the female body to be diminished in order to reach the point where a woman appearing bare-chested in public isn't considered a subversive act.
Covington is against the ownership of a woman's body being in the hands of anyone other than that woman herself, not against feeling sexual excitement from breasts, as she explains on her blog. "I do think it is wrong that women are often reduced to their bodies and that because some people consider some female breasts sexually exciting all females somehow should lose the right to control what we do with them, when men do not." 
The Independent spoke to Covington about her blog and campaign, Breasts Are Healthy. 
Why did you decide that going bare chested in public would be the way to push for gender equality? 
There is something about quietly walking bare-chested that really resonates within me, the other women who do it and with each observer. The female breast has all of this context, and people associate the female breast with so many different things. It can be a symbol of pride and shame, power and vulnerability, health and disease. 
The vast majority of passersby either ignore me or react positively. That's the goal, to normalise the sight of female bare-chestedness until it becomes nothing extraordinary at all. But walking bare-chested is still a powerful act for a woman, especially when done quietly, confidently and peacefully. I never yell or protest or carry signs. Anger is fear. I'm not trying to scare people. In fact, it's the opposite. I'm trying to get people to stop being afraid of the female breast and of the female body in general.
It's common for critics to try to diminish the topfreedom movement by saying it isn't important – all this wasted effort and debate, they say, about who gets to wear shirts and who doesn't. Well, if it really isn't that important, just treat everyone equally. It shouldn't be that big of a deal.
I can see the undercurrent of that lingering prejudice sometimes in the facial expressions of people who see me, professionals, successful-looking people, people who I imagine would swear up and down they support gender equality, but then falter when faced with what that equality really means. I don't confront these people beyond taking notice. It's their work to do.
I do look forward to the day when female bare-chestedness is no more or less remarkable than male bare-chestedness, because it will mean we have come a long way in how we consider the female body sexually, medically and politically, and how we value equality.
Feminist quotes from the icons to inspire you
Feminist quotes from the icons to inspire you
1/35 Katharine Hepburn

"I have not lived as a woman. I have lived as a man. I've just done what I damn well wanted to, and I've made enough money to support myself, and ain't afraid of being alone"

Getty Images

2/35 Madonna

"Girls can wear jeans and cut their hair short, wear shirts and boots cause it's okay to be a boy. But for a boy to look like a girl is degrading cause you think being a girl is degrading"

Getty Images

3/35 Kurt Cobain

"Rape is one of the most terrible crimes on earth and it happens every few minutes. The problem with groups who deal with rape is that they try to educate women about how to defend themselves. What really needs to be done is teaching men not to rape. Go to the source and start there"

Getty Images

4/35 Betty Friedan

"No woman gets an orgasm from shining the kitchen floor"

Getty Images

5/35 Maya Angelou

"I want to be representative of my race - the human race. I have a chance to show how kind we can be, how intelligent and generous we can be…"

Getty Images

6/35 Emma Watson

"I am from Britain and think it is right that as a woman I am paid the same as my male counterparts. I think it is right that I should be able to make decisions about my own body. I think it is right that women be involved on my behalf in the policies and decision-making of my country. I think it is right that socially I am afforded the same respect as men."

Getty Images

7/35 Emmeline Pankhurst

"I want to say to you who think women cannot succeed, we have brought the government of England to this position, that it has to face this alternative: either women are to be killed or women are to have the vote"

Creative Commons

8/35 Patricia Arquette

"To every woman who gave birth, to every taxpayer and citizen of this nation, we have fought for everybody else's equal rights, it's our time to have wage equality once and for all, and equal rights for women in the United States of America."

AFP PHOTO / Robyn BECKROBYN BECK/AFP/Getty Images

9/35 Nawal El Saadawi

"They said, "You are a savage and dangerous woman. I am speaking the truth. And the truth is savage and dangerous"

Getty Images

10/35 Margaret Fuller

"It is a vulgar error that love, a love, to woman is her whole existence; she is born for Truth and Love in their universal energy"

Creative Commons

11/35 Germaine Greer

"All societies on the verge of death are masculine. A society can survive with only one man; no society will survive a shortage of women"

Getty Images

12/35 Naomi Wolf

"A cultural fixation on female thinness is not an obsession about female beauty but an obsession about female obedience"

Getty Images

13/35 Rebecca West

"I myself have never able to find out precisely what a feminist is. I only know that people call me a feminist whenever I express sentiments that differentiate me from a doormat"

Creative Commons

14/35 Aung San Suu Kyi

"In societies where men are truly confident of their own worth, women are not merely tolerated but valued"

Getty Images

15/35 Margaret Atwood

"Does feminist mean large unpleasant person who'll shout at you or someone who believes women are human beings. To me it's the latter, so I sign up"

Getty Images

16/35 Julie Burchill

"A good part - and definitely the most fun part - of being a feminist is about frightening men"

Getty Images

17/35 Scarlett Johansson

"Why do [male co-stars] get the really interesting, existential questions and I get the, like, rabbit food question?"

Getty Images

18/35 Susan B. Anthony

"I declare to you that woman must not depend upon the protection of man, but must be taught to protect herself, and there I take my stand"

Creative Commons

19/35 Margaret Sanger

"No woman can call herself free who does not own and control her body. No woman can call herself free until she can choose consciously whether she will or will not be a mother"

Getty Images

20/35 Sylvia Plath

"Apparently, the most difficult feat for a Cambridge male is to accept a woman not merely as feeling, not merely as thinking, but as managing a complex, vital interweaving of both"

Creative Commons

21/35 Hillary Clinton

"I suppose I could have stayed home and baked cookies and had teas, but what I decided to do was to fulfill my profession, which I entered before my husband was in public life"

Getty Images

22/35 Lena Dunham

"The idea of being a feminist—so many women have come to this idea of it being anti-male and not able to connect with the opposite sex—but what feminism is about is equality and human rights. For me that is just an essential part of my identity. I hope [Girls] contributes to a continuance of feminist dialogue"

Getty Images

23/35 Bette Davis

"When a man gives his opinion, he's a man. When a woman gives her opinion, she's a bitch"

Creative Commons

24/35 John Legend

"All men should be feminists. If men cared about women's rights, the world would be a better place"

Getty Images

25/35 Mae West

"Every man I meet wants to protect me. I can't figure out what from"

Creative Commons

26/35 Jane Austen

"I hate to hear you talk about all women as if they were fine ladies instead of rational creatures. None of us want to be in calm waters all our lives"

Creative Commons

27/35 Gloria Steinem

"A woman without a man is like a fish without a bicycle"

Getty Images

28/35 Sheng Wang

"Why do people say "grow some balls"? Balls are weak and sensitive. If you wanna be tough, grow a vagina. Those things can take a pounding"

Getty Images

29/35 Anais Nin

"I hate men who are afraid of women's strength"

Creative Commons

30/35 Barack Obama

"We stand with women by fighting for economic security, protecting access to health care and supporting women's leadership across the country"

Getty Images

31/35 Elizabeth Warren

"I have a daughter and I have granddaughters and I will never vote to let a group of backward-looking ideologues cut women's access to birth control. We have lived in that world, and we are not going back, not ever"

Getty Images

32/35 Malala Yousafzai

"In Pakistan, when we were stopped from going to school, at that time I realized that education … Is the power for women, and that's why the terrorists are afraid of education"

Getty Images

33/35 Janis Joplin

"Don't compromise yourself. You are all you've got"

Getty Images

34/35 Lupita Nyong'o

"I hope that my presence on your screens and in magazines may lead you, young girl, on a similar journey. That you will feel the validation of your external beauty but also get to the deeper business of being beautiful inside. There is no shade in that beauty."

Getty Images

35/35 Virginia Woolf

"As a woman I have no country. As a woman my country is the whole world"

Getty Images
Do you go bare-chested wherever you go?
No. But I do go bare-chested a lot. Personal comfort is my guide. If I wish to do so, I do. I prefer the physical comfort bare-chestedness gives me, but also the feeling of freedom. I was not always this comfortable with my body and I'm still not always. Women have so many voices telling us we are ugly, lacking, shameful. I'm working hard to be done with those voices, and I'm sharing my work with the world. Most days I'm successful.      
Why did you decide to start a blog about it? 
As friends and family found out about my walks, they were incredibly curious and fascinated by my stories. They asked me to start a blog. I am not remotely the first woman to do this work so I wanted to add something that wasn't being done. I saw an unaddressed niche in the peaceful but direct approach with police, the quietly unapologetic, non-confrontational approach with the public, doing normal things to make it all look and feel normal, using the legal processes at my disposal to bring topfreedom to places where it wasn't before.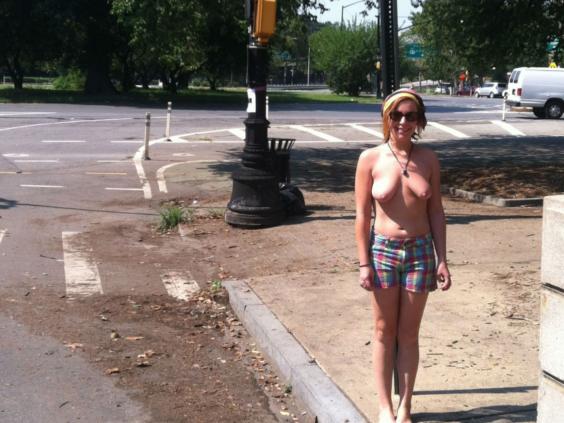 How have police and law enforcement officials reacted?
Great, now. Things began improving in 2013. Prior to that, police around the whole country were pretty aggressive and hostile.  But so many women began taking on the challenge that the conversation has improved significantly. It's still not easy and these are long, repetitive conversations. Some police don't want to hear it. But this month I've been getting some appreciative correspondence from law enforcement thanking me for my patient and professional approach. Two officials have even congratulated me on my success. I have learned so much about how law enforcement works, and how laws are created, interpreted and enforced.
It can be pretty disheartening at times to see how entrenched stereotypes affect policing and lawmaking. But I would really like to celebrate the Washington DC, Philadelphia and Pittsburgh police departments for being professional with me and this whole topfreedom learning curve. Maryland police have not been so enlightened so far, which is strange because Maryland is actually crystal clear about guaranteeing gender equality from the state constitution all the way down to local ordinances. But several Maryland police officials have told me since Maryland law doesn't say female bare-chestedness is explicitly legal, they will treat is as illegal, and I will have to fight it by getting arrested and winning in court. Ponder that. Name one other law where someone would have to prove what isn't included in the law isn't illegal. 
Do you think that going bare-chested is helping to effect change?
Absolutely. Beside the fact that women are going peacefully bare-chested in a lot of places now, my most compelling proof of positive change is the comments section on my YouTube videos and blog. Not because they are filled with gads of supporters - they aren't always - but because the tone of the dissent is so often respectful, mature and controlled. In this day and age of ubiquitous vitriol, the conversation happening around my blog is actually quite mature. Not everyone gets it. There are unenlightened souls who say some profoundly unenlightened things (like the gentleman who testified to the New Hampshire legislature that women need to be protected from equality), but I am quite pleased with how things are going. We've come a long way. 
What is the ultimate goal?
Equal treatment under the law. Everyone, everywhere.