Ted Jackson is scared. He is about to attempt seven marathons on seven continents in seven days, making a mad dash across the world from Antarctica to Australia.
"I am absolutely terrified, but I am also very excited," says the schoolmaster from Surrey, grinning through the twirling moustache and big, bushy beard of a Victorian adventurer. "I've had the flu, so I haven't trained all that much …."
But Ted, 42, is tough, having run across the Sahara earlier this year. And he is taking on this extraordinary challenge for love. "I know there will be a moment when I will be in tears, when I think, 'Oh my God, what have I done?' Then I will have to think of Sophie and get through it."
His wife was unexpectedly, and shockingly, struck dumb by a wasting disease. Ted is raising money for the small charity Overcoming Multiple Sclerosis (OMS), founded by Professor George Jelinek, and which has saved her from despair.
The moustache and beard is to protect his face on the first run, which takes place over ice and snow near the South Pole on 17 January. "It's going to be about minus 20 degrees. That is unpleasant, but it can be done." From there, he will fly to Chile, Florida, Morocco, Spain, the United Arab Emirates and Australia in a week, beginning to run soon after touchdown each time and with no opportunity to rest except during those hours in the air.
"The cut-off time for each marathon is eight hours. I know I can finish inside that time in the beginning, but I am starting to worry about what will happen towards the end, because I know how much it hurts my legs and feet. I won't be able to get much sleep over the seven days."
The temperature will rise by 45 degrees over the week. His brain will be scrambled as much as his body, surely? "Yeah. But I quite like that. It's the challenge too. I like to do things that your average 15-and-a-half-stone guy hasn't done."
As new year fitness regimes go, this is pretty extreme. Ted has attracted support from Sir Ranulph Fiennes, but he is doing this for more than just the challenge. Sophie, 40, has now recovered her speech, but it could go again permanently. And she remembers the most frightening day of her life in 2009 vividly.
"I felt bloody marvellous after the running machine at the gym, had something to eat and a hot bath. I came out of the bathroom and one of my children was there, Ludo. I went to speak but couldn't do it. The words would not come out. It was like I had suffered a stroke, taken some terrible drug or drunk way, way too much. It was really shocking."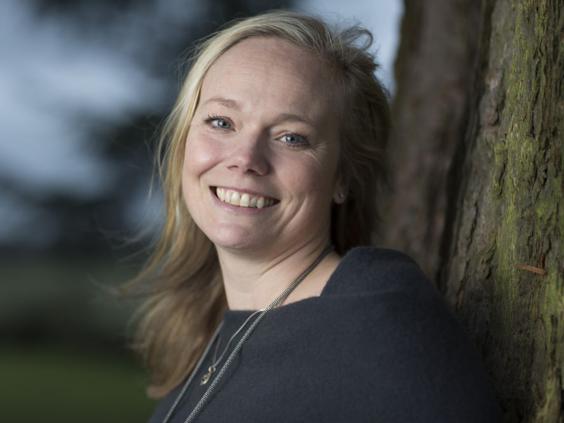 Desperate to hide what was happening from her eight-year-old son, she fled to the bedroom and shut the door. "I got away from him as quickly as I could. It was terrifying. You're thinking, 'Come on brain, you know how to do this!' But suddenly no, you bloody don't." She rang her best friend and slurred down the line. "There was laughter at trying to get the words out and tears at what was happening. Basically, I was trying to say to her, 'This is it. I'm screwed'."
A brain scan showed one big lesion affecting her speech, but the neurologist said others around it had shrunk. "That was a positive way to deliver a doom-and-gloom diagnosis." She stayed out of people's way until her words slowly began to come back. "I didn't want anyone to know, and I didn't want to be defined by it. I wanted to cocoon myself in my room."
That was not easy, because she and Ted run a house for the sixth-form boarding school started by his father, Hurtwood House in Surrey. They met as pupils there themselves and have been married for 19 years and have four children – a girl and three boys – aged from nine to 20.
Sophie found it hard to cope with the prospect of what could happen to her as MS attacks the brain, spine and central nervous system. "They showed me a future of wheelchairs and pain. Lots of pain. I did write a note to Ted that said, 'Shoot me now'." Both knew she didn't mean it. "We had to find some humour in this, to survive."
Still, she was depressed and fearful until she came across Professor Jelinek, an Australian doctor who had been diagnosed with MS and studied all the research in order to work out how best to live. He promises: "With commitment to the right lifestyle changes, there is the real probability that many people with MS can live long, healthy lives relatively free of the usual problems associated with the illness."
His lifestyle programme includes Vitamin D supplements, a meat-free diet low in saturated fats and daily meditation. Not every doctor agrees that it works, but Sophie swears by what he says. "Honestly, the cloud was lifted. Hope had been given back to me. I felt like there was something I could do. It gave me some power back over my own life."
She feels fitter now than before the diagnosis. "I've struggled all my life with diets, but this is different. It's my best chance of survival."
Ted was sceptical at first, but changed his mind when he saw the changes in her. "This is not some fad diet created to make money, it is not for profit. OMS is a small, young charity that is really making a difference."
So far, he has raised £109,000 in pledges to his Just Giving web page. The television presenter Phillip Schofield recorded a video message in support, and celebrities including Gary Lineker, Clare Balding and Sir Ranulph have followed suit.
Despite Ted's worryingly relaxed attitude to training this time, the desire to run seven marathons on seven continents in seven days has not come out of the blue.
Short and stocky with a wild glint in his eye, he grew up "fat and lazy", but was jolted into action when his father had a triple heart bypass and his brother had a heart attack on the golf course at the age of 36. "I thought the genetic timebomb might be ticking, but keeping fit for the sake of it was not in my psyche."
A friend had signed up to do the New York Marathon, so he joined in. "The journey began."
Next, he cycled the course of the Tour de France in 21 days, having never been on a road bike before. "I told everyone I was going to do it, and I was a bit worried about losing face so I just did it. That is what I tend to do with these things."
His T-shirt says he has run a marathon at the North Pole. Earlier this year, he completed the toughest foot race on earth, the Marathon des Sables. That's the equivalent of five marathons in six days in the searing heat of the Sahara, carrying everything you need to survive.
"There is a time with all of these challenges when I find myself in tears. Sometimes it is happy, and sometimes it is not. I certainly reach a place that is difficult to get to in normal life. I know that will happen in Antarctica."
Twelve men and women from around the world will attempt the challenge. The starting gun will go on Union Glacier on 17 January.
Shaking the ice from his whiskers there, Ted will climb into an adapted Russian transporter plane and fly to Punta Arenas in Chile, where the main obstacle to running will be the wind. A flight across the Atlantic to Marrakech will be followed by a short hop to Madrid. "Essentially, we will be doing two marathons in a day, which is a bit scary."
Dubai comes before Sydney, where whoever is left running will do so in a balmy 25 degrees. Have other extreme sportsmen warned what this will do to his body? "Ha! The way the ultra-running community works, they say, 'I think you are going to get tired and it is going to hurt a bit'."
Ted is paying £23,000 to do this, so all the money he raises will go to the charity. "We would be a lot wealthier if he didn't do it, but he would be a lot more miserable," says Sophie. "If I sat and thought about it I would worry myself stupid. But this is what makes him happy. It's what Ted does." Get the most out of life while you can is what she says MS has taught her.
"Life's too short," says Sophie, smiling at her absurdly bold husband. "This is a big adventure. Go do it, Ted."
Support Ted Jackson at justgiving.com/ted777
Reuse content