Tommy Ramone, the last surviving original member of the Ramones, has died age 62.
The news was confirmed by the band, which tweeted: "We are saddened to announce the passing of Ramones founding drummer Tommy (Erdelyi) Ramone. #RIPTommyRamone".
Tommy Ramone, born Erelyi Tamas in Budapest, Hungary, died at his home in the Ridgewood area of Queens in New York. He had previously been in hospice care following treatment for bile duct cancer, Variety reported.
Born in 1952, Tommy, or T. Erdelyi as he was later credited, emigrated to America in 1957 with his family, and he grew up in Forest Hills, Queens. He first started playing with John Cummings, later known as Johnny Ramone, in the mid-1960s, in a band called Tangerine Puppets.
In pictures: Tommy Ramone
In pictures: Tommy Ramone
1/9 Tommy Ramone

Tommy Ramone performing at The Old Waldorf Nightclub in 1978 in San Francisco, California.

Getty

2/9 The Ramones

American punk rock group The Ramones. Left to right: Johnny Ramone (1948 - 2004) Tommy Ramone, Joey Ramone (1951 - 2001) and Dee Dee Ramone (1952 - 2002).

Getty

3/9 At Tribeca Film Festival

Musician Tommy Ramone of The Ramones attends a screening and panel discussion of 'Burning Down The House: The Story Of CBGB' during the 2009 Tribeca Film Festival at SVA Theater on April 30, 2009 in New York City.

Getty

4/9 Rock and Roll Hall of Fame

Writer Legs McNeil, musician Mickey Leigh, musician Tommy Ramone, and musician Dick Manitoba of The Dictators attend an induction ceremony at the Rock & Roll Hall of Fame Annex NYC on May 14, 2009 in New York City.

Getty

5/9 Performing during cancer benefit

Tommy Ramone performs on stage during The Ramones Cancer Benefit at Spirit October 8, 2004 in New York City.

Getty

6/9 Unveiling of statue in memory of Johhny Ramone

Actor Nicolas Cage, Linda Cummings, John Fruschiante, Director Vincent Gallo and Tommy Ramone attend the unveiling of a statue in memory of Johnny Ramone at the Hollywood Forever Cemetery on January 14, 2005, in Hollywood, California.

Getty

7/9 Rehearsal for 'Gabba Gaba Hey!'

Tommy Ramone of former U.S. punk band 'The Ramones' addresses the media after a rehearsal of the musical 'Gabba Gabba Hey !' in Berlin May 3, 2005. The musical, a love story includes 18 Ramones songs in the production and will be performed in Berlin from May 10 to 22

Reuters

8/9 Uncle Monk

Musicians Tommy Ramone (L) and Claudia Tienan of Uncle Monk perform onstage during the Stagecoach Country Music Festival held at the Empire Polo Field on April 29, 2012 in Indio, California.

Getty

9/9 Tommy and Marky Ramone

Lifetime achievement award recipients Tommy Ramone (L) and Marky Ramone attend the Recording Academy Special Merit Awards Ceremony in Los Angeles on February 12, 2011.

Getty
The pair, along with Jeffrey Hyman (Joey Ramone) and Douglas Colvin (Dee Dee Ramone), formed the Ramones in 1974, reportedly taking their name from Paul McCartney's own pseudonym; The Beatles frontman had briefly called himself Paul Ramon early in his career when the group had been known as the Silver Beatles, and the punk foursome adopted the name for both themselves and the band.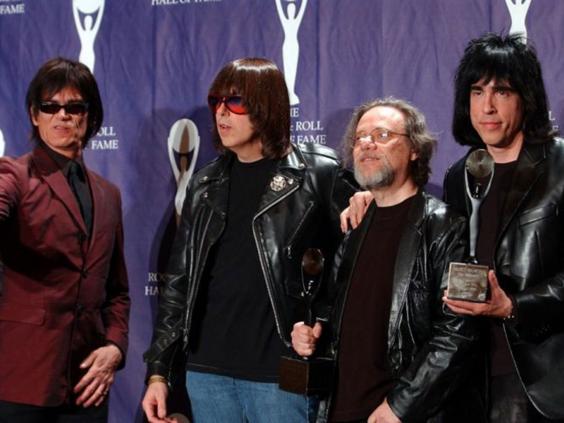 Originally the Ramones' manager, Tommy became the drummer for the punk group on their first three albums; "Ramones" (1976), "Leave Home" (1977), and "Rocket to Russia" (1977), before leaving the band's line up to become a producer. He was replaced by Mark Bell, known as Marky Ramone, on drums.
Before Tommy left the line-up, the Ramones had already become one of the most influential punk bands of the day, playing at the infamous CBGB club in the Bowery area of New York, and touring each album incessantly.
We are saddened to announce the passing of Ramones founding drummer Tommy (Erdelyi) Ramone. #RIPTommyRamone pic.twitter.com/kDBNMpn4Tp

— Ramones (@RamonesOfficial) July 12, 2014
Tommy co-produced both "Leave Home" and "Rocket to Russia", under the name T. Erdelyi, and he both appeared on and co-produced the 1979 live Ramones record "It's Alive", according to Variety.
He later played in a blue grass group called Uncle Monk, which consisted of himself and Claudia Tienan, a guitarist, bassist and singer who was a former member of The Simplistics.
The Ramones were inducted into the Rock and Roll Hall of Fame in 2002, though Joey Ramone had died in 2001. Dee Dee Ramone died in 2002, and Johnny Ramone died in 2004.
The band's official twitter account has been tweeting quotes from the Ramones, including Tommy's comments from 1976 that New York was the "perfect place to grow up neurotic".
"One the reasons that the Ramones were so unique and original was that they were four original, unique people," he is credited as saying.
Reuse content