News that Morph creator Tony Hart had passed away swept Twitter like a tidal wave of sadness over the weekend.
Fans expressed their sorrow that the Hartbeat presenter, who had inspired so much of their childhood viewing had sadly died, tweeting a link to a Guardian obituary honouring his life:
Tony Hart, artist and inspiration for children, dies at 83 http://t.co/j6XgYs4S3l

DrAnnaArrowsmith (@annaarrowsmith) February 15, 2015
Tony Hart probably had an influence on your creativity if you grew up in the 70s. RIP#tonyhart pic.twitter.com/EOQoHN9n8p

Jon Carter (@MonkeymafiaJC) February 15, 2015
Tony Hart has died. How many artistic careers and fulfilling pastimes did that simultaneously gentle and fiercely creative man launch?

Steve Manthorp (@Manthorp) February 15, 2015
RIP Tony Hart. One of the early advocates of ethical socialism.

Dr Éoin Clarke (@Labour_eoin) February 15, 2015
RIP Tony Hart - a real childhood hero even if my painting never got on TV

Kara (@ChelseaMamma) February 15, 2015
@paulopadopalos Tony Hart RIP

Louise Cogan (@mrsberry1111) February 15, 2015
Only many failed to note the date on said obituary was actually 2009, and that Tony Hart had actually died six years previously from ill health at the age of 83.
They also failed to note that the lead tribute on the article came from a currently jailed Rolf Harris.
Even Wikipedia got it wrong. Yes, even Wikipedia: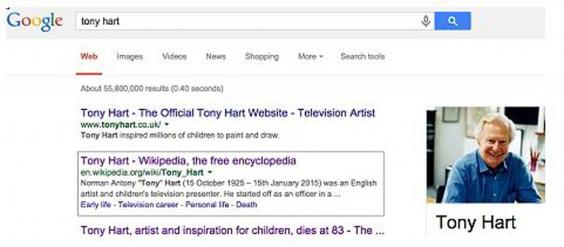 So Morph was forced to intervene and set the record straight:
Over the past 24 hrs, many people on Twitter have reported that Tony Hart has recently died. Tony sadly died in 2009. pic.twitter.com/PLHkjraxdw

Morph (@AmazingMorph) February 16, 2015
And henceforth came the 'Tony Hart died twice' trend – this time without the suspect tributes:
and I thought I felt sad the first time Tony Hart died.

Robert Ball (@RobertMBall) February 16, 2015
Let Tony Hart RIP (again) pic.twitter.com/rLwcdt6Miy

Iwan Thomas MBE (@Iwanrunner) February 16, 2015
Tony Hart: so good, we mourned him twice.

weswhite (@weswhite) February 15, 2015
Very sad to hear Tony Hart has died all over again. Such a shame when that happens.

[Skip this ad] (@MatthewEyre) February 15, 2015
I can't believe Tony Hart died and then came back to life and then died again. :(

Gary Bainbridge (@Gary_Bainbridge) February 15, 2015
Reuse content