Winston Churchill's last surviving child, Lady Mary Soames, has died aged 91.
Lady Soames, born Mary Churchill, died peacefully after a short illness on Saturday. She was surrounded by her family at home in west London.
She was the youngest of the the wartime Prime Minister's five children with his wife Clementine.
Her son, the Conservative MP Nicholas Soames, described her as "a truly remarkable and extraordinary woman, who led a very distinguished life."
He added: "She was not just a wonderful mother to whom we were all devoted, but the head and heart of our family after our father died, and will be greatly missed.
"She was a distinguished writer and led a distinguished life, with her service in the war, and is part of that generation which is passing."
He called the timing, just before the anniversary of the D-Day Normandy Landings on 6 June 1944, "extraordinary".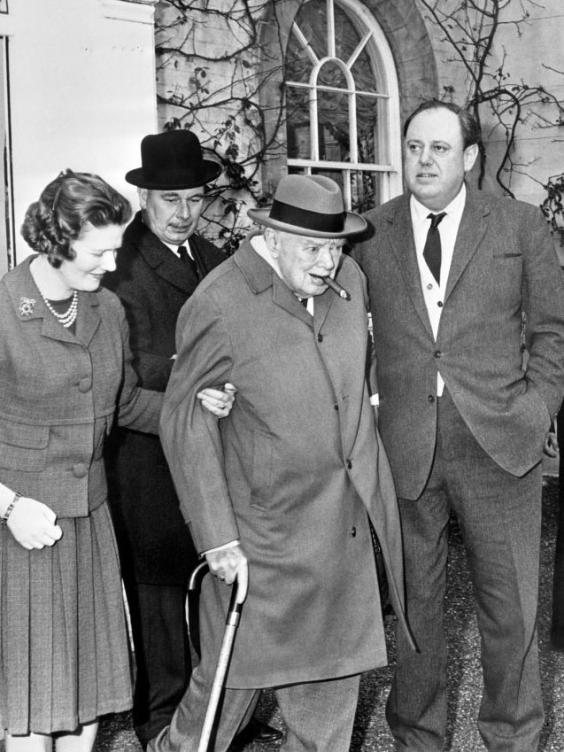 During the Second World War, Lady Soames worked for the Red Cross and the Women's Voluntary Service from 1939 to 1941.
She also served with the Auxiliary Territorial Service with  in London, Belgium and Germany in mixed anti-aircraft batteries, rising to the rank of Junior Commander (equivalent to Captain).
Accompanying her father as an aide on several of his overseas journeys, she visited Germany for the historic Potsdam Conference in 1945, where he met with US president Harry S. Truman and Soviet leader Joseph Stalin.
She married the Conservative politician Christopher Soames (later Baron Soames) in 1947 and they had five children - Nicholas, Emma, Jeremy, Charlotte and Rupert.
In later life Lady Soames supported many public organisations, such as the International Churchill Society, Church Army and Churchill Houses and was patron of the National Benevolent Fund for the Aged.
She also chaired the Royal National Theatre.
In recognition of her public service, particularly in Rhodesia, now Zimbabwe, she was made a Dame Commander of the Order of the British Empire and appointed a Lady Companion of the Order of the Garter in 2005.
Her acclaimed 1979 biography of her mother, Clementine Churchill, won a Wolfson Prize, and she also wrote her own book of memoirs.
Additional reporting by PA
Reuse content