A major meeting of government officials this week will attempt to transform the lives of millions of children languishing in orphanages around the world, thanks in large part to the world's most famous orphan, Harry Potter.
The gathering of 40 delegates from 10 countries, including Russia, Cambodia, Haiti and Ukraine, has been organised by JK Rowling's children's charity Lumos, and aims to move children out of institutions such as orphanages and into family or community-based care.
Lumos is the charitable extension of the Harry Potter franchise which made the author's name and fortune. It has a nod to its benefactor in its name – after the spell used to generate light at the end of the young wizard's wand.
The charity was founded nearly a decade ago after Rowling was confronted by a harrowing picture in a newspaper of a caged child and an article about disabled children in the Czech Republic being restrained in beds. She vowed to herself "you are going to read the article, and if it is as bad as it looks you are going to do something about it".
And she did, by setting up her own charity which works in countries such as the Czech Republic, Bulgaria, Moldova and Ukraine. Rowling funds the running costs, meaning that all donations are spent on the charity's work – with its stated aim of ending the practice of institutionalising children in orphanages worldwide by 2050.
"There is still much to be done to transform the lives of eight million children in institutions worldwide – including raising awareness and challenging the misconception around the world that orphanages are 'good' for children in adversity, which they are not," said Rowling.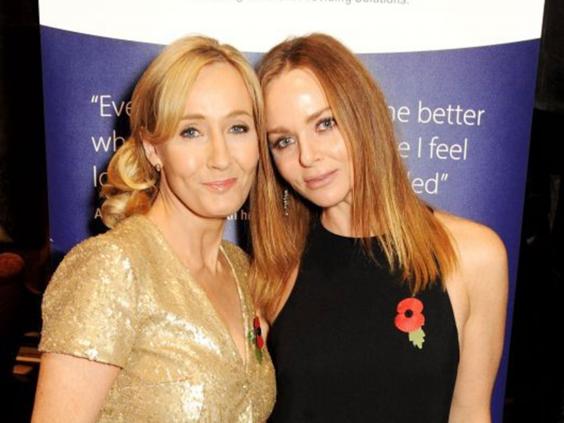 Writing in the foreword to the charity's latest annual review, being released tomorrow, she added: "Deinstitutionalisation (DI) – the technical name for a life-enhancing process that transforms children's lives – is not just about closing buildings. It is about the reform of entire care systems, to ensure they are able to meet the needs of all children and, crucially, enable families to stay together."
A million children, particularly in poorer Eastern European countries, are separated from their families and placed in large institutions or orphanages. They are part of a global problem, with about eight million children in this plight worldwide, according to the charity. And the vast majority – 90 per cent – have parents but are taken from them for reasons such as family poverty or because the child is disabled or is from an ethnic minority.
Infants who spend longer than six months in institutions suffer developmental and emotional difficulties throughout their childhood. Disabled children in institutions are 100 times more likely to die there than their able-bodied counterparts, according to Lumos. Rowling's charity works to help governments replace institutional and orphanage care with systems to care for children in families and communities.
Since the start of last year, it claims to have saved the lives of 646 children suffering from malnutrition and neglect, and to have trained thousands of social workers, health professionals, teachers and policy-makers. In the past four years, it has helped 12,000 children move out of large institutions and orphanages into family and community care.
Reuse content