With the Isis murderer known as "Jihadi John" unmasked as Mohammed Emwazi, attention has shifted away from the three British teenage girls who are believed to have travelled to Syria to join the organisation.
Yet the way Shamima Begum and Amira Abase, both 15, and 16-year-old Kadiza Sultana apparently used social media to engage with extremists is at the forefront of the counter-terrorism battle that, at the moment, the authorities appear to be losing. Yvette Cooper tells me that Facebook, Twitter and other tech firms need to join in the fight.
She says the Prevent strategy, set up by the last Labour government to turn away individuals from going down a course of extremism, is not working as it should.
"You are talking about under 16-year-olds – in the end this is actually about child protection," says the woman who, if Labour form a new government in three months' time, will be the Home Secretary and deciding policy on such issues.
"Given how we know young women are being abused and exploited in Syria, we have to do everything we possibly can to prevent young women being groomed or exploited," the shadow Home Secretary tells me over the desk in her office at House of Commons.
She wants Britain to launch its own social media strategy to encourage young people to turn away from extremism. In the US, the State Department uses Twitter to propagate the slogan "think again, turn away", while in France the government has launched its own anti-propaganda online platform under #StopDjihadism.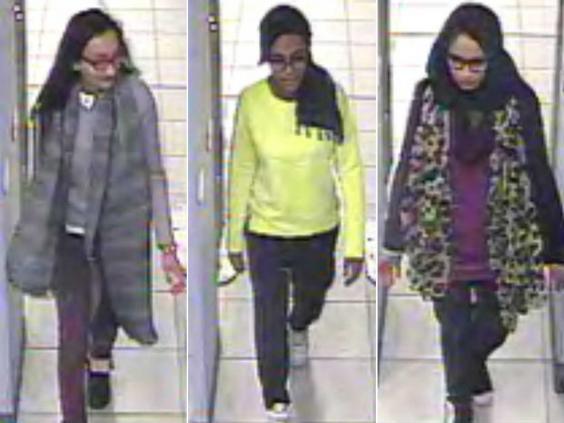 "Some other governments have tried to start doing things, including through social media, to challenge some of the myths that are being propagated and to simply provide the facts about what is going on in Syria. There's not really much of that happening in Britain, she says. "We need to think afresh about how you challenge these sorts of ideas from the very start, how you stand up against extremism and challenge that kind of ideology."
There are also steps that social media could take on counter-terrorism, just as they are on tackling child abuse images; and last week Facebook launched a suicide-prevention tool where users can alert the site if they are worried about a friend's state of mind.
"At the moment some of the online social media organisations will do more around child abuse than on counter-terror or terrorist threats. This is challenging for all of us because the technology is moving at such a pace and people's use of it is changing all the time. I don't think we can just stand back and ignore it. It's about how you engage with young people and give them the resilience to stand against extremist pressures or to stand against radicalisation.
Experts' predictions for the general election
Experts' predictions for the general election
1/10 Andrew Hawkins (ComRes)

Just as the polls in 2010 pointed to no overall majority for any party, the overwhelming evidence points to Labour either being the largest party or getting a small majority, probably below 20. The Lib Dems and SNP should each win between 25 and 35 seats, with single-figure wins for both Ukip and the Greens.

2/10 Joe Twyman (YouGov)

I predict it will be close. I predict a few tremors, though earthquakes are unlikely. I predict the eventual winner may not be the direct result of public opinion, but instead the outcome of political negotiations. It's too early to predict numbers given all the uncertainties surrounding (among other things) Ukip, the SNP and the Lib Dems. It is possible that it will be close between Conservative and Labour in terms of both votes and seats. The Lib Dems might retain 20-30 seats and the balance of power, despite small gains for the SNP, and at most half a dozen Ukip seats. Gun to my head? Labour minority government.

Rex

3/10 Ben Page (Ipsos MORI)

A mug's game for this election months away, but my predictions in order of likelihood: most likely a hung parliament or coalition of some kind, closely followed by either a small Labour majority or an equally small Conservative majority. Given how close the parties are, the unknown performance of Ukip in key marginals, the effect of incumbency on Lib Dem losses, the final size of SNP surge and so on, to be more precise is simply foolish! Professor Tetlock, who found that forecasts by experts were only slightly better than throwing dice, weighs heavily upon me!

Rex

4/10 Rick Nye (Populus)

I can see a hung parliament, where Labour is the largest party in terms of seats – though not necessarily in terms of votes, with the Lib Dems having 30 seats or fewer, the SNP having up to 20 seats and Ukip having no more than five seats. In short, it's going to get messy and stay messy for some time to come.

5/10 Nick Moon (GfK)

I can't recall there ever being an election more difficult to predict than this one. I'm confident no party will have an overall majority, with the Tories probably the largest party but no single partner for a viable coalition, with the Lib Dems on 25 seats, the SNP 20, Ukip three, and the Greens one.

6/10 Damian Lyons Lowe (Survation)

We might have expected a workable Labour majority, were it not for the wild-card rise of the SNP in Scotland. Survation's December Scottish polls suggest an almost complete wipeout by the SNP in Scotland and result in 40+ seat gains – mostly at Labour's expense. My current predictions are: Labour the largest party by 40-50 seats over the Tories, no overall majority; Tories 235-255 seats; Lib Dems 20-30 seats; SNP 30-40 seats – maybe held back from potential support level by opposition incumbency and tactical voting by pro-unionist voters. Finally, Ukip, 5-10 wins from Conservatives, including Rochester and Clacton, and potentially a single Labour-seat surprise.

7/10 Michelle Harrison (TNS)

The battleground over the next three months is at the kitchen table – the difference between what the statistics tell us about the economy, the experience that Britons are having of managing their household budgets, and where – and if – they believe politics can make a difference. In this regard, the disconnect with the major political parties is more interesting than the horse race.

8/10 James Endersby (Opinium Research)

Our first poll for 2015 shows Labour one point ahead [see above], but polls four months out from an election are snapshots, not predictions. It would be extremely unwise for a pollster to make a firm prediction now. At the moment, Opinium's estimate on polling day would be the Tories slightly ahead on vote share, but Labour slightly ahead on seats. These numbers are based on a uniform swing, with tweaks to Green and Ukip numbers based on local information: Labour 320 seats, Conservatives 271, Lib Dems 20, SNP 16, Plaid Cymru three, Greens two, Ukip four. A hung parliament with Labour potentially closer to a majority coalition than the Conservatives.

9/10 Martin Boon (ICM)

I've not recovered from the Scottish referendum campaign yet, and here we go with another wildcard strewn nail-biter. For me, Labour on 30 per cent will only fractionally nudge past their woeful 2010 showing – behind the Tories on 33 per cent – but enough to secure more seats (290 for Labour, 280 for the Tories) on boundary wackiness. The Lib Dems will secure 14 per cent of the vote and 35 seats; Ukip will also get 14 per cent, but that only gets them a couple of seats. As for Scotland, I'm bewildered, but as you asked I'll say 30 seats for the SNP, which wipes out a breathing-space victory in seats for Labour.

10/10 Lord Ashcroft (Lord Ashcroft Polls)

Declined to take part. His spokeswoman said: "As he has said many times, his polls are snapshots not predictions." Health warning: when The Independent on Sunday carried out a similar exercise in April 2010, at the start of that year's election campaign, eight out of eight pollsters predicted a Conservative overall majority.

Rex
"And it's about recognising that children can be vulnerable and that some people will exploit that vulnerability in different ways. We have a responsibility to stop the exploitation and to do everything we possibly can to keep children safe."
Ms Cooper has asked current Home Secretary Theresa May for further details on how the authorities dealt with Bethnal Green Academy in east London, where the three girls were pupils.
"When you had the case of one girl from Bethnal Green Academy reportedly going to Syria before Christmas, then you need pretty rapid intervention in the school in the community and in friendship groups – that's not just about social media, it's about direct intervention. I don't really think we've got a Prevent programme that can do that at the moment."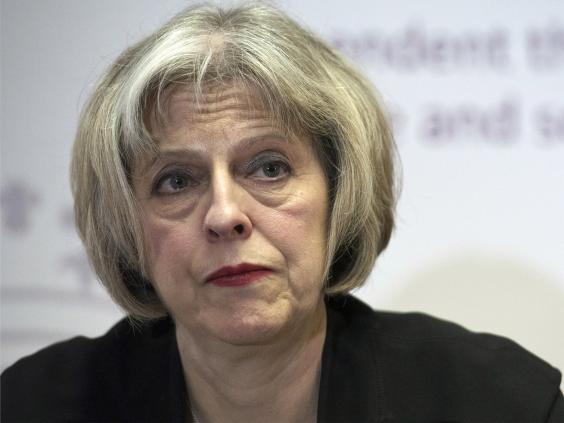 Ms Cooper is also critical of the coalition for downgrading control orders to TPIMs (Terrorism Prevention and Investigation Measures), which impose weaker location restrictions on suspects. She cannot comment on the Emwazi case, but asks: "Did the downgrading of control orders cause problems in terms of making it easier for extremists to associate with each other?"
In the wake of the Stoke Mandeville report into Jimmy Savile's abuse and the more recent scandals involving Rotherham and Rochdale, Ms Cooper said there was more the Government can do on child protection. A Labour government will create a new cross-government child protection unit, with a greater focus on online abuse, she says.
"What worries me is you feel as if you can see scandals of the future happening now. And every time we have one of these inquiries… they always come out with a similar set of conclusions. Children weren't listened to, not enough was done, people… decided it was too difficult because it was a new and uncomfortable thing to have to deal with, so everybody just drifted along and somebody didn't step out and say 'We should act'.
"It feels the same now with online abuse, that everybody just feels it's just too difficult, nobody quite knows how to respond and yet the consequences for children's and teenagers' lives could be huge."
Then, with May in mind (the month not her Tory opposite number), she sends a stark warning to any colleagues debating a future Labour leadership contest to "sort themselves out" and focus on the election, which she believes the party is in a "strong position" to win, although "We know we have got to work really hard for every single vote."
But, if there was to be a leadership vacancy, would she stand?  "The only, only, focus has got to be on May and winning… we've got to win because there's too much at stake – with public services, the economy, with jobs. Everybody has to focus on that.
"We've got just a limited number of weeks left and we've just got to throw everything at working incredibly hard to win that election."
Reuse content