Physical evidence that children were used as soldiers in Britain's mid-17th century civil wars has been discovered by archaeologists.
Investigations in Durham have identified the remains of up to 28 skeletons as Scottish prisoners of war including a dozen teenage soldiers, five of whom were aged 12 to 16.
They were taken prisoner after English parliamentarian forces defeated the pro-Charles II Scottish Presbyterian army at the Battle of Dunbar on  3 September, 1650.
Scientific and other investigations carried out by the Durham University show that they almost certainly died of malnutrition, disease and dysentery.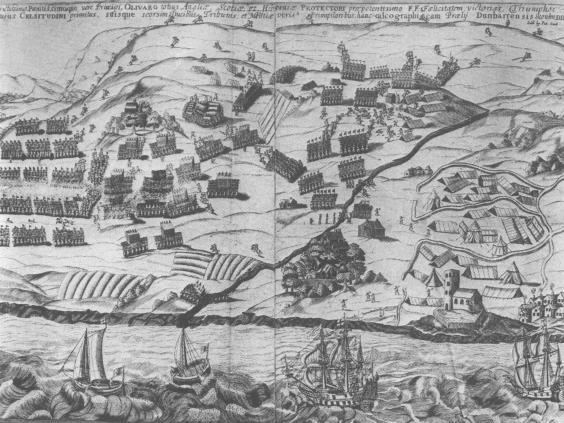 One 13-15 year old boy who may have been suffering from scurvy had infections in his leg and foot bones.
A 14-15 year old appears to have been suffering from malnutrition for several years – and had had severe tooth decay and a leg infection.
A 12-16 year old had leg and foot infections – and probably also suffered from rickets.
The Battle of Dunbar was short and brutal. After less than an hour,  a 12,000 strong English parliamentarian army, under the command of Oliver Cromwell, defeated the 11,000 strong Scottish covenanting army who supported the claims of Charles II to the Scottish throne.
Between 1,000 and 2,000 Scottish soldiers were killed by Cromwell's forces who only lost 20 men.
The Scottish army had suffered from desertion, political purges and a severe lack of fighting age recruits. That almost certainly explains the presence of child soldier prisoners-of-war, unearthed in Durham.
Around 6,000 Scots were taken prisoners after the Battle of Dunbar. A thousand were immediately released because they were sick or wounded. The remainder were marched 100 miles south towards Durham where they were to be incarcerated in the castle and cathedral. Around a thousand died on the march - from hunger, exhaustion and dysentery. A few were executed. Some others escaped.
In pictures: 12 amazing archaeological discoveries
In pictures: 12 amazing archaeological discoveries
1/12 Ancient forest, discovered in February 2014

Ancient forest revealed by storms. The recent huge storms and gale force winds that have battered the coast of West Wales have stripped away much of the sand from stretches of the beach between Borth and Ynyslas. The disappearing sands have revealed ancients forests, with the remains of oak trees dating back to the Bronze Age, 6,000 years ago. The ancient remains are said by some to be the origins of the legend of 'Cantre'r Gwealod' , a mythical kingdom now submerged under the waters pif Cardigan Bay

2/12 Medieval royal palaces, discovered in November 2014

Archaeologists in southern England have discovered what may be one of the largest medieval royal palaces ever found – buried under the ground inside a vast prehistoric fortress at Old Sarum. The probable 12th century palace was discovered by archaeologists, using geophysical ground-penetrating 'x-ray' technology to map a long-vanished medieval city which has lain under grass on the site for more than 700 years

3/12 The Dead Sea Scrolls, discovered ca. 1950

The Dead Sea Scrolls are almost 1,000 biblical manuscripts discovered in the decade after the Second World War in what is now the West Bank. The texts, mostly written on parchment but also on papyrus and bronze, are the earliest surviving copies of biblical and extra-biblical documents known to be in existence, dating over a 700-year period around the birth of Jesus. The ancient Jewish sect the Essenes is supposed to have authored the scrolls, written in Hebrew, Aramaic and Greek, although no conclusive proof has been found to this effect

4/12 Diamond, discovered in March 2014

This rare diamond that survived a trip from deep within the Earth's interior confirmed that there is an ocean's worth of water beneath the planet's crust

5/12 Whale skeletons, discovered in February 2014

Chilean and Smithsonian paleontologists study several fossil whale skeletons at Cerro Ballena, next to the Pan-American Highway in the Atacama Region of Chile

6/12 Complete mammoth skeleton, discovered in November 2012

The first complete mammoth skeleton to be found in France for more than a century was uncovered in a gravel pit on the banks of the Marne, 30 miles north-east of Paris. Picture shows experts at work making a silicon cast of the mammoth's tusk

7/12 Million-year-old human footprints, discovered in February 2014

Photograph of the footprint hollows in situ on the beach as Happisburgh, Norfolk

8/12 Terracotta warrior, discovered in June 2010

Chinese archaeologists unearthed around 120 more clay figures in June 2010 excavations at the terracotta army site that surrounds the tomb of the nation's first emperor in the northwestern Shaanxi Province

© Jason Lee / Reuters

9/12 Neolithic 'lost avenue' - prehistoric stone circle, discovered in September 1999

The discovery of a Neolithic 'lost avenue' was described as one of the most important finds of the last century. Since the 1700s, archeologists and historians have argued over the existence of the huge sarsen stones, which were unearthed at the site of the world's biggest prehistoric stone circle at Avebury in Wiltshire

10/12 Byzantine mosaic, discovered in February 2007

Plans for a walkway at the centre of the furious dispute over Jerusalem's holiest site were delayed by the discovery of a Byzantine mosaic

11/12 Ancient gold, discovered in March 2014

Gold fitting for a dagger sheath (around 1900 BC.) found near Stonehenge

12/12 Rosetta Stone, discovered in 1799

The Rosetta Stone is a basalt slab inscribed with a decree of pharaoh Ptolemy Epiphanes (205-180 BC) in three languages, Greek, Hieroglyphic and Demotic script. Discovered near Rosetta in Egypt
Around 3000 finally arrived in Durham, of who some 1700 then died of dysentery or disease at the rate of around 30 per day.
The identification of the Durham skeletons as Scottish prisoners taken at the Battle of Dunbar has involved detailed scientific and historical research – including isotopic tests showing that the individuals came from Scotland.
"Taking into account the range of detailed scientific evidence we have now, alongside historical evidence from the time, the identification of the bodies as the Scottish soldiers from the Battle of Dunbar is the only plausible explanation," said Dr. Andrew Millard, Senior Lecturer at Durham University's Department of Archaeology.
Reuse content