Christmas Day might mean peace on Earth and goodwill to men - but that's not to say it must be confined to either, as astronaut Sam Cristoforetti has demonstrated today.
The Italian, currently stationed on the International Space Station, has wished the world a merry Christmas, posting an incredible picture of our planet as she whizzed by, and somehow persuading Santa Claus to pop in for a selfie.
(IT) In Europa potete vedere la #ISS stasera alle 18:20. Forse spunta anche Babbo Natale...noi siamo pronti :) pic.twitter.com/8E1Bml8a15

— Sam Cristoforetti (@AstroSamantha) December 24, 2014
(IT) Ipnotizzanti colori del nostro pianeta. Hey, potete anche "vederci" una persona? #Futura42 pic.twitter.com/oyTMBicY7g

— Sam Cristoforetti (@AstroSamantha) December 25, 2014
She and her colleagues, Americans Barry Wilmore and Terry Wirts, also managed to find the time to record a special Christmas video for the world.
Meanwhile, last night, the ISS was spotted in the heavens over Britain. It was at its most visible point from earth at around 5.20pm, when it appeared as a small ball of light crossing the sky. A couple of enterprising photographers managed to catch some great snaps as the satellite blasted its way across the firmament above London.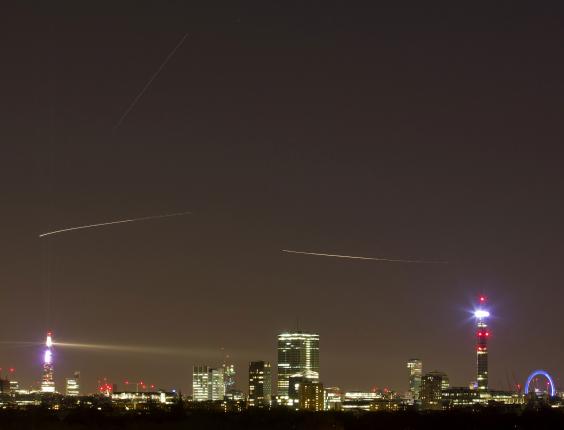 My shot of the @Space_Station over Bucks @ 17.23 on Xmas Eve. 1000mm lens+freehand+2 glasses of Prosecco = fuzzy #ISS pic.twitter.com/QvRgRkuKcj

— Scott M Bailey (@ScottMB_UK) December 24, 2014
View of international space station from Trafalgar Sq yesterday & view from the space station of London (& Bethlehem) pic.twitter.com/bGk8r7bc9m

— Stefan Simanowitz (@StefSimanowitz) December 25, 2014
Watching the space station fly over London's Oxford street from the roof of the BBC. @NASA_Astronauts #ISS pic.twitter.com/chmptlFkEz

— sophieraworth (@sophieraworth) December 24, 2014
Reuse content