NHS patients in England will be the first in the world to participate in an ambitious government-led programme to sequence 100,000 genomes as part of a "paradigm shift" in healthcare focusing on the genetic causes of disease.
The NHS has set up 11 "genomic medicine centres" across England as part of the first wave in a future network of more than 100 centres that will recruit tens of thousands of patients with cancer and rare genetic disorders between 2015 and 2018.
Initially the project will focus on five common cancers – breast, bowel, ovarian, lung and CLL leukaemia – and 110 inherited conditions. It is hoped that the programme will help in the development of new drugs and diagnostic tests, heralding a new era of personalised medicine.
Professor Sir Bruce Keogh, Medical Director of NHS England, said that the study of whole genomes or "genomics" will transform the practice of medicine by analysing the DNA changes implicated in the onset, development and diagnosis of serious diseases. "Embracing genomics will position us at the forefront of science and make the NHS the most scientifically advanced healthcare system in the world," Sir Bruce said.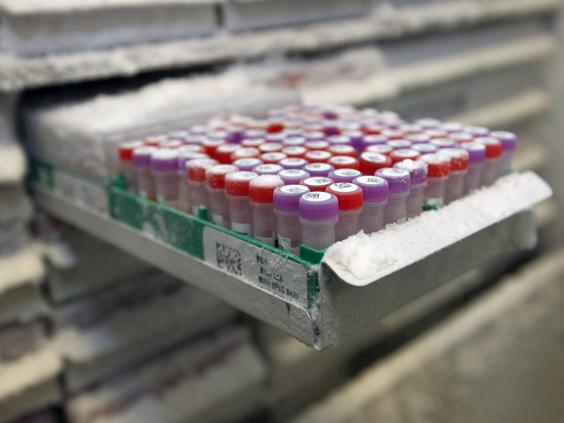 More than 100 patients with cancer and rare inherited diseases have already had their genomes sequenced during the project's pilot phase. The £300m project will eventually sequence the entire genomes – the human genetic blueprints encoded in the DNA of chromosomes – of about 75,000 patients and family members with rare genetic disorders or cancer. Patients with cancer will have two DNA sequences decoded: one of their tumour and one of their healthy tissue.
Part of the data will be anonymised and made available to academics for research and to the pharmaceuticals industry to develop tests and drugs under strict commercial licensing arrangements with Genomics England, the NHS-owned company established to run the programme.
The most important scientific breakthroughs of 2014
The most important scientific breakthroughs of 2014
1/9 Rosetta space mission

The Rosetta space mission which has for the first time put a spacecraft in orbit around a comet and landed a robotic probe on its surface has been voted the most important scientific breakthrough of 2014 by the editors of the journal Science

2/9 Cooperative robots

Robots are generally getting better at working with humans, but this year several teams demonstrated that these machines can also work together, without human supervision

PA

3/9 The birth of birds

This year, evolutionary biologists figured out the mode and tempo of the spectacular evolutionary transition from dinosaurs to birds

4/9 Youth serum

This year, in work with profound implications for aging, researchers showed that blood or blood components from a young mouse can rejuvenate an old mouse's muscles and brain. If the results hold up in people—an idea already in testing—factors in young blood could offer the antidote to aging

Getty Images

5/9 Neuromorphic chips

This year, computer engineers at IBM and other companies rolled out a promising alternative: the first large-scale "neuromorphic" chips, designed to process information in ways more akin to living brains

Heidelberg University

6/9 Cave art in Indonesia older than initially thought

This year scientists discovered that the prehistoric graffiti in the Maros caves on the island of Sulawesi, Indonesia (hand stencils outlined in mouth-blown red paint, mixed with pictures of rare "pig-deer" in red and mulberry hues), thought to be about 10,000 years old, are actually four times older

Creative Commons

7/9 Manipulating memory

Last year, in work evocative of films such as Eternal Sunshine of the Spotless Mind and Inception, researchers discovered ways to manipulate specific memories in mice using optogenetics, a powerful technique that can trigger nerve cells in animals' brains by zapping them with beams of laser light. This year, researchers went even further - switching the emotional content of a memory in mice from bad to good and vice versa

Getty

8/9 Expanded genetic alphabet

Researchers this year engineered the bacteria to incorporate two additional letters into their genetic alphabet. In addition to the natural nucleotides, in which G pairs with C and A pairs with T, the bacterial DNA includes a novel pair: X and Y

9/9 The rise of the CubeSat

A decade ago, CubeSats were just educational tools, a way for university students to place a simple Sputnik in space. Now these 10-centimeter boxes, built with off-the-shelf technology and costing hundreds of thousands of dollars rather than hundreds of millions, have taken off. More than 75 were launched this year, a record. What's more, the little boxes are starting to do real science

Creative Commons
Genomics England emphasised that patients will have to provide full, informed consent and that the genomic data on NHS patients will not be allowed to be copied or taken away from computers located in the UK, even though they can be accessed remotely, including from overseas.
"The rule [for the drugs industry] participating is that we make the data available free but we hold the rights to the discoveries from the data. In that way we can make sure the maximum benefit comes back to the NHS to assist patients," said Sir John Chisholm, executive chairman of Genomics England.
David Cameron announced the 100,000 Genomes Project two years ago but today NHS England outlined the strategy to put it into effect. It will mean that the UK – and more specifically England – will lead the world in bringing genomic medicine to thousands of ordinary patients with serious illnesses.
Sir Bruce added: "The NHS is better equipped for the emerging science that will determine the future practice of medicine than any other Western health care system.
"It will bring us the opportunity to think about the way we think about diseases. Currently we think about them with a certain taxonomy; we give them labels.
"We're going to change over the coming few years the labelling system for different diseases as we get a deeper understanding of what the causative factors are in the human genome," he added.
The NHS is in a unique position to capitalise on the power of genomics to study large populations, especially as it is a national healthcare system based on the pooling of a country's resources to make sure everyone gets the treatment they need, Sir Bruce said.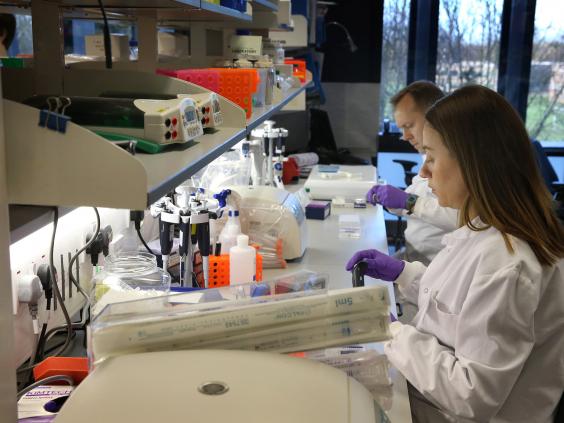 Ever since the first human genome was fully decoded nearly 15 years ago, scientists have talked about the possibility of being able to read everyone's DNA to study the genetic changes that could influence a person's health, both now and in the future.
It has led to the idea of "personalised" medicine when doctors will prescribe targeted drugs or treatments aimed at patients with specific DNA sequences, rather than the traditional approach of prescribing treatments based on symptoms.
"Genomics goes from being something done in specialised laboratories to something that is going to be relevant to patients across the NHS," said George Freeman, the minister for life sciences.
"We can move from practising one-size-fits-all medicine to do targeted, stratified and ultimately precision and potentially preventive medicine," Mr Freeman said.
The first 75,000 patients to have their genomes sequenced will be patients and family members with rare genetic disorders or cancer.
Professor Mark Caufield, chief scientist of Genomics England, emphasised that the success of the 100,000 Genomes Project will rest on the active participation of the pharmaceuticals industry which will be allowed to "mine" the genomics data for commercial gain.
"We will need a coalition with industry to drive up the value and benefit for our patients because it will be they who will get the new diagnostic tests from this and possibly, maybe, at some point in the future the essential medicines," Professor Caufield said.
"It is absolutely vital if we want to develop the maximum benefits of this programme that we encourage industry to join us in this. There is no university in this land that can afford to develop a drug all the way on its own. We need a coalition with industry," he said.
Sir John Chisholm said that drug companies will not be allowed to copy any data and, if accessing the genomics databases remotely, every key stroke will be recorded to prevent them "screen scraping" and taking away even anonymised data.
"It's like being in a shop and having CCTV cameras watching what you are doing," Sir John said.
"We record every keystroke. They work with the data but they can't copy it. It's only people with legitimate health purposes that will have access to the data," he said.
Q&A: The 100,000 genomes project
Q: What is the project?
A: It is a £300m scheme to sequence the genetic codes of 75,000 people – NHS patients with cancer or rare genetic diseases and their close family members. Patients with cancer will be sequenced twice – once for their healthy cells and once for their tumour cells.
Q: How will this be done?
A: NHS England has set up 11 genomic medicine centres at a cost of about £20m to recruit and test the first volunteers. Eventually, there will be more than 100 centres across England to complete the entire 100,000 genomes (including two for each cancer patient) by 2018.
Q: And the data?
A: It is going to be stored  in two databases, probably on computers located at  the Sanger Institute  campus in Cambridge. One database will include identifying information to  link data to named patients. The other database, which will be used by researchers, will be anonymised by stripping out the identifiers.
Q: What the project's aim?
A: Scientists hope that it will lead to a better understanding of the genetic causes of disease. Drug companies hope to develop new diagnostic tests and, in the longer term, new drugs and treatments based on targeting the specific sequences of DNA involved in disease.
Q: Who is paying for it?
A: The Government is paying for much of it, through the NHS and the Medical Research Council. The Wellcome Trust medical charity is investing about £27m in new gene-sequencing facilities on its Sanger Institute campus; and Illumina, a US sequencing company, is investing £162m in DNA technology in return for a payment of £78m from Genomics England.
Q: Where will the 11 new genomics centres be based?
A: All will be in England, namely: the East of England, south London, the North-west, Greater Manchester, central London (two), Oxford, the North-east, the South-west, Wessex and the West Midlands.
Reuse content