Astronomers are used to peering into the cosmos to scrutinize distant stars and planets,  but it's not often that the cosmos stares back.
But in this fantastic image captured by Nasa's Hubble Space Telescope that's exactly what Jupiter appears to be doing.
The unusual shot was captured as the shadow of Ganymede, Jupiter's seventh moon and the largest satellite in the Solar System, moved over the Great Red Spot.
This gigantic storm some 40,000km wide (that's large enough to fit three Earths side by side) has been a feature of the planet's surface ever since human's first observed the planet using telescopes, with the first description made by Gian Domenico Cassini in July 1665.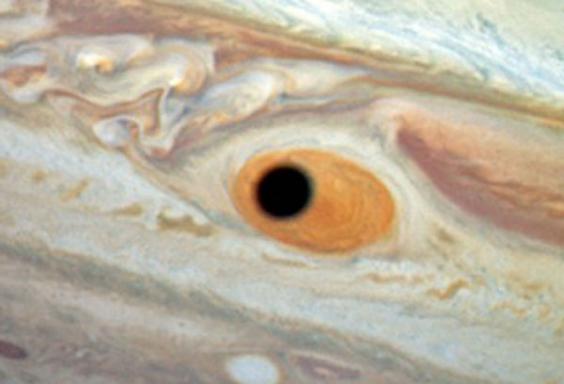 However, studies from the mid-1990s onwards have found that the GRS is slowly shrinking, and Hubble was busy monitoring the storm when it captured the image on 21 April.
Nasa's scientists are still searching to explain why the massive anti-cyclonic storm (one formed of high pressure) may finally be abating.
Where to explore in the solar system
Where to explore in the solar system
1/10 Mars - Olympus Mons

Olympus Mons is the largest volcano in the Solar System. At 22km high Olympus Mons is nearly three times as high as Mt Everest

2/10 Mars - Mount Sharp

Mount Sharp is the current focus point of the Mars Science Laboratory's Curiosity rover. Sitting at the forefront of Martian research this location will hopefully unlock the secrets of Mars's past.

3/10 Ida and Dactyl

Nestled deep within the asteroid belt is the asteroid 243 Ida. During a fly by of the Galileo space probe it was discovered that Ida had a companion. Orbiting around Ida was a tiny moon that was named Dactyl.

4/10 Jupiter - The Red Spot

Getting tired of leisurely cruises through the Caribbean? Why not float a dirigible through one of the oldest known storms in the Solar System. Jupiter's Great Red Spot is large enough to contain three Earths and has been present for over 300 years.

5/10 Moon - Sea of Tranquility

As the landing site of the first ever humans to set foot on the Moon who wouldn't want to walk in the footsteps on Neil Armstrong on the Sea of Tranquility?

6/10 Europa - Underwater seas

Europa's underwater seas are one of the strongest candidates for potential life outside Earth. Scientists are waiting the day we can probe their icy depths.

7/10 Titan - Methane Lakes

Saturn's Moon Titan is home to a nice thick atmosphere. Similar to the Earth it supports a full weather cycle. Unlike the Earth, rather than using water, Titan's cycle is based on methane, often found in gas cookers here on Earth.

8/10 Mimas, the Death Moon

What better location for a holiday snap. The large Herschel crater on Mimas gives this moon an appearance of a certain dark lords ultimate weapon. When viewed from the right angle it appears that the Death Star is in orbit around Saturn.

9/10 Venus

The thick clouds of Venus make it an extremely mysterious place. It also has some of the most extreme weather we can find. Runaway greenhouse gases have shrouded the planet in a thick layer of cloud, heating it to nearly 600°C. It is also home to sulphuric acid rain and crushing atmospheric pressure. Make sure you pack a sturdy umbrella!

10/10 Oceans of Earth

One of the most unexplored places in the Solar System is our own oceans. 70% of the Earth is covered in ocean and as of yet we have only explored around 10% of them. With so much water to explore who knows what we may find lurking in the depths.

NASA
"For a moment," said Nasa in a press release, "Jupiter 'stared' back at Hubble like a one-eyed giant Cyclops."