Nasa's New Horizons spacecraft, which has travelled three billion miles in nearly nine years in its journey to Pluto, is expected to start taking pictures of the dwarf planet from today.
The New Horizons probe marks humanity's first trip to the mysterious planet, and while the first pictures it takes are expected to reveal little more than bright dots, the images will be invaluable for scientists waiting on the ground.
On Friday the probe was still more than 100 million miles away from Pluto, but the images, taken against star fields, will help scientists gauge the remaining distance and keep the baby grand piano-sized robot on track for its July fly-by.
Space in perspective: this is how big the Earth really is compared to the other planets in our Solar System
Space in perspective: this is how big the Earth really is compared to the other planets in our Solar System
1/7 Saturn

"Jupiter holds the title for being the biggest planet in the solar system, but Saturn is no tiddler," says amateur astronomer John Brady, who made these composite images. Like shoulder pads (or a massive hat) those rings let it dress up and seem even bigger than it is - but you could still fit some 764 Earths inside the planet itself.

2/7 Saturn's Rings

The rings themselves are made up of billions of bits of ice and rock debris, ranging in size from tiny grains to mountain-sized chunks. There's a number of gaps in the rings, some of which are patrolled by moons sweep a clear path through the junk like bodyguards, while others -like the largest gap, the Cassini Division - are caused by gravitional resonances between debris and those same moons.

3/7 Neutron Star

There isn't actually a Neutron Star in our Solar System - but we should be thankful for that. It's only 20km across (shown here sitting on the North West coast of England) but has 1.5 times the mass of our Sun - just a teaspoon of the material would weigh more than a billion tonnes. They also spin incredibly fast - faster than a kitchen blender, rotating as quickly as 716 times a second.

4/7 The Sun

Here comes the Sun: it makes up 99.86 per cent of the Solar System's entire mass and puts out more energy in a single second than humans have ever produced in our entire history. All the planets are in fact just byproducts from the Sun's formation and when it goes, we go with it - though that won't be for another 7.6 billion years.

5/7 Olympus Mons

Some of Mars' geographical features dwarf those of Earth. Olympus Mons isn't just the biggest volcano on the planet, it's bigger than any in the Solar System and in this image dwarfs the state of Arizona. Planetary geologists think Mons' massive size is to do with the lack of active plate tectonics on Mars. This means that magma can continually erupt in the same spot without moving. It's so big that it's tough to know how to measure it, but it's generally agreed it's at least 22km high - nearly three times taller than Mount Everest.

6/7 Mars

And here's Mars itself against the same portion of North America. As Brady points out, this shows that you could fly half way around Mars in around eight hours - though of course you'd need an incredibly light plane as Mars' atmospher is only 1 per cent as thick as Earth's. "Earth's rusty neighbour in the solar system is the second smallest of the planets, Mercury being smallest," says Brady. "The actual dry land mass of Mars is around the same as Earth's, because although Mars is much smaller it doesn't of course have any seas."

7/7 Jupiter

Canada and the US combined are dwarfed on the surface of Jupiter - the biggest planet in the solar system, with a total mass greater than all the other planets and moons put together. "Jupiter is the king of the solar system," says Brady. "It's over 11 times the diameter of our planet, with lightning bolts up to 1,000 times more powerful than Earth's, and wind speeds in the upper atmosphere that can reach 100 metres per second. This planet races around in just 10 hours compared to Earth's 24, making it the fastest rotating planet in the solar system."
New Horizons was reactivated at the start of December after 1873 days of having been switched off, in order to begin preparations for its mission, which is the furthest space mission to have ever been undertaken.
In addition to New Horizons photographing the area with its powerful infrared and ultraviolet spectometers and high-resolution telescopic camera, the spacecraft will test and monitor particles and space dust in the mysterious planet's atmosphere.
The $700,000 mission, which began when New Horizons launched from Cape Canaveral in January 2006, has already started bearing fruit by capturing images of Pluto last summer, but today's pictures are expected to be considerably brighter and should be released publicly in early February.
By May, the images being beamed back from the probe should equal and then surpass those taken but the Hubble Space Telescope, and in July, New Horizons will fly by the dwarf planet at a speed of nearly 31,000 miles per hour and a distance of 7,700 miles, speeding past Pluto's largest moon, Charon.
"New Horizons has been a mission of delayed gratification in many respects, and it's finally happening now," said project scientist Hal Weaver of Johns Hopkins University's Applied physics laboratory, the department which designed and built the probe for Nasa and is managing the mission for Nasa.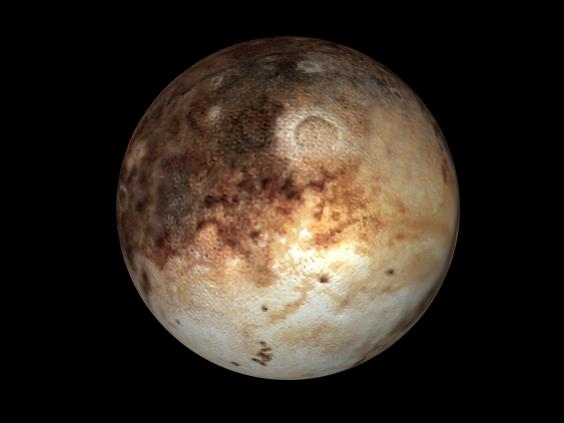 "It's going to be a sprint for the next seven months, basically, to the finish line," he said.
"We can't wait to turn Pluto into a real world, instead of just a pixelated blob."
Extremely little is known about what Pluto looks like and the five moons that have been found in its orbit. Out in the Kuiper Belt, the dwarf planet is the largest object among a plethora of icy objects.
Pluto is the biggest object in the Kuiper Belt. Together with mega-moon, Charon, roughly half Pluto's size, the two orbs could fit inside the United States with room to spare. Five moons have been found so far around Pluto. More could be lurking out there, awaiting discovery by New Horizons.
Additional reporting by AP
Reuse content