Bears have been seen catching and eating dolphins for the first time ever, after the marine mammals were left stuck in the Arctic Ocean because of global warming.
It marks the first time that bears have been seen killing and eating dolphins. Usually, the dolphins only go up north during the warmer summer — but this year they have arrived in spring.
The bears catch the dolphins in a similar way to the seals that they usually eat. Both animals keep holes in the ice which they use to come up and breathe from — at which point, if the bear is lucky, it will snatch them up and eat them.
The researchers observed the behaviour for the first time last year. At least six different bears have been seen eating the dolphins since then, scientists write in a new report, 'White-beaked dolphins trapped in the ice and eaten by polar bears'.
After eating the dolphin, the bear seemed to cover it with ice so that it could be kept for later. Such behaviour is rare in polar bears, and could be a result of the animals not having enough to eat.
The authors of the study describe the bear as having "clearly visible ribs" and being "very skinny".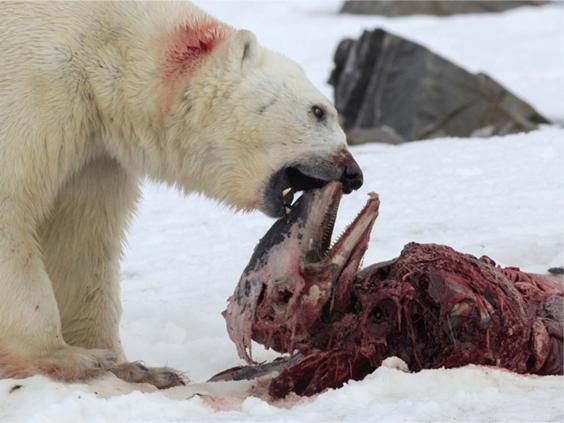 The habitat of polar bears is shrinking drastically as the Arctic warms. As such, scientists expect to be able to observe them much less in the coming years.
The same global warming appears to be trapping the dolphins, leaving them stuck and so able to be caught by the bears.
 "We suggest [the dolphins] were trapped in the ice after strong northerly winds the days before, and possibly killed when forced to surface for air at a small opening in the ice," the authors of the study write. White-beaked dolphins tend to travel north to Svalbard during the warmer summer, but haven't been reported so far north in the early Spring.
In pictures: Changing climate around the world
In pictures: Changing climate around the world
1/15 Greenland

Calved icebergs from the nearby Twin Glaciers are seen floating on the water in Qaqortoq, Greenland

2/15 Iran

Oroumieh, one of the biggest saltwater lakes on Earth, has shrunk more than 80 percent to 1,000 square kilometers in the past decade. It shrinks mainly because of climate change, expanded irrigation for surrounding farms and the damming of rivers that feed the body of water

3/15 Greenland

A boat navigates among calved icebergs from the nearby Twin Glaciers in Qaqortoq, Greenland. Boats are a crucial mode of transportation in the country that has few roads. As cities like Miami, New York and other vulnerable spots around the world strategize about how to respond to climate change, many Greenlanders simply do what theyve always done: adapt. 'Were used to change, said Greenlander Pilu Neilsen. 'We learn to adapt to whatever comes. If all the glaciers melt, well just get more land

4/15 Norway

The Svalbard Global Seed Vault is seen after being inaugurated in Longyearbyen, Norway. The 'doomsday' seed vault built to protect millions of food crops from climate change, wars and natural disasters opened deep within an Arctic mountain in the remote Norwegian archipelago of Svalbard

5/15 France

A technician preparing to drain a vast underground lake at the Tete Rousse glacier on the Mont Blanc Alpine mountain, to avert a potentially disatrous flood. Some 65,000 cubic metres (2.3 million cubic feet) of water have gathered in a cavity, dangerously raising the pressure beneath the mountain, a favourite spot for holiday makers in Saint-Gervais-les-Bains

6/15 Switzerland

Cracked mud is picture at sunrise in the dried shores of Lake Gruyere affected by continuous drought near the western Switzerland village of Avry-devant-Pont. A leading climate scientist warned that Europe should take action over increasing drought and floods, stressing that some climate change trends were clear despite variations in predictions

7/15 USA

Cattle graze on grassland that remains dry and brown at the height of the rainy season in south of Bakersfield, California. Its third straight year of unprecedented drought, California is experiencing its driest year on record, dating back 119 years, and dating back as far as 500 years, according to some scientists who study tree rings

8/15 Pakistan

An aerial view shows tents of flood-displaced people surrounded by water in southern Sehwan town. United Nations Framework Convention on Climate Change (UNFCCC) executive secretary Christiana Figueres met with people displaced by last year's devastating floods. Catastrophic monsoon rains that swept through the country in 2010 and affected some 20 million people, destroyed 1.7 million homes and damaged 5.4 million acres of arable land

9/15 Australia

An aerial view of flooding in North Wagga Wagga. Climate change is amplifying risks from drought, floods, storm and rising seas, threatening all countries but small island states, poor nations and arid regions in particular, UN experts warned

10/15 Honduras

Damages caused by a landslide on the Pan-American highway near La Moramulca, 55 Km south of Tegucigalpa. International highways have been washed out, villages isolated and thousands of families have lost homes and crops in a region that the United Nations has classified as one of the most affected by climate change

11/15 Indonesia

A resident sprays water on a peatland fire in Pekanbaru district in Riau province on Indonesia's Sumatra island. Indonesia, an archipelago of 17,000 islands, is one of the world's biggest carbon emitters because of rampant deforestation. US Secretary of State John Kerry Sunday issued a clarion call for nations to do to more to combat climate change, calling it 'the world's largest weapon of mass destruction'

12/15 Indonesia

An excavator clearing a peatland forest area for a palm oil plantations in Trumon subdistrict, Aceh province, on Indonesia's Sumatra island. As Southeast Asia's largest economy grows rapidly, swathes of biodiverse forests across the archipelago of 17,000 islands have been cleared to make way for paper and palm oil plantations, as well as for mining and agriculture. The destruction has ravaged biodiversity, placing animals such as orangutans and Sumatran tigers in danger of extinction, while also leading to the release of vast amounts of climate change-causing carbon dioxide

13/15 Bangladesh

Stagnant rain water with tannery waste make the Hazaribagh area in Old Dhaka as well as Buriganga River the most polluted. Each year during the seven-month long dry season between October and April the Buriganga River becomes totally stagnant with its upstream region drying up and becoming polluted from toxic waste from city industries

14/15 Bangladesh

Waste water from Dhaka city drained to the River Buriganga contributes to its pollutions. On the World Water Day observed in 2007 under the theme Coping with Water Scarcity, under the leadership of the Food and Agriculture Organization of the United Nations, DrikNEWS explores some of the images of the river. UN-Water has identified coping with water scarcity as part of the strategic issues and priorities requiring joint UN action. The theme highlights the significance of cooperation and importance of an integrated approach to water resource management of water at international, national and local levels

15/15 China

Heavy smog has been lingering in northern and eastern parts of China, disturbing the traffic, worsening air pollution and forcing the closure of schools. China's Environment Ministry said it will send inspection teams to provinces and cities most seriously affected by smog to ensure rules on fighting air pollution are being enforced
Usually, the Svalbard fjords and coast is covered by ice. But in the winter of 2013 and 2014, when the dolphins and bears were first seen together, they were ice free.