The average basking shark may be the size and weight of a double-decker bus, but these giant fish are still notoriously hard to find.
Scientists have so far struggled to track the endangered fish, meaning that very little is known about the species. But all this is about to change – thanks to the amount of plankton found in UK waters at this time of year..
The plankton is attracting the sharks – one of just three shark species that eat plankton – directly into the reaches of researchers. As a result, scientists are now poised to start tagging the sharks for the first time, allowing them to track their movements via GPS.
The move forms part of a groundbreaking project off the Cornish coast that seeks to protect basking sharks.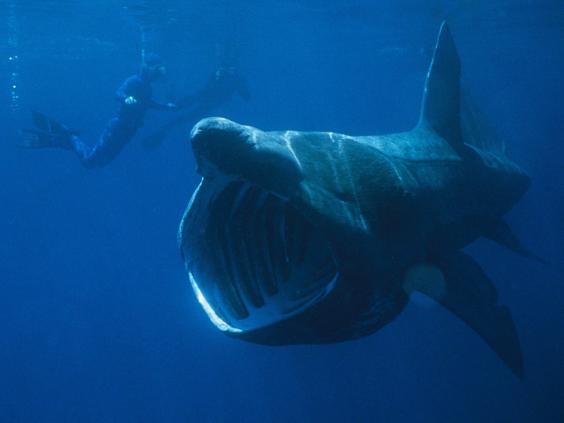 The GPS devices, which look like mini-submarines and are fitted with special fins, will be inserted just beneath the skin into the tough section of muscle next to the dorsal fin using a 12ft-long "window cleaner's" pole. Every time the tag comes to the surface of the water, it sends a message to six satellites which triangulate its position.
The project aims to discover valuable information about the behaviour of these huge but elusive sharks – such as their diving habits, where they feed and their migration patterns. The results gleaned from tagging in areas such as Porthcurno and Sennen Cove will be used as the basis for a plan to conserve the sharks.
"We are still in the dark as far as basking sharks are concerned. I do honestly find it fascinating that such a massive animal can swim around in our seas and yet we know so little about it," said Lucy Hawkes of the University of Exeter, who is working on the tagging project with the Marine Conservation Society.
In pictures: 'Shark', BBC's pioneering new wildlife series
In pictures: 'Shark', BBC's pioneering new wildlife series
1/10 Shark

Diver filming alongside a Great White shark to capture the subtle signals of the secret shark language, in Guadalupe, Mexico

Morne Hardenberg/Atlantic Edge Films/BBC

2/10 Shark

Great White Sharks stalk fur seals in the murky water and use the low angle of the sun at dawn and dusk to conceal themselves

Morne Hardenberg/Atlantic Edge Films/BBC

3/10 Shark

Port Jackson Sharks are ancient creatures from a group older than the dinosaurs. Their strange teeth are for crushing shellfish and sea urchins

Justin Gilligan/BBC

4/10 Shark

Tens of Thousands of Mobula Rays gather together in the sea off Mexico

Carlos Aguilera/BBC

5/10 Shark

Giant Manta Rays can be up to 7 metres across and travel the oceans feeding on plankton

Erick Higuera/BBC

6/10 Shark

Great White Sharks gather together off the tiny pacific island of Guadalupe and use body language to communicate with each other

Morne Hardenberg/Atlantic Edge Films/BBC

7/10 Shark

Great White Sharks in South Africa feed on fur seals and have evolved extraordinary abilities to find their prey

Morne Hardenberg/Atlantic Edge Films/BBC

8/10 Shark

Hundreds of Oceanic Blacktip sharks gather together to attack a shoal of anchovy off the coast of South Africa

Morne Hardenberg/Atlantic Edge Films/BBC

9/10 Shark

Mobula Ray leap high out of the water, sometimes even doing back flips and somersaults. It is thought the loud belly flop sounds they make help in courtship

Carlos Aguilera/BBC

10/10 Shark

Ragged Tooth Sharks live in and around shipwrecks off the coast of North Carolina

Mike Gerken/Evolution Underwater Imaging/BBC
"It's really cool that we are going to do something that provides really robust data," she said. "You can have discussions about where you think marine conservation zones should go but the kind of data we will get is black and white – you can make a map and say 'That's where they were'".
Dr Hawkes and her team will be on standby in the coming weeks, ready to leap into action whenever a basking shark is sighted off the Cornish coast. They are calling for the public to report their sightings by phoning a  "tagging hotline".
They are the first researchers in the world to use GPS, having pioneered the technology in Scotland over the past three years. Unlike traditional tags, which can pinpoint the shark to within a kilometre, the new devices can locate the creature to within metres.
Given its size, it is perhaps surprising that the basking shark is an endangered species, but years of hunting have taken their toll.
"Basking sharks were highly prized for their substantial liver ... which weighs up to three tons. This provided a rich oil that was used widely in street lights, commercial lubricants and beauty products," said Ali Hood, director of conservation at the Shark Trust.
However, the UK's biggest fish has staged a remarkable turnaround in the popular imagination in the past two decades as measures introduced to protect it, in particular a ban on fishing it, helped spawn an industry dedicated to its welfare. The tagging project is part of a broader co-ordinated effort to use the charismatic  basking shark – with its large mouth, iconic dorsal fin and slow, graceful movement – as an "ambassador" to draw attention to the plight of a wide range of critically endangered sharks in the UK.
The basking-shark hotline can be reached on 07935 098 122
Reuse content