Leading scientists have urged Theresa May to put pressure on Donald Trump to acknowledge and act on climate change.
A letter signed by 100 of the world's leading climate researchers working in the UK was delivered to Downing Street on Friday.
It called on the Prime Minister to use the "special relationship" with the US to stop any "political attempts to prevent, hamper or interfere with vital research on climate change" when Mr Trump takes office.
The President-elect has described climate change as a hoax invented by China to undermine US manufacturing and pledged to withdraw from the world's first comprehensive treaty to tackle greenhouse gases, the Paris Agreement.
"The signs are pretty obvious that Trump does not support action on climate change, and that his team will act against it," said Corinne Le Quere, professor of climate change science and policy at the University of East Anglia.
Professor Le Quere told Radio 4's Today programme many of the people appointed to senior positions by Mr Trump had rejected the risks of climate change or had links with the fossil fuel industry.
"Some of the advisors in [Trump's] transition team have proposed to cut down climate research at Nasa, and they have requested names of scientists working on climate change at the US Department of Energy."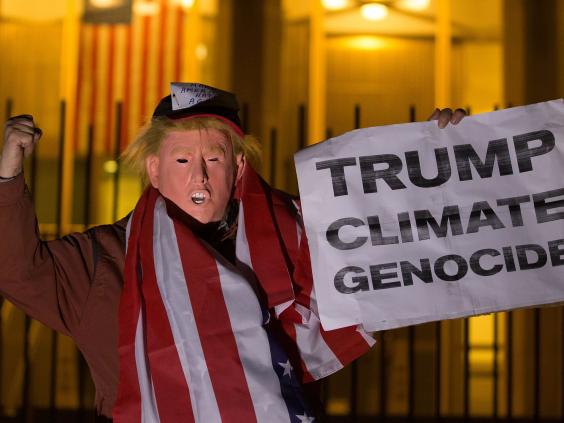 The academics warned Ms May damage inflicted by Mr Trump's administration on US-funded climate change research would have an impact around the world, including in the UK.
They said the President-elect could "diminish the provision of robust and rigorous evidence that is used by policy-makers and researchers around the world, including in the United Kingdom".
Professor Le Quere said it was important scientists did not lose access to cutting-edge research from Nasa, which uses satellite data to monitor the Earth and examine solar activity and rising sea levels.
"There are other regions – in Europe and the UK in particular, and in China – that do satellite observations, but the programme at Nasa is very extensive," she said.
"It's very important that politicians around the world stand up to Donald Trump, and press [him] and his administration to acknowledging the evidence on climate change, and for the US to support international action."
The UK has been at the forefront of climate research and policy for the last 30 years, said the letter, which told Ms May she should be prepared to "respond decisively" to the situation.
It said Britain could have a great opportunity to work alongside the US in strengthening the evidence base on climate change, supporting the development of new technologies and leading international co-operation on the issue.
10 photographs to show to anyone who doesn't believe in climate change
10 photographs to show to anyone who doesn't believe in climate change
1/10

A group of emperor penguins face a crack in the sea ice, near McMurdo Station, Antarctica

Kira Morris

2/10

Amid a flood in Islampur, Jamalpur, Bangladesh, a woman on a raft searches for somewhere dry to take shelter. Bangladesh is one of the most vulnerable places in the world to sea level rise, which is expected to make tens of millions of people homeless by 2050.

Probal Rashid

3/10

Hanna Petursdottir examines a cave inside the Svinafellsjokull glacier in Iceland, which she said had been growing rapidly. Since 2000, the size of glaciers on Iceland has reduced by 12 per cent.

Tom Schifanella

4/10

Floods destroyed eight bridges and ruined crops such as wheat, maize and peas in the Karimabad valley in northern Pakistan, a mountainous region with many glaciers. In many parts of the world, glaciers have been in retreat, creating dangerously large lakes that can cause devastating flooding when the banks break. Climate change can also increase rainfall in some areas, while bringing drought to others.

Hira Ali

5/10

Smoke – filled with the carbon that is driving climate change – drifts across a field in Colombia.

Sandra Rondon

6/10

A river once flowed along the depression in the dry earth of this part of Bangladesh, but it has disappeared amid rising temperatures.

Abrar Hossain

7/10

Sindh province in Pakistan has experienced a grim mix of two consequences of climate change. "Because of climate change either we have floods or not enough water to irrigate our crop and feed our animals," says the photographer. "Picture clearly indicates that the extreme drought makes wide cracks in clay. Crops are very difficult to grow."

Rizwan Dharejo

8/10

A shepherd moves his herd as he looks for green pasture near the village of Sirohi in Rajasthan, northern India. The region has been badly affected by heatwaves and drought, making local people nervous about further predicted increases in temperature.

Riddhima Singh Bhati

9/10

A factory in China is shrouded by a haze of air pollution. The World Health Organisation has warned such pollution, much of which is from the fossil fuels that cause climate change, is a "public health emergency".

Leung Ka Wa

10/10

Water levels in reservoirs, like this one in Gers, France, have been getting perilously low in areas across the world affected by drought, forcing authorities to introduce water restrictions.

Mahtuf Ikhsan
"Donald Trump is not as ideological has others have been on Climate change," said Professor Le Quere.
"He's quite a practical and pragmatic person, he is himself focussed on business and job opportunities, and there are lots of job opportunities that could result from moving to clean energy. 
We think that there is potential to move him and move his administration towards understanding these opportunities."