It is a mystery which has been the source of many a heated debate, flummoxing naturalists since Charles Darwin's era: why does a zebra have black and white stripes?
Now, a new study has dismissed the popular theory that the animal's impressive "dazzle" patterns are a defence against predators.
There have been many explanations for the zebra's black and white stripes, but the most common has been the species makes use of the unusual camouflage pattern to avoid predators on the African plains. They even provided inspiration for the Royal Navy to use a zebra-inspired dazzle pattern to protect its ships from U-Boat attacks during the First World War.
However new research by academics at Cambridge University suggests the zebra's stripes are unlikely to have come about as a method to protect the animal from hungry lions, leopards or cheetahs.
10 best zoos in the UK
10 best zoos in the UK
1/10 Marwell Zoo

This 140-acre park near Winchester is home to hundreds of exotic and endangered species, ranging from ring-tailed coatis to majestic giraffes, endangered tigers to frilled lizards, curious meerkats to pygmy hippos all set in beautiful, landscaped surroundings. This summer the zoo is opening Wild Explorers, their biggest exhibit to date, hosting some of Africa's most spectacular wildlife. Online adults £17.26; child £13.62. Under 3s go free. www.marwell.org.uk

2/10 Paignton Zoo

This leafy, shady gem of a zoo was one of the first places in the UK to combine zoological and botanical gardens. It now boasts around 2,000 animals and 1,600 plant species, making for a wonderful place to explore, plus it's been leading the zoo world in ethical trading for years. Watch out for the new male lion Lucifer. Online adults £16.50; child £12. Under 3s go free. www.paigntonzoo.org.uk

3/10 Bristol Zoo

Though this zoo may be a modest 12 acres, it is home to over 450 species. What's more, being one of the smaller zoos of the world, they've been forced to use their space cleverly and efficiently. The new gorilla house, for instance, is an award-winning enclosure, with a glass-roofed viewing area that you can walk over – a world first. New for 2015 are 13 huge and incredibly life-like animatronic Big Bugs, that will make the zoo their home for six months this summer. Online adult £14.53; child £9.09. Under 2s go free. www.bristolzoo.org.uk

4/10 Chester Zoo

This is the most visited zoo in the UK and rated among the top 15 zoos in the world. There's an impressive 12,0000 animals from over 400 species, as well as a particularly exciting £30m project underway that will take visitors on a personal conservation expedition through the Philippines, Bali, Sulawesi, Sumb and Sumatra, just like the great explorers. Online child £14.72; child £11.86. Under 3s go free. www.chesterzoo.org

5/10 Howlett's Wild Animal Park

Howlett's, which was initially set up as a private zoo and is celebrating its 40th birthday this year, made news for unfortunate reasons back in the 90s – the keeper was eaten by a tiger. Even though you can still have close encounters with the big cats, they're thankfully not that close, and there are lots of other amazing animals in this fabulous, natural-looking 90-acre park too. Online adult £19.95; child £15.95. Under 3s go free. www.aspinallfoundation.org/howletts

6/10 ZSL London Zoo

This is the world's oldest scientific zoo and currently home to more than 750 different species. Having opened the world's first aquarium, reptile house and insect house, innovation is still high on its agenda and whilst last year witnessed a brand new Pygmy hippo exhibit, this year's exciting news is the new 'In with the Lemurs' exhibit, which opens on Saturday 28 March. Online adult £21.81; child £15.91. Under 3s go free. www.zsl.org

7/10 Whipsnade Zoo

The UK's largest zoo is set in a beautiful 600 acres, featuring over 2,500 animals, many of which are jumbo size, such as the elephants, rhinos, tigers, African lions, brown bears, zebras, moose and hippos. It's also got the UK's largest herd of Asian elephants, which you can watch getting taken for a stroll around the zoo most afternoons. Don't miss out on the steam railway, which offers great views of many of the animals. Online adult £25; child £18. Under 3s go free. www.zsl.org/zsl-whipsnade-zoo

8/10 Edinburgh Zoo

This 82 acre zoo is the only zoo in the UK to care for giant pandas and koalas. Other animal highlights include a young baby chimp in their award winning Budongo Trail enclosure, a baby tapir, Indian rhinos, sun bears and a famous daily penguin parade. From April 3 to November 1 the zoo has the added bonus of a life-size animatronic exhibition of dinosaurs – Dinosaurs Return! Online adult £17.00; child £12.50 Under 3s go free www.edinburghzoo.org.uk

9/10 Welsh Mountain Zoo

Some TripAdvisor reviewers complain about the hills. But the zoo's name should be a bit of a giveaway that it's not flat. Yes, you'll be tired, but there's so much that make it worth it, including an amazing sea lion show, the macaws flying around you, and animals including snow leopards, tigers, otters, lemurs and bears. The keepers are keen to answer questions. Online adult £10.95; child £8.25. Under 3s go free. www.welshmountainzoo.org

10/10 Colchester Zoo

This delightful zoo with over 270 species in 60 acres is particularly child-friendly, with lots of hands on experiences and over 50 daily displays, as well as four adventure play areas and an undercover soft play area. It stays fresh by continually expanding and kids will love the Madagascar Express road train. Online adult £21.99; child £14.99. Under 3s go free www.colchesterzoo.org
The study, in the journal Frontiers in Zoology, used 60 volunteers to play the part of predators in a computerised chase game and revealed that striped targets are actually easier to catch than plain- coloured prey.
According to study leader Dr Anna Hughes, who receives funding from the Ministry of Defence, the research won't just be of interest to naturalists and designers of military camouflage. "This research could, after further study, be useful to road safety experts who want to get a better understanding of clutter and how the brain perceives road signs along the motorway," she said.
Dr Hughes isn't the first scientist to rule out the camouflage theory behind the zebra's stripes. As long ago as 1871 Charles Darwin dismissed the idea they could act of camouflage, citing an observation by English explorer William Burchell that described how the "brightness and regularity of their stripped coats presented a picture of extraordinary beauty" and made the animals easier to spot.
Dazzle Paint schemes: A potted history
Rather than aiming to conceal ships, dazzle paint schemes were intended to make it more difficult for an enemy submarine or aircraft to estimate a target's range, speed and heading.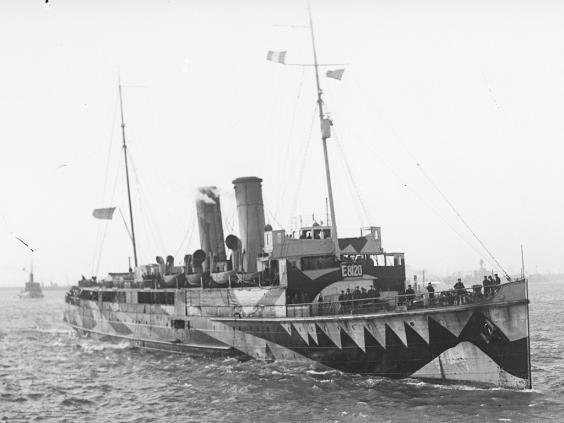 In the Royal Navy and US Navy, competitions were held to create the best camouflage of geometric shapes and contrasting colours. However, by the mid-point of the Second World War the idea was generally out of favour.
In 1918, at the end of the First World War, the British Admiralty had attempted to analyse shipping losses to reach a verdict on the dazzle paint schemes, but was unable to draw any firm conclusions.