Theresa May's plans to force businesses to disclose how many foreign workers they employ are "a step too far", a Ukip MEP has said.
Roger Helmer, the party's MEP in the East Midlands, said plans to "shame" companies who employed foreigners would be branded "fascist" had they been advocated by Ukip.
He also said reports that the Government had told managers at the London School of Economics that foreign-born academics could no longer advise on Brexit were "astonishing".
"I like what Theresa May is doing, she seems to have picked up about 90 per cent of Ukip's programme. In some way she's gone far beyond what we'd done," Mr Helmer, a former head of Ukip European Parliament delegation, told BBC Radio 4's Today programme.
Asked whether he approved, Mr Helmer said: "This idea that companies should provide lists of foreigners; if Ukip had suggested that they'd have been shouting 'fascist' up and down the street. 
"I personally think that is a step too far and is rather, sort of, petty, just as this recent story that [foreign] academics at the LSE shouldn't advise on Brexit. If that's true I think it's astonishing."
Despite causing an outcry on social media polling by YouGov found that a majority of voters from all parties except the SNP support the plans to draw up the lists of foreigners.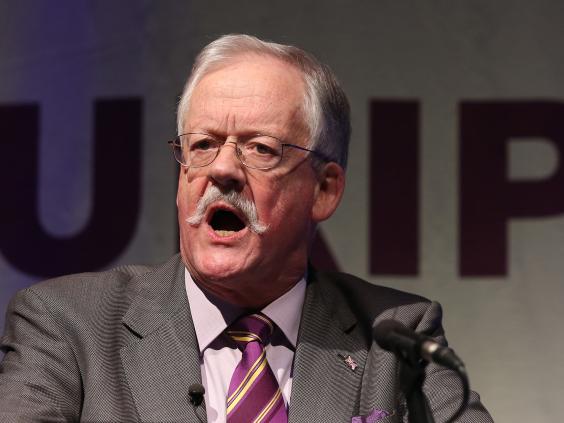 Ms May used her speech at conference to attack "politicians and commentators" who spoke up in favour of immigrants.
"Just listen to the way a lot of politicians and commentators talk about the public," she said.
"They find their patriotism distasteful, their concerns about immigration parochial, their views about crime illiberal, their attachment to their job security inconvenient. 
Brexit racism and the fightback
Brexit racism and the fightback
1/9

Demonstrators protest against an increase in post-ref racism at London's March for Europe in July 2016

PA

2/9

These cards were found near a school in Huntingdon, Cambridgeshire, the day after the EU referendum

Twitter/@howgilb

3/9

Getty

4/9

Romford, Essex, June 25

@diamondgeezer

5/9

A worker at this Romanian food shop was asleep upstairs at the time of this arson attack in Norwich on July 8, but escaped unharmed. Hundreds later participated in a 'love bombing' rally outside the shop to express their opposition to racism and their support of the shop owners.

JustGiving/Helen Linehan

6/9

This neo-Nazi sticker was spotted in Glasgow on June 26

Courtesy of Eoin Palmer

7/9

But after news emerged of neo-Nazi stickers appearing in Glasgow, some in the city struck back with slogans of their own.

Courtesy of Eoin Palmer

8/9

Getty

9/9

More signs began to appear in some parts of the UK, created by people who wanted to show their opposition to post-referendum racism

Courtesy of Bernadette Russell
"They find the fact that more than 17 million people voted to leave the European Union simply bewildering."
The PM has pledged to end freedom of movement from the EU to Britain after the country leaves the trading bloc.
In the last week she clarified that she would begin the process of leaving in the first quarter of 2017, when she would trigger Article 50.
Reuse content