A woman has survived being 'dragged under a train' at Clapham South during morning rush hour, with fire fighters reportedly having to jack it up to get her out.
Commuters expressed their shock on Twitter over the incident, which caused huge delays and completely shut down services on the London Underground Northern Line between Kennington and Morden.
One user, @krunchie_frog, said she was "still shaking" after hearing "screaming" while on board the train.
Others reported seeing fire fighters jacking up the train to get the woman out.
@LAU4A A woman was dragged under the tube at Clapham South. I saw firemen trying to get her out. They have to jack up the train.

; cristina squires (@newsgirlc5news) March 12, 2015
There was much confusion about how the incident occurred, with some claiming they saw the woman, who was in her twenties, "get pushed" under a train by accident. One eyewitness said the woman's coat had become caught in the train doors as it pulled away and she was dragged beneath the carriage.
I've just seen a woman get pushed under a tube by accident at Clapham South @TfL sort it out barriers should be on every platform #DISGRACE

; James Callen (@jamescallen1) March 12, 2015
Other talked of fears about the number of people at the busy Tube station – but TFL said that the incident was not due to overcrowding.
Thinking of poor woman who got pushed under a tube due to overcrowding at Clapham South this morning...scary. TfL need to sort it out!

; Emma Partington (@emmapartington) March 12, 2015
Ridiculous delays on the northern line due to someone on the track at Clapham South

; Benny&TheJets (@iamBBiosah) March 12, 2015
A poor lady has been dragged under a train this morning at Clapham South. Hope she'll be OK. @TfL @northernline MUST address overcrowding.

; Chris Michaelides (@ChrisMica) March 12, 2015
Jeez, a woman fell on the tracks at Clapham South this morn. Perhaps now @TfL will address the dangerous overcrowding on @northernline?

; Duns (@DunsOnTheRun) March 12, 2015
Nigel Holness, LU's Operations Director, said that the passenger "fell" between the train and the tracks.
"Just before 8am this morning a passenger fell between the train and tracks at Clapham South station," he said.
"The passenger has been recovered by the emergency services with non-life-threatening injuries. There was no service from Morden to Kennington for around an hour, while the rest of the line had minor delays. The service has now resumed."
To everyone moaning about the Northern line this morning, spare a thought for the woman who was dragged under the tube at Clapham South

; cristina squires (@newsgirlc5news) March 12, 2015
Police and ambulances were at the scene. The London Fire Brigade said two fire engines and a fire rescue unit were sent to the station and they used a "scoop stretcher" to rescue the woman.
British Transport Police said the incident was not being treated as suspicious, and inquiries were ongoing to establish "exactly what happened".
Clapham South station closed. Commuters exiting say they were stuck underground for over an hour. pic.twitter.com/Pnjv7vb90q

; Bríd Stenson (@bridstenson) March 12, 2015
While not directly linked, the incident has, however, renewed calls for TFL to address the problem of overcrowding.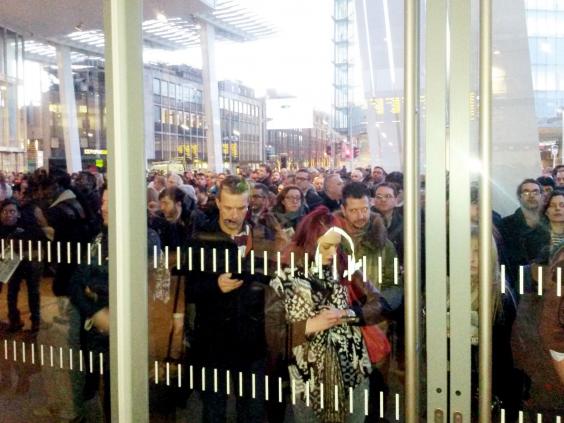 Last week, commuters were seen jumping over and diving under ticket barriers at London Bridge, that were shut to control crowds amid an escalating crush of thousands of people.
Commuters leap barriers at London Bridge as overcrowding sees police called http://t.co/sZcYs8oSro pic.twitter.com/W02RUYtHx3

; Evening Standard (@standardnews) March 3, 2015
Others were stranded on platforms for at least 45 minutes in what Boris Johnson and unions described as travel "chaos".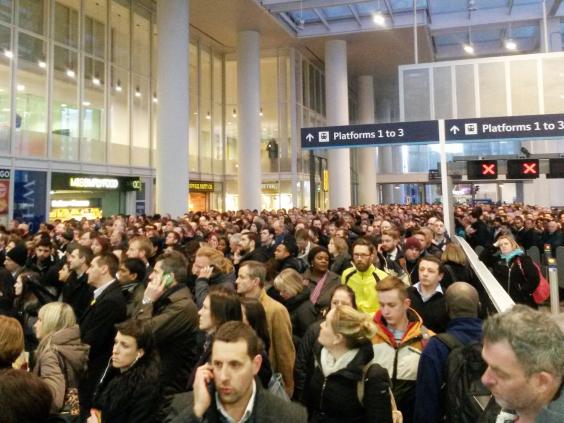 The Mayor of London had said: "This chaos must end now. The scenes at London Bridge were completely unacceptable.
"It is a disgrace that Network Rail and the train operating companies have failed once again to get a grip of the situation at London Bridge."
Reuse content