CCTV footage from a convenience store in Paddington captured a terrifying unprovoked attack that saw a shopkeeper stabbed in the neck by a man shouting racist abuse.
Andrew Jefferson, 52, entered the Padiciya Wine on London Street, Paddington last October concealing a kitchen knife under his jumper.
Southwark Crown Court heard that he then screamed the words, "you f*****g foreigners, coming to the UK to poison the British people," before thrusting a blade into the neck of shop worker Hilmi Uludag.
Warning: The video contains footage that some viewers may find disturbing
 The unprovoked attack left Mr Uludag with severe injuries to his neck and arm, and saw nerves severed below his chin.
Doctors said that he was "lucky" to survive.
Jefferson was convicted of attempted murder at Southwark Crown Court on Tuesday, and is set to be sentenced next month.
According to Mr Udulag, Jefferson had bought two beers from him earlier in the night and "didn't say one word".
He then returned two hours later and unexpectedly attacked Mr Udulag as he stood behind the shop's counter.
The two engaged in a tussle after the attack, with Mr Udulag screaming, "I've been stabbed, I've been stabbed."
He was soon helped by a colleague and the two were able to restrain Jefferson.
Police arrived at the scene and arrested Jefferson.
Mr Udulag was treated at hospital but is still suffering from the injuries sustained as a result of the attack.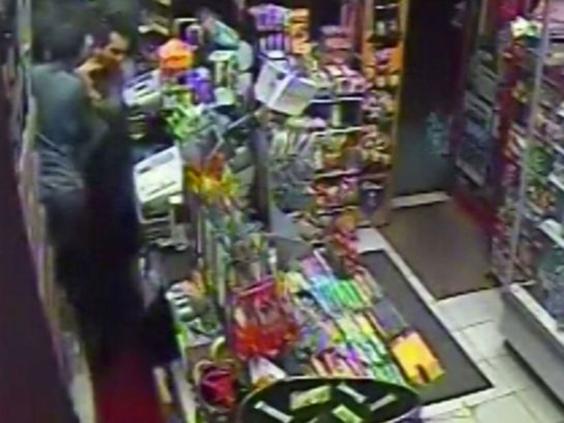 He told the court that he hasn't been able to eat for two months because his lips and mouth are too "numb" due to the nerve damage.
He also said he is struggling to walk due to an injury to his ankle.
Jefferson will be sentenced on the 22 April.
Reuse content