Detectives investigating the suspected murder of the missing chef Claudia Lawrence have arrested a former university colleague in connection with her disappearance.
The 59-year-old man, named locally as Michael Snelling, was until recently employed as a lab technician in the biology department at the University of York, where Ms Lawrence also worked until March 2009.
It is the first arrest in connection with the long-running murder investigation and follows a major forensic review of the case and the disclosure of several new leads on BBC's Crimewatch to mark the fifth anniversary of her disappearance. North Yorkshire Police stressed that Ms Lawrence's remains had not been discovered and said they could not rule out further arrests.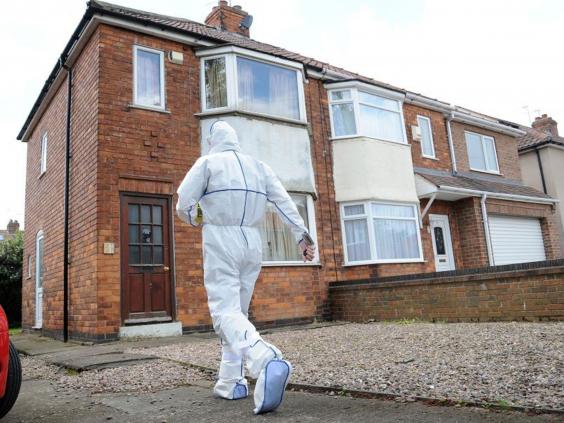 Forensic teams have boarded up Mr Snelling's run-down, semi-detached property where they had spent much of the day searching the house and garden. It is less than a mile away from where the 35-year-old Ms Lawrence lived alone in the Heworth area of the city. A blue Ford Focus car was seized whilst a number of items including bags and what looked like material were taken away for examination. A further search was carried out in premises in North Shields on Tyneside, where it is understood the arrest was made. The premises are believed to have belonged to Mr Snelling's mother.
Police refused to confirm reports that the man had been questioned previously in connection with the huge inquiry that at its height involved more than 100 detectives.
Dozens of men living in the area were quizzed in the wake of Ms Lawrence's disappearance. Neighbours said Mr Snelling had been known to drink at the nearby Nag's Head pub in York, where Ms Lawrence was a regular. It is believed he lived alone at the premises in the quiet cul-de-sac.
Ms Lawrence's father, Peter, who has campaigned tirelessly to keep his daughter's case in the public eye at times criticising the progress of the police investigation, welcomed the development. "I'm very pleased they appear to be making progress by making this arrest," he said.
He has described the agony of not knowing what happened as "torture". The family spokesman said it was now necessary for the "law to take its course". Searches at the premises are expected to last several days.
Police said in April that 121 people had come forward to help their inquiry in the wake of the new Crimewatch appeal and £10,000 reward. Claudia was reported missing by Mr Lawrence on 20 March 2009.
But despite receiving extensive media coverage detectives have failed to achieve a significant breakthrough. They remained convinced she had set out for work as usual early in the morning of 19 March but never arrived. Neither her rucksack nor her Samsung mobile phone has been recovered.
Much of the inquiry centred on Ms Lawrence's personal life which was described as "complex". The emphasis on her relationships with men angered her friends and family who described her behaviour as that of a normal, attractive single woman.
Last year a new investigation team conducted a detailed re-examination of Ms Lawrence's terraced home, uncovering the fingerprints of people who have not yet come forward. A number were later eliminated from the inquiry
The DNA profile of an unknown man was taken from a cigarette butt in the university chef's Vauxhall Corsa which was undergoing repairs at the time of her disappearance.
It is not known whether the arrest is linked to the Crimewatch appeal or other police pleas including that to identify the so-called left handed smoker spotted by a passing cyclist on a bridge with a woman in the early hours of 19 March 2009. On the same day another cyclist reported seeing a scruffy and windswept white man aged 55 to 65 standing outside Claudia's house shortly before 7am.
Ms Lawrence's close friend Suzy Cooper, 49, said the last five years had been extremely frustrating. "I have been trying to focus on my own life but Claudia has always been in my thoughts. I have been told by zillions of people 'you have to get on with your life', but I haven't done it very well. I haven't been able to let go. I cannot put it to bed, I cannot say 'that's happened, move on' because it's still happening," she said.
A spokesman for the University of York said: "We understand that North Yorkshire Police are pursuing inquiries regarding the disappearance in 2009 of Claudia Lawrence. The university will continue to give the police every co-operation in those inquiries."
Reuse content