David Cameron is set to rip up decades of Conservative orthodoxy on crime and punishment, admitting that Britain's prison system has been a "scandalous failure" for years and calling for reform to be the "great progressive cause" of British politics.
In the first speech by a Prime Minister on prisons in more than two decades he will roundly reject the old Tory hang 'em and flog 'em mantra of previous leaders and call for prisoners to be treated not as "liabilities to be managed" but "assets to be harnessed". 
It is understood Mr Cameron wants to give up to half of all prison governors complete autonomy over how they run their institutions within five years to improve re-offending rates, in a move modelled on the Government's school academy programme.
As in schools, the Government also intends to publish league tables of prison performance while, in another initiative borrowed from the education sector, there are plans to establish a new "jail first" programme – based on the successful Teach First model – to recruit high-quality graduates to work in the prison sector.
There will also be initiatives to try and reduce the overall prison population by extended use of satellite tagging and community punishments. 
Prison-reform charities welcomed what they described as the "exciting rhetoric" of  Mr Cameron's speech but warned it would be meaningless unless efforts were made to reduce the number of people sent to prison each year.
"It is all very well giving prison governors autonomy to improve rehabilitation and education," said Frances Crook, of the Howard League for Penal Reform, "but you are not autonomous if your prison is so full you can't let prisoners out of their cells. It is hard to have autonomy over an institution that is still stuck in the 18th century."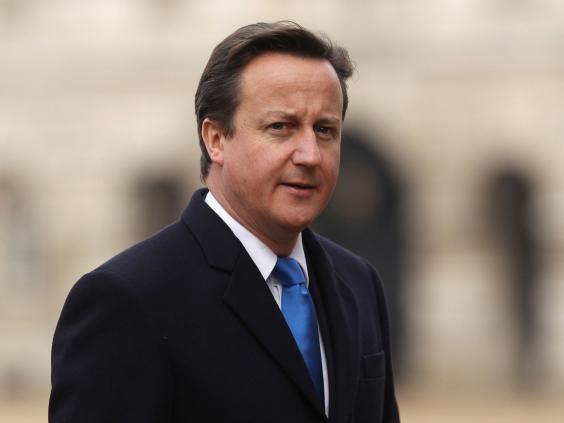 Mr Cameron's speech, which will take place following a prison visit on Monday, is part of a wider effort by the Prime Minister to focus the Government agenda over the remainder of his premiership on what aides describe as improving "life chances" across society.
Much of the new agenda is being pushed by the new Justice Secretary, Michael Gove – and it is little coincidence that many of the new ideas being put forward are modelled on the education system for which he was previously responsible.
However, critics point out that at a time of public-sector cuts there is almost no room for the type of investment that would be needed to create prisons that could successfully integrate work and education into the system.
A previous attempt by the former Justice Secretary Ken Clarke to get more prisoners into work and training inside quickly foundered because of prison overcrowding and were quietly dropped.
While the Prime Minister is expected to highlight the Government's commitment not to cut the £130m prison-education budget – it will still not keep pace with inflation.
In his speech, Mr Cameron is expected to highlight what he will describe as the "scandalous" failure of the prison system to rehabilitate.
"It can be easy for us all – when prisons are closed off by high walls and barbed wire – to adopt an 'out of sight, out of mind' attitude," he will say. 
"I want there to be no no-go areas. The failure of our system today is scandalous."
Mr Cameron will point to statistics which show that 46 per cent of all prisoners will re-offend within a year of release, while 60 per cent of short-sentenced prisoners will reoffend in the same period. This is estimated to cost the taxpayer £13bn a year.  
In addition he will say that this year there are likely to be almost 600 incidents of self-harm; at least one suicide; and 350 assaults, including  90 on staff.
"I strongly believe that we must offer chances to change; that for those trying hard to turn themselves around, we should offer hope; that in a compassionate country, we should help those who've made mistakes to find their way back on to the right path. In short, we need a prison system that doesn't see prisoners as simply liabilities to be managed, but instead as potential assets to be harnessed."
As part of the plan, six new "reform prisons" will be created this year, with full autonomy over how they operate and spend their budget – a number that is expected to grow to  50 per cent by 2020.
Nine new prisons will also be built at a cost of £1.3bn with a plan to sell off some of the old Victorian prisons which are particularly difficult to refurbish.  
In addition, the former Liberal Democrat education minister David Laws has been appointed to chair a new social enterprise to develop a Teach First-type scheme that will recruit high-quality personnel  to work in the prison service for a number of years after graduating.
As part of a wider package of reform in the criminal justice system there will also be a nationwide rollout of new  GPS tags for those on community sentences which can detect alcohol use by monitoring perspiration.
There will also be a fresh attempt to find a meaningful alternative to jailing women who are either pregnant or have very young babies. Figures show that 100 babies were living in prison with their mothers last year.
Brett Wigdortz, founder of Teach First, said he believed that the programme could be successfully adapted to work in prisons.
"Over the last 13 years Teach First has developed expertise in attracting and mobilising talented leaders to support and inspire the least advantaged in society," he said. 
"Like so many, we know that too often there is a link between low achievement at school and the prison population. I am therefore delighted to be able to share our knowledge of attracting talented individuals to key professions that transform the lives of those facing the greatest barriers," he added.
But Ms Crook warned that all of the initiatives would founder if they were not properly resourced.
"It is all very well talking about technical answers such as electronic tagging but that in itself will do nothing to reduce reoffending over the long term.
"What you need to do is change lives and that needs human relationships and skilled support or else you will not deal with the underlying problems that caused the offending in the first place," she said.
Reuse content