Former Radio 1 DJ Chris Denning has been jailed for 13 years for sexually assaulting 24 boys - including one allegedly at Jimmy Savile's house.
Denning, 73, one of the founding presenters on the flagship station, "used the allure of the record industry and celebrity" to seduce and groom his victims.
He took boys to watch Top of the Pops recordings and introduced them to a string of stars including Savile, and began assaulting the boys in 1967 - the same year he was unveiled as one of the founding DJs at Radio 1.
Denning continued his campaign of abuse against boys as young as 10 over the next two decades.
The prolific paedophile later opened a series of computer games shops and used the "exceptionally exciting" technology to prey on boys.
Judge Alistair McCreath told London's Southwark Crown Court: "You groomed all of these boys. They were, for the most part, in their early teens although some of them were younger.
"You used your own fame, your acquaintance with others who were famous, many of them now to be described more as notorious than as famous, your familiarity with the music industry, your possession of computers and computer games and other devices to win their trust and misplaced admiration.
"You gave them alcohol and drugs. To some of them you gave money. You showed them pornographic material.
"You introduced them to inappropriate sexual behaviour by making it seem normal and exciting."
He said Denning subjected them to "inappropriate and utterly depraved" abuse which had a "devastating effect" on the boys, now men in their middle age.
Around a dozen of his victims sat at the back of court and looked at their former tormentor as the sentence was passed.
Denning stared at his victims and their families, who had travelled from all over the country to see justice done, as he strolled into the dock for the sentencing.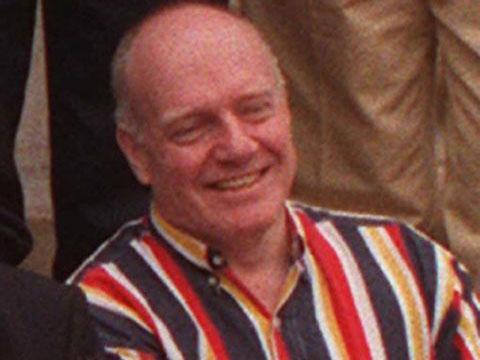 Denning, of Basildon in Essex gave a nod and glanced at his victims as he was handed the jail term.
Outlining the case, Neil Moore, prosecuting Denning gradually introduced his victims to porn before abusing them, taking pictures and videos of some of the boys.
He persuaded the parents of his victims his intentions were innocent and to let their sons stay at his home.
Mr Moore described how Denning sexually assaulted dozens of boys over the next 20 years while at the height of his fame.
Some of his victims say they were abused up to 60 times.
Denning singled out his victims at skateparks, youth centres and discos including the Walton Hop, a notorious disco in Surrey where older men preyed on teenage boys.
One victim told how Denning took him back to his home which was an "Aladdin's Cave" of pornography.
Mr Moore said Denning took one boy, aged 12 to 14, to watch Top of the Pops before repeatedly abusing him at his home.
He said: "He described being given alcohol and said initially he found it exciting and mesmerising because the defendant would talk about all the famous people he knew such as Jimmy Savile.
"He would also take them out for meals, concerts and took them to a studio to see filmings of Top of the Pops."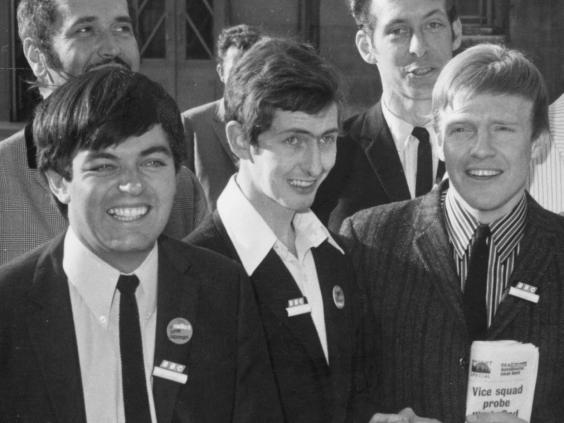 Other boys told how they were taken to celebrity parties where they met Savile and music mogul Jonathan King, who both have since been unmasked as sex offenders.
One of his victims was 14 or 15 when he was abused by Denning. He said it happened at Savile's home - although Savile is not said to have been involved.
The former DJ also threw kittens into the bathtub where another of his victims was bathing.
And Denning told one of his victims that another boy was causing him trouble and if he carried on he would drop compromising photos of him from a helicopter over his home town.
Denning lured many boys to his computer game shop where they played the latest Atari video games.
His victims were driven to depression, despair and even suicide attempts by the abuse they endured.
The former DJ, who suffers from a string of health problems including Parkinson's, admitted 40 assaults - 36 counts of indecent assault on a male and four indecent assaults on a child.
He has a string of convictions for sex offences on boys.
The case was brought under Operation Yewtree, the police inquiry set up in the wake of the Savile scandal.
Peter Watt, director of National Services at the NSPCC said: "Chris Denning is a calculating and devious serial sex offender who preyed on children for decades.
"He grossly abused their trust and exploited their vulnerability in a despicable way. His only redeeming quality is that, by admitting his guilt, his victims didn't have to go to court and relive the trauma he caused.
"This sentence rightly reflects the seriousness of his crimes and hopefully those he abused will find some solace in that.
"It is important to note that it is the bravery of his victims in speaking up that has brought Denning to justice.
"This, along with the other recent Yewtree cases, clearly show that this behaviour is inexcusable and that if victims of abuse choose to speak up, they can be confident that they will be listened to."
Press Association
Reuse content