For a man who has spent most of this decade in prison and handed over nearly £14m to his "worst enemy" a few months ago, Edward Davenport has a remarkably optimistic view about his future prospects.
Despite being branded by the trial judge who sent him down a "very, very dishonest man", Mr Davenport – better known to his detractors as the "Lord of Fraud" or "Fast Eddie" – says that he is back in business and doing deals.
The socialite's positive outlook may have been coloured by a rare victory against the "enemy" – the Serious Fraud Office – this week, as he clawed back nearly £2m of the sum he was forced to pay after being convicted of a sustained and heartless fraud in 2011.
Even after being described as the ringmaster of the £4m racket, Mr Davenport says that his business contacts have remained loyal. Some visited him at Wandsworth Prison in south London where he served most of his sentence.
"It was a s***hole but was somewhere where people could see you," said the 49-year-old who earned notoriety in the 1980s as the organiser of the hedonistic Gatecrasher Balls, frequented by wealthy public schoolchildren. "It [Wandsworth] wasn't as pleasant as the Ritz or the Wolseley but... I had plenty of visitors," he said in an interview at his Mayfair office.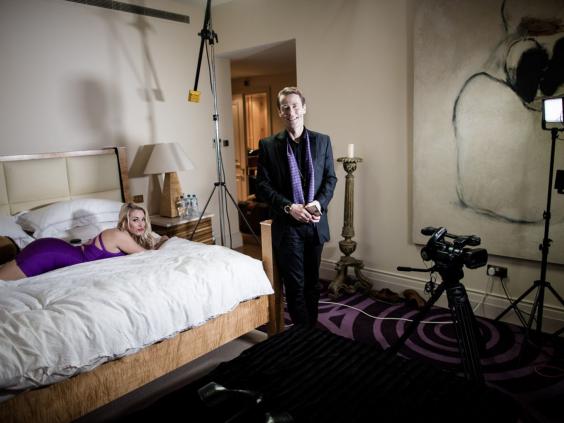 Logic would suggest that Mr Davenport should have become a business pariah after his fraud conviction and the trial judge's damning assessment of his character. "It is the natural inclination of this defendant, if he is to engage in commerce, to do so dishonestly," was Judge Testar's withering verdict.
But Mr Davenport – who says he is doing property deals with a Chinese business partner and looking to buy a film studio – claims that has not happened.
Davenport was born in London, the son of a Dublin-born restaurateur. He went to an independent school in Surrey, but was already making money selling clothes at Portobello Market in west London at the age of 15, according to his website. 
He uses the title of Lord on the site, a title he says came with a property he once owned in Shropshire. His inherited title – "Lord of Fraud" – stems from the comment of a judge, which he describes as "irritating… Just Edward Davenport is fine."
Since his prison stay, he says, he has reinvented himself as a middleman to keep within the terms of a five-year Serious Crime Prevention Order that stops him from operating in investment and financial activities. He plans to resettle in Ireland.
"If you're trying to buy something as an investor and you know somebody with their nose to the ground and knows people in difficulty selling something cheaply, you're not going to say: 'I'm not talking to you because you've got a fraud conviction.'"
The 49-year-old was one of six men jailed in 2011 for a scam in which businesses handed over fees in expectation of receiving loans when banks withdrew from the market during the credit crunch.
In reality, the company Gresham Ltd was an "empty puff wrapped in slick packaging and promoted through brazen lies", according to the Serious Fraud Office.
Wandsworth wasn't as pleasant as the Ritz or the Wolseley but... I had plenty of visitors
There were at least 51 victims of the scheme, paying up to £285,000 in fees for money they never received. Some were ruined.
Mr Davenport set up Gresham Ltd but his role in the swindle was not obvious. The trial judge observed that Mr Davenport had left no "footprints in the snow". His defence was that he had sold the company – while retaining half the shares – and knew nothing of what had happened. A jury found differently and the trial judge described him as "a very competent, skilful and determined fraudster".
He accepts that people were defrauded but contends that he is innocent and is preparing a case for the Criminal Cases Review Commission. After he served his sentence – shortened on health grounds – and a long legal battle, he was ordered to pay a £12m confiscation order, a sum whittled down from an initial £41m.
"There was a huge bias against me," he said. "Their contention was that absolutely everything was based on being made illegally. It was a huge amount of money I agreed to pay but I was kind of bullied into it," he says. "The order was designed to wipe me out."
His Gucci belt, and his flat with a concierge ("borrowed from a friend") in one of the most expensive parts of London, shows that he was not left penniless. His realisable assets – for the purposes of his confiscation hearing – were valued at up to £14.4m, which included his central London mansion.
The Portland Place property – formerly the embassy of Sierra Leone – was notorious as an upmarket party venue. One event at the five-storey house involved a swimming pool being filled with 1,000 litres of cocktails for revellers to row across.
The mansion had to be sold as part of the confiscation order. Five months after it was valued at £14m by agents of "impeccable standing and expertise", contracts were exchanged for £27m with the new owner, former porn baron and West Ham owner David Sullivan. After settling with the SFO, Mr Davenport kept the difference.
He says he has now returned to the party organisation business. "It's kind of a hobby and networking as much as a business," he said.
One of the victims of the fraud, who declined to be named, said they did not object to his early release, but had been unhappy to see him at a party soon afterwards. 
After the conclusion of the interview, his office was being cleared to prepare for a book club meeting with 20 friends. It appeared a strangely placid Davenport social gathering, until he mentioned the general themes: Fifty Shades, and Killing Kittens, the latter being party organisers who help "girls and couples can explore their sexuality in a daring yet safe and controlled way".
Reuse content