Greater Manchester Police has released a series of diary entries penned by disgraced television weatherman Fred Talbot, which included codes for sexual encounters and excerpts about having students stay over at his house.
Talbot, who found fame on the weather map for ITV's This Morning show, has been remanded in custody until 13 March after being convicted by a Manchester jury of indecently assaulting two teenage boys at a school where he taught.
The 65-year-old denied indecently assaulting the boys while he worked as a teacher at Altrincham Grammar School between the 1960s and early 1980s.
Talbot kept a dairy throughout his career where he would describe his sexual desire for boys and his fears about "how often I am seen with kids".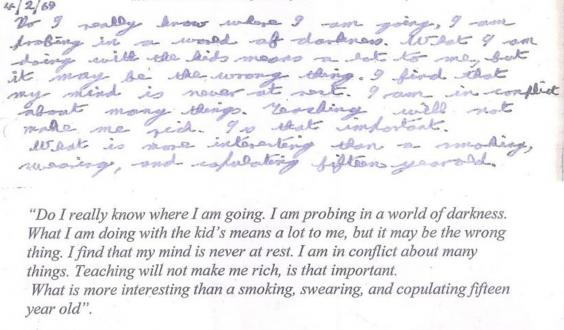 In one entry dated February 4 1969, at the beginning of his teaching years, he wrote: "Teaching will not make me rich, is that important. (sic) What is more interesting than a smoking, swearing, copulating 15-year-old." In an entry dated May 6 1984, he wrote: "At night a group of the 4th years round to use the telescope. Later joined by some of the 6th years and (name blanked out).
"A very clear night. The 4th decided to stay the night. As usual I had quite a bit to drink and as usual I tried. I must be mad."
He was said to have been "obsessed" with teenage boys throughout his teaching career and "could not help himself" around them when under the influence of drink.
Talbot resigned in disgrace from his teaching post at Altrincham after he admitted making an indecent proposal to two students, who were 15-years-old at the time.
The reason he left his teaching post was not widely known at the school, with Talbot telling the court during his trial "it was the sort of thing that was very discreet".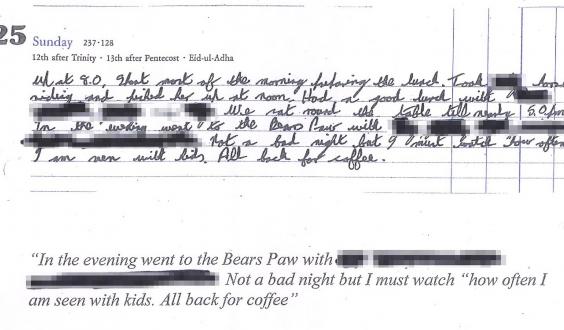 After letting the boys stay over at his house following a stargazing session, he came into the bedroom they were sleeping in and said: "Make sure you leave room for me in the middle."
One of the boys also alleged that Talbot - who claimed his remark was "a joke" - had asked if he could perform a sexual act on him. Talbot denied this was true.
On New Year's Eve 1984, after he had resigned in disgrace from Altrincham Grammar School, he wrote: "This has been a very strange year with many sad events.
"I have also had my highs but on the whole it has been a year of great change. Back in May I was at my lowest but I have survived. I can't hope ever to forget 84 but maybe I can learn from it."
He was later offered television work with a brief stint on ITV's Saturday morning children's show No. 73 before landing the job as a weatherman for ITV Granada in the North West.
In one entry a year after he left the school, he wrote: "I feel confident about the weather job. I have made too many mistakes in my life but I need a break and the weather job will give me a chance."
He was first faced by his past in 1992 when he received a knock on the door from two police officers after one of the complainants in the current investigation reported he had been sexually abused by Talbot.
The weatherman was asked directly why he had left the school and if any similar complaint had been made against him. He told police he left because of a TV opportunity and had never faced an allegation of this nature, but admitted in his trial that it was "not in my interests" to tell the truth.
The police investigation was not pursued but he was later confronted by a News Of The World reporter in 1995, who had also contacted the school about the details of his resignation.
His diary, he wrote at the time: "I had a dreadful night. I always feared this would happen." Speaking about the incident, Talbot told the court: "They knew everything, they had every fact."
Fred Talbot on TV
Fred Talbot on TV
1/5 Fred Talbot

Fred Talbot as the weather presenter in 'Daybreak' TV Programme on 28 March 2011

Rex Features

2/5 Fred Talbot

Fred Talbot takes part in Energy Efficiency Week on 26 2004, in Hyde Park, London

PA

3/5 Fred Talbot

Fred Talbot in 'Mad Science' in 1996

Rex Features

4/5 Fred Talbot

Fred Talbot poses as Gary Glitter in 'This Morning' TV Programme in 1992

Rex Features

5/5 Fred Talbot

Fred Talbot on the weather map in Albert Dock in 1990

Rex Features
He said an article was not published on the issue but instead the newspaper reported that he had come out as gay.
Talbot then lied again when questioned by police in April 2013 about the most recent allegations.
They noticed a number of entries in his diaries which had asterisks next to them. Talbot claimed they represented each time he had a panic attack, but later confessed to his legal team that they actually referred to every time he had a sexual encounter.
Talbot told the jury he did not tell the truth to the police about the diary entries because he was "embarrassed" and did not want to "lay bare" his sexual history.
He also denied hiding or destroying some diaries which are still missing, among them from 1972 to 1975, and 1978 and 1979.
Altrincham Grammar School for Boys said in a statement: "These awful events took place over 30 years ago and naturally our thoughts go out to those former pupils who were subjected to this abuse.
"We are confident that our present pupils and their parents know that the school is totally committed to ensuring the safety of our students and staff at all times and that these historic offences have no bearing on the school's outstanding reputation today."
Additional reporting by PA
Reuse content