Gary Glitter, the former glam rock star, has been convicted of a string of new child sex offences by a jury at Southwark Crown Court.
The singer, whose real name is Paul Gadd, aged 70, was convicted of one count of attempted rape, four counts of indecent assault, and one count of sexual intercourse with a girl under the age of 13.
The former star, who was found guilty by a jury of five men and seven women, faces a life behind bars after the conviction for a string of historic sexual offences against three young girls.
Judge Alistair McCreath told the former star he was remanding him in custody "in light of the verdicts". He will be sentenced on the morning of 27 February.
Gadd, who had denied all charges, raised his eyebrows and looked shocked in the dock as the verdicts were read, before he blew kisses to a public gallery full of reporters as he was led down to the cells.
Gary Glitter through the years
Gary Glitter through the years
1/10 Gary Glitter

Gary Glitter in London, 1973

Getty Images

2/10 Gary Glitter

Gary Glitter performing in Oxford in 1974

Rex Features

3/10 Gary Glitter

British disc jockey David Hamilton of BBC Radio One with pop star Gary Glitter and a copy of Glitter's new single 'Oh Yes You're Beautiful', 1974

4/10 Gary Glitter

Gary Glitter at the Beverly Hills Hotel, 1974

5/10 Gary Glitter

Gary Glitter pulls a crowd in London's Leicester Square, standing on the roof of a black cab dressed in one of his eye-catching silver costumes as it drives through the streets, 1984

6/10 Gary Glitter

Gary Glitter signs an autograph for a fan at IMF Roll of Honour Awards at the Hilton Hotel in London, 1995

7/10 Gary Glitter

Gary Glitter takes tea at the Silver Clef Awards in London, 1997

8/10 Gary Glitter

Gary Glitter, sits flanked by Vietnamese police before the guilty verdict is read out at the People's Courthouse in Ba Ria, Vietnam. Glitter was sentenced to three years in prison for commiting obscene acts with two underaged girls in Vietnam, 2006

9/10 Gary Glitter

Gary Glitter arrives at Westminster Magistrates Court in London, to face eight charges of sexual offences involving young girls, 2014

10/10 Gary Glitter

Gary Glitter, arrives at Southwark Crown Court in London, 2015
He was cleared of two counts of indecent assault and one count of administering a drug or other thing in order to facilitate sexual intercourse.
Gadd was the first person to be arrested as part of Operation Yewtree.
During the trial, three of Gadd's victims cried heavily as they recounted the abuse suffered
The court heard how Gadd crept into the bed of a schoolgirl who was under the age of 10 and tried to rape her. She escaped being attacked because she moved away from the singer until she was wrapped in a "cocoon" of blankets, before locking herself in the bathroom when the singer later fell asleep.
Another victim, now in her 50s, told the court how she had believed she was "going out" with Gad when she was 12-years-old, the age at which he had plied her with champagne before sexually abusing her.
Baljit Ubhey, chief Crown prosecutor and head of the Crown Prosecution Service in London, said: "Paul Gadd abused his access to young fans in order to give himself the opportunities to assault and abuse his victims. Crimes such as these have repercussions for victims that can last for a lifetime.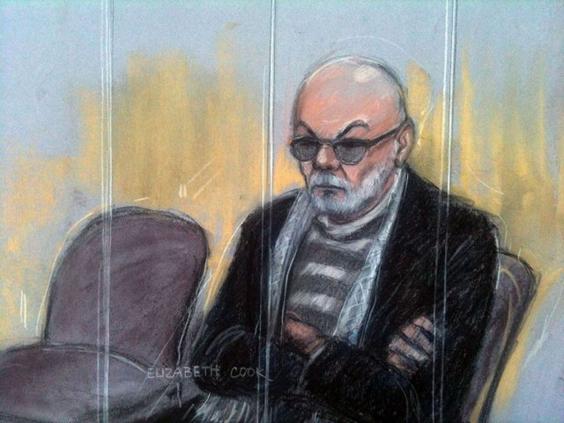 "The bravery of the victims and other witnesses in this case cannot be understated and their testimony has been vital in bringing Paul Gadd to justice. I hope today's verdict will be of some small help to these victims.
"It should also provide other victims of sexual abuse with the courage to come forward, knowing their case will be handled with sensitivity and professionalism."
When asked whether any other complainants had come forward during the course of the trial, a Met spokeswoman said: "Officers have received other information and it is currently being assessed."
Gadd fell from grace when in 1999 he was jailed for four months after admitting to having 4,000 images of child pornography.
In 2006 he was convicted of sexually abusing two girls in Vietnam, aged 10 and 11. He had previously been expelled from Cambodia over unspecified allegations. 
Additional reporting by agencies
Reuse content